Per Scholas Hosts First Virtual Career Expo – Join Our Team!
Since the start of Per Scholas in 1995, we've grown to more than 300 employees, 19 locations across the country, and we're not done yet! Due to our rapid growth and expansion, our organization has been seeking more hard-working and passionate people to join our team. This month, on June 16th, we held our first-ever Per Scholas Virtual Career Expo, showcasing our available positions; both remote and on-site. The Career Expo provided an opportunity for interested applicants to learn more about the Per Scholas mission, chat live with our recruitment team, and submit resumes on the spot.
The event was held in an incredible virtual space, designed in a collaboration by Per Scholas and virtual event platform vFairs. The space featured a lobby, expo hall, help desk, and lounge that applicants could move through as the event progressed.
 Those attending the event first entered the virtual lobby, where they were welcomed, via video, by Per Scholas Executive Vice President of People Montreece Smith. Attendees could also view a People of Per Scholas testimonial video, featuring some of our amazing employees.
 Next, attendees entered the Expo Hall, which contained multiple booths, each representing a currently-hiring department at Per Scholas. Applicants could browse job vacancies by department, chat live with our recruitment team, and submit applications on the spot for positions that interested them.
 In the Lounge area, attendees could view Per Scholas social media channels and video testimonials from Per Scholas employees. On the employment end, our recruiters were able to search submitted resumes and schedule private chats with selected candidates.
 More than 130 candidates attended the event, with over 80 applying for positions. The site will remain open for the next few weeks so that interested candidates can continue to view open positions and apply. We are excited for what is to come as our organization continues to grow and add new, wonderful people to our team!
Sign up for our Monthly Impact Report
More News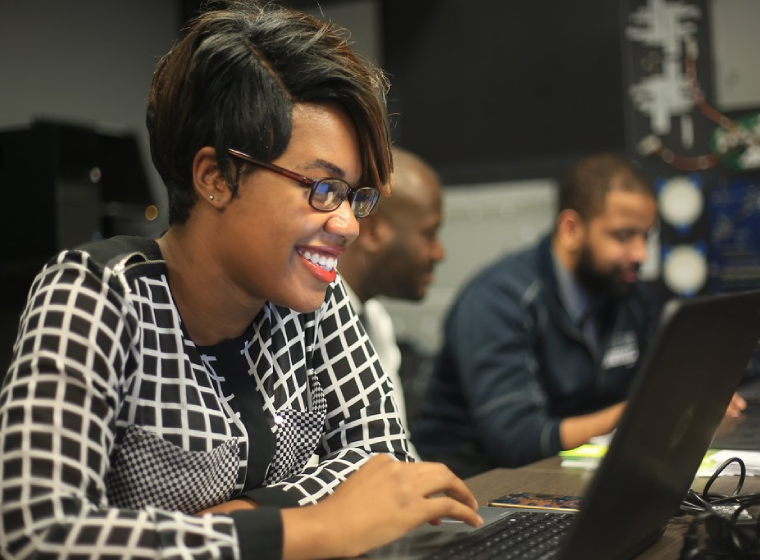 Donate Now
Your support makes a powerful difference in our ability to build a technology talent training solution that creates greater access and equity.