Per Scholas Hosts In-Person Networking Events
In very exciting news, this month marked the return of Per Scholas' in-person networking events, which have been held remotely for the past two years due to the Covid-19 pandemic. Our first two events were held in Atlanta and Dallas and created learning opportunities for Per Scholas alumni and an opportunity for them to meet and network with funders, employer partners, and industry experts.
The Atlanta event, Per Scholas Atlanta Homecoming: Level Up, was held on June 2nd, at the Marquis Conference Center and Patio in Atlanta, Georgia. Current learners and Per Scholas alumni had the opportunity to network and connect with fellow Per Scholas graduates, meet our wonderful new Atlanta team and Advisory Board members, and gain insight from Per Scholas staff and special guest industry experts on ways to bring their careers to the next level. 
"The Atlanta Homecoming Event was meant to introduce the Atlanta Alumni to the new staff and to welcome alumni who took remote classes to their home campus," Sherri Sims, the Managing Director of Per Scholas Atlanta explained. "Our goal was to meet the alumni and offer our support in 'Leveling Up' their careers. We offered a networking session and two panel discussions…Overall the event was a huge success and several alumni have received interviews and job offers as a result." 
In the first panel discussion, attendees learned about great ways to improve their resumes and LinkedIn profiles in a presentation by Per Scholas Atlanta Business Solutions Director Teri Gittens, and Senior Manager of Career Advancement, Stephanie Spencer. Kelly Raper, a Talent Acquisition Partner from Sage Software was a special guest speaker, who provided some additional tips and insight to the eager audience.
In the second panel discussion, attendees were taught some tips on moving to the next level of their careers by Per Scholas Advisory Board Member Nicole D. Smith, from the Harvard Business Review, and Sherri Sims. Special guest speakers for this portion included Prabhu Sadasivam, the Senior Director of Software Engineering, Insurance Technology, at LexisNexis Risk Solutions, and Danielle Joiner McPherson, the Director of Global Reservations, Tech and Innovation at Delta Airlines.
Finally, attendees learned about networking best practices, ways to upskill in the tech field, and a wealth of alumni resources available to Per Scholas graduates. The event concluded with a Q&A session, a networking mixer, and an opportunity to have a professional headshot taken.
Our Dallas event, Per Scholas Dallas Leadership Connection – Stronger Together, was held on June 9th at the J. Erik Jonsson Central Library in O'Hara Hall in Dallas, Texas. The event offered an inspiring afternoon of exploring the impact Per Scholas Dallas has on the lives of our learners and the workforce community, as well as insight on how individuals and organizations can get more involved with our work. Per Scholas Dallas graduates from 2020 forward were welcome to attend the event, and attendees had ample opportunity to network and connect with corporate and community partners, meet our passionate Dallas team, and hear from our successful Per Scholas graduates.
The event began with welcome remarks and an icebreaker by Per Scholas Dallas Director of Employer Partnership, Monique-Saré Jenkins. Attendees learned some key highlights about Per Scholas Dallas from Dallas Manager of Career Advancement Jason Cancino, Senior Manager of Recruiting and Admissions Ciara Owens, and Manager of Financial Capability Janell Pollard.
Next, attendees heard from Adedeji Adefuye, a 2020 Per Scholas Dallas IT Support alumni, who now works for Per Scholas as an Instructional Assistant. Adedeji's story is one of inspiring success, and an excellent example of the ways in which a high-quality, cost-free tech education can change lives. Attendees then heard about "Funding the Mission," from special guest speaker, Jay McCall, a Program Manager at the Rainwater Charitable Foundation, a private family foundation based in Fort Worth, Texas, that is dedicated to funding initiatives centered around education, and the ways in which it can change lives and communities. Finally, attendees learned about "Partnering With the Mission" from Stephanie Kline, the VP of Client Services at YUPRO, and Tirrany Nettles, YUPRO's Director of Recruiting. YUPRO is an opportunity talent placement firm dedicated to creating diverse, inclusive workplaces.
Monique-Saré Jenkins concluded the event with a call-to-action for alumni, funders, and employer partners to get involved with making Per Scholas a success and changing the face of the technology industry.
"The Leadership Connection event was phenomenal," Monique-Saré reflected afterward. "After two years of being apart, we wanted to take advantage of the opportunity to reestablish our footprint within the local community by inviting some of our alumni, funders, corporate partners, and other community leaders to build meaningful connections over lunch."
We look forward to continuing to hold more in-person events as the year progresses and providing exciting and enriching opportunities to our learners, alumni, funders, and partners.
Sign up for our Monthly Impact Report
More News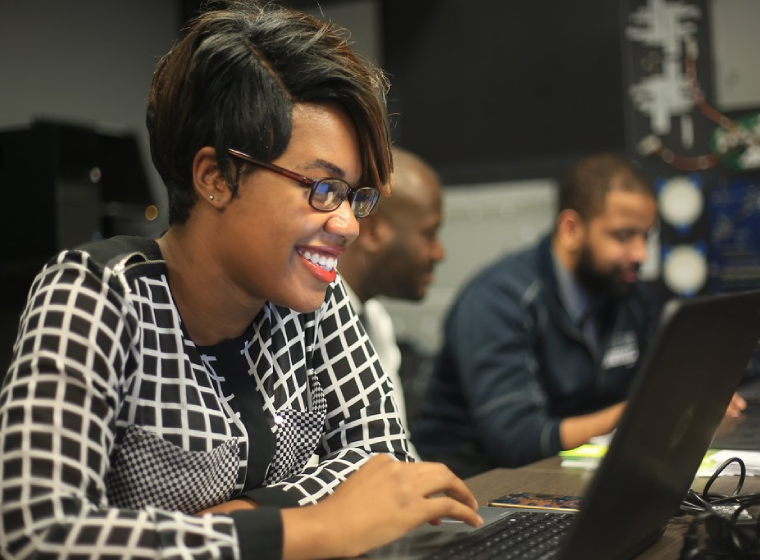 Donate Now
Your support makes a powerful difference in our ability to build a technology talent training solution that creates greater access and equity.