Per Scholas Indianapolis Celebrates 20 Technologists at Inaugural Graduation
On June 9, Per Scholas Indianapolis hosted its Inaugural Graduation Celebration, highlighting the accomplishments of its first cohort of IT Support learners. The celebration began with a Ceremonial Ribbon Cutting hosted by the Indy Chamber to officially dedicate the Per Scholas Indianapolis campus within Goodwill of Central and Southern Indiana. 
Hundreds were in attendance, including funders, partners, employers, and friends and families of the graduates. Twenty ambitious and tenacious  IT Support learners obtained their Per Scholas Completion Certificates and Per Scholas Indianapolis bestowed its first Most Valuable Technologist "MVT" Award, along with its Core Values Award. 
Graduation Ceremony Speakers included:
Theron Wilson, Per Scholas Indianapolis Managing Director, Emcee

City-County Councillor Kristin Jones

Kent Kramer, President and CEO, Goodwill of Central and Southern Indiana 

Plinio Ayala, President and CEO, Per Scholas

Ali Shepherd, Regional Senior Vice President, Salesforce

Jarrett Moore, External Affairs Manager, Comcast

Noah Mitchell, Per Scholas Regional Senior Vice President 
In Theron's closing remarks, he inspired graduates and attendees alike with his words: "Your name will be said in rooms your feet have not yet entered. This is an extraordinary opportunity, and Per Scholas Indianapolis is so honored that you trusted in us to take you on this journey, jumpstarting a life-changing career in technology. Work hard for what belongs to you. Continue to rise to the occasion and always seize the opportunity that's in front of you. You are meant to be here: this moment is yours. I know the future of tech talent is bright here in Indy because of you."
We are excited to celebrate the twenty technologists who started their IT Support cohort in March and are now ready to launch thriving tech careers. 
Click here to learn about upcoming training cohorts at Per Scholas Indianapolis!
Sign up for our Monthly Impact Report
More News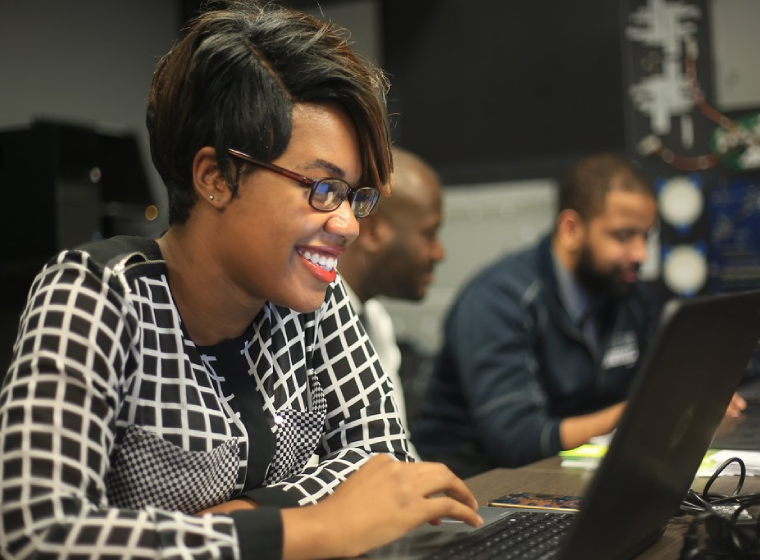 Donate Now
Your support makes a powerful difference in our ability to build a technology talent training solution that creates greater access and equity.