Per Scholas has begun recruitment for the first IT Support class in Newark, New Jersey. Beginning in 2019, Per Scholas plans to train 100 students per year, two thirds of whom will be Newark residents. Per Scholas is working with both Newark employers and a regional employer network to cultivate direct job opportunities for graduates seeking tech focused careers.
Per Scholas chose Newark – and 540 Broad specifically – after an extensive search for its first location in the area outside of New York City. The organization was drawn to Newark because of the strength of its community organizations, commitment to education, and growing tech community. And it zeroed in on 540 Broad Street due to its central Downtown location, proximity to public transit and employer partners, and historical significance. Built in 1929 and designed by famed architect Ralph Thomas Walker, the Art Deco building on Washington Park features relief sculptures of telephone workers and is known for its majestic lobby and brick-and-sandstone exterior. The building is currently undergoing a transformation led by L+M Development Partners, Prudential and the Goldman Sachs Urban Investment Group, the same partnership that recently renovated the Hahne & Co. building just steps away.
Plinio Ayala, Per Scholas President & CEO commented "Over the past year, we've had the privilege to learn about Newark from many of the community-based organizations, public institutions and local employers who call this unique city home. "We've learned that Newark's assets are incredible – among them, robust fiber infrastructure, a vibrant and growing tech ecosystem, and a shared educational, nonprofit and corporate commitment to economic inclusion."
This expansion closely follows the announcement of Champion Founding Partner Barclays to significantly expand their tech operations in a new campus in Whippany, New Jersey. This location is less than 20 miles from Newark, and will be accessible via shuttle service from Newark Penn Station. Per Scholas Newark will partner with Barclays, as well as local Newark and regional employers, to provide the training pathway and employment connection to local talent. Barclays has previously partnered with Per Scholas to develop a Cybersecurity training track, and Barclays has hired over 40 Per Scholas graduates to date.
"Barclays is proud to partner with Per Scholas as its prepares to open its doors in Newark," said Deborah Goldfarb, Global Head of Citizenship for Barclays International. "Our new Barclays campus in Whippany will increasingly require a sustainable talent pipeline from the local community and our investment in talent, training and hiring solutions will play an important part integrating our business and social impact objectives. Throughout our history, we have seen the outcomes that cross-sector partnerships produce, and this new location offers an exceptional opportunity to broaden that impact even further."
Signature Founding Partner Prudential is an anchor institution in the Newark community, headquartered there for more than 140 years, and is providing both resources and expertise to link the new training opportunities with community and employer networks in the city, including themselves. In the last decade alone, Prudential has committed more than $1 billion to Newark through impact investments, grants to nonprofits, infrastructure projects and more.
"Per Scholas and Prudential share a commitment to developing strong employer partnerships and successfully connecting people to quality jobs in Newark," said Sarah Keh, vice president, corporate giving, Prudential Financial. "Newark offers Per Scholas a unique opportunity to expand its proven model in a city with a diverse talent pipeline, a strong tech infrastructure and a robust network of community-based organizations, corporations and government focused on workforce development. We are excited to help bring this training program to Newark residents who are eager for the opportunity to pursue employment in the technology industry."
Major Founding Partner The PSEG Foundation supports and invests in sustainable neighborhoods, STEM education, and safety. PSEG has a 114-year history of calling Newark home and supporting the communities it serves.
"Per Scholas is bringing to Newark an award-winning and proven model that addresses head on systemic inequities and the workforce barriers too often faced by both residents and employers. The PSEG Foundation is proud to support Per Scholas' expansion into Newark and looks forward to collaborating with this community of leaders to meet Newark 2020 objectives and to help ensure that new pathways of opportunity, skills development, training and jobs are created," said Barb Short, President and Chief Diversity Officer, PSEG Foundation.
In addition to Newark, Per Scholas has locations in six other cities throughout the country: Atlanta, Cincinnati, Columbus, Dallas, the National Capital Region, and New York City. Per Scholas trains more than 1,000 students a year in occupations including IT support, cybersecurity, web development, and partners with more than 500 employers nationally on job placement, volunteerism, and curriculum design. Recent third-party research of Per Scholas demonstrates that graduates from Per Scholas earn higher incomes, see a decrease in use of public assistance and an increase in overall life satisfaction.
Community Partners Voice Support
"Newark2020 aims to connect 2,020 unemployed Newark residents to full-time living wage jobs by the year 2020," says Kimberly McLain, president & CEO of Newark Alliance, the organization leading the mayor's Newark2020 initiative. "We are thrilled to welcome Per Scholas and we are honored to work with them, and all of our employer partners, as part of the Newark2020 vision to develop innovative ways to transform the local workforce and enhance economic growth in the city of Newark."
"La Casa de Don Pedro welcomes Per Scholas to the Newark community. As more tech focused businesses choose to make Newark their home, Per Scholas' entry comes at the ideal time, because their mission is to ensure equitable access to careers in the industry. Their proven model will create a comprehensive and supportive pathway to long term career advancement in this highly desirable and promising field. We look forward to partnering with Per Scholas by recruiting and preparing members of our community for success in their demanding, yet rewarding program," said Raymond Ocasio, Executive Director of La Casa de Don Pedro.
"New Community Workforce Development Center welcomes Per Scholas to Newark. The scale, scope and need your program(s) will bring great value to the city. Per Scholas is filling a void in Newark's career & technical education landscape around quality IT & cyber security services," said Rodney Brutton of New Community Corporation
"Programs such as Per Scholas will help us reach our goal of helping Newark residents become IT professionals and obtain adequate training that will prepare them for better jobs and help them become financially stable," said Marly Mattos, Program Manager for the Financial Opportunity Center at Ironbound Community Corporation.
"The Newark Public Library is pleased to welcome Per Scholas to Newark. We look forward to having them as a neighbor and close partner. We are committed to working jointly with them to bring the kind of training our residents need to be successful in the IT industry," said Jeffrey Trzeciak, Director at the Newark Public Library.
"This partnership with Per Scholas is truly a win-win. Not only do we get to connect a Newark artist with a paid opportunity to contribute an evergreen art installation to this exciting new tech school, but we get to support Per Scholas' mission of inclusion, diversity and opportunity creation in underserved communities. We couldn't be happier to be involved," said Jeremy Johnson, Newark Arts' Executive Director.
Newark residents interested in applying for the free technical training offered by Per Scholas can visit www.perscholas.org/newark to submit an application. Applications are now open for the first IT Support class which will begin in early 2019, and admissions will be conducted on a rolling basis for future classes through the year. Partners interested in referring candidates can contact Tony Gaston, Site Director, Per Scholas Newark.
Sign up for our Monthly Impact Report
More News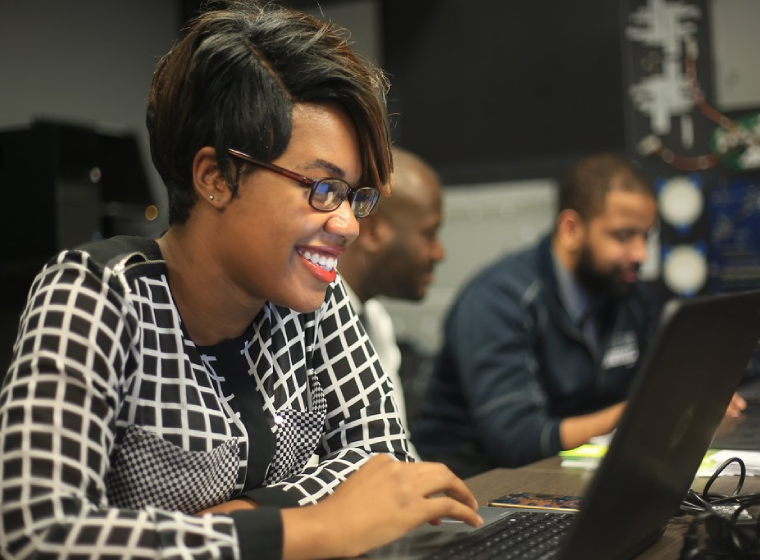 Donate Now
Your support makes a powerful difference in our ability to build a technology talent training solution that creates greater access and equity.