Per Scholas Seattle Launches First In-Person Cohort!
Last week, Per Scholas Seattle launched its very first in-person cohort! Noting the high, organic demand for web development and programming courses in the Seattle area, the campus decided to offer Software Engineering as its first in-person course. 
The course, which is still currently offered online, will prepare learners for a career in the technology industry as "an adept developer with a ready-to-present professional portfolio to share with potential employers," and will cover areas of Web Development, App Development, and many more.
"Many of our learners have very little training in coding," said Per Scholas Seattle's Managing Director, Brian McRae. "Most of them know the basics such as HTML and CSS. Our curriculum will expand their knowledge of front-end frameworks and introduce them to back-end frameworks such as Mongoose, Express.js, Node.js, REACT and more. With both individual and group projects in the curriculum, our learners will build very substantial technical portfolios to demonstrate their job ready competencies to prospective employers."  
Seattle's first person cohort is an incredibly diverse one. Of
the 17 registered learners, 29% identify as female, and 82% are people of color. Of the learners who identify as Caucasian, all are immigrants from either Russia or Ukraine, and others in the course hail from Morocco and Ethiopia. 35% of the learners possess only a high school diploma or GED, while the remaining 65% have earned more advanced degrees. The average learner age is 30.
The Seattle campus held its Kick-Off for the first in-person class at its new site on March 27th. We are so excited to see how the cohort progresses!
"I am absolutely thrilled that Per Scholas Seattle is finally at the point where we can offer our classes in-person," McRae reflected on the campus' opening. "This is a significant milestone for us. When we first began offering classes here in the Puget Sound area, we were limited to only remote classes mainly due to the pandemic. Now that things have begun to open back up, we can now focus on our traditional model of on-premise training, enabling our learners to experience this curriculum the way it was originally designed.  
"These 17 learners, while coming from very diverse populations, have already begun to develop cohesive, productive relationships with one another. They help each other grow and develop, and each leverages their strengths to collectively uplift each other together. It's remarkable to see this level of camaraderie at such an early stage – so much so that I cannot wait to see the end result."
Sign up for our Monthly Impact Report
More News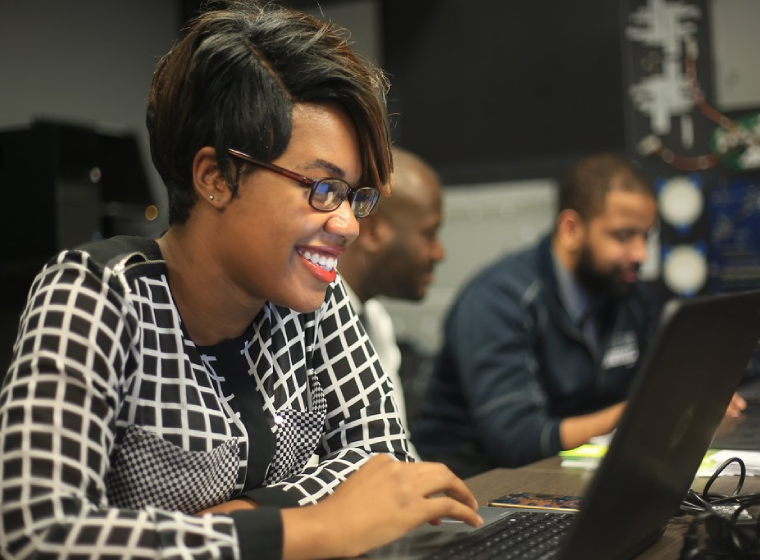 Donate Now
Your support makes a powerful difference in our ability to build a technology talent training solution that creates greater access and equity.