Per Scholas To Launch Women In Tech Software Engineering Apprenticeship
Fueled by Department of Labor Grant, All-Women Training Cohort in Washington, D.C. Region Starts Early 2022
Photo Credit: Department of Labor, Alyson Fligg
WASHINGTON, D.C. (September 10, 2021) – At a ceremony held at Per Scholas's Philadelphia Campus yesterday afternoon, U.S. Secretary of Labor Marty J. Walsh named Per Scholas one of five new Women in Apprenticeship and Nontraditional Occupations grant recipients. Joining Secretary Walsh at the announcement was Department of Labor Women's Bureau Director Wendy Chun-Hoon.
Per Scholas will use this grant to launch a Women in Tech Software Engineering Apprenticeship training track at its Washington, D.C.-area campus in 2022. Developed in response to the COVID-19 pandemic's impact on women workers and in line with Per Scholas's commitment to increase the number of women and women of color in technology jobs across America, 90 women will be trained over the course of 2022 as a result of this new innovation. The training will be delivered remotely and on a modified schedule, providing flexibility and support for parents or others with caregiving responsibilities. At the end of the 15-week training, graduates will enter a year-long paid apprenticeship in technology roles.
"It can't be understated just how much the pandemic has impacted our nation – and women and women of color in particular. The creativity, compassion, and innovation from our Per Scholas team to identify this opportunity and create a new, unique offering centered to serve women learners is remarkable," said Plinio Ayala, President and CEO of Per Scholas. "At Per Scholas, we're always innovating and adjusting our offerings based on feedback from our employer partners and market demand. I'm very optimistic about our new Women in Tech Software Engineer Apprenticeship offering and have high hopes that we'll be able to replicate and offer this training in additional markets in the months and years to come with additional, intentional investment."
Administered by the Department of Labor's Women's Bureau and Employment and Training Administration, the Women in Apprenticeship and Nontraditional Occupations grants were awarded to four additional organizations based in California, Mississippi, Texas, and Wisconsin. The funding will support grantees in their efforts to recruit, train, and retain more women in quality pre-apprenticeship and registered apprenticeship programs as well as nontraditional occupations.
"For too long, women have faced barriers to gaining entry into apprenticeships and nontraditional careers," said U.S. Secretary of Labor Marty J. Walsh. "As we work to build back a better economy, these grants will empower women to get the training and support they need to secure good-paying jobs and pathways into the middle class. They are an important and effective tool for creating a more inclusive and equitable workforce."
"The pandemic forced 3 million women out of the labor force, and women of color have borne that job loss the hardest. Black women's employment is down 7 percent from pre-pandemic levels, and the number of Hispanic women is still down 5 percent. It's never before been more important for us to advance training, employment, and return to work opportunities that connect women and particularly women of color into higher-wage jobs so that our nation's economic recovery brings us greater equity," said Women's Bureau Director Wendy Chun-Hoon.
Two Per Scholas Philadelphia women graduates shared their perspectives during the celebration. Lashay Cokley, who enrolled in Per Scholas training during the pandemic and graduated earlier this year shared, "Ultimately, I feel with technology, I'm able to access so many more possibilities than I was previously."
"I gained so much from my experience with Per Scholas. It reinforced the knowledge I already had in technology, I gained a lot of new skills, and, most importantly, it gave me the confidence to pursue a career in technology, which is what I've always wanted," said Per Scholas Philadelphia Alumna Susan Tabassum.
"In order to ensure an equitable recovery for women and women of color, investments just like this are essential," said Caitlyn Brazill, who represented Per Scholas at yesterday's announcement and serves as the national nonprofit's Chief Development Officer. "Per Scholas commends the Biden Administration for prioritizing these kinds of investments – in proven programs – that support workers and training for high-growth careers."
Photos from the September 9, 2021 women in tech event are available, courtesy of the Department of Labor, at this link.
About Per Scholas
Per Scholas is a national organization that has been advancing economic mobility for 25 years. Through rigorous training, professional development, and robust employer connections, we prepare individuals traditionally underrepresented in technology for high-growth careers in the industry. We partner with leading employers to build more diverse talent pools, directly connecting our graduates to new career opportunities at businesses ranging from Fortune 500 companies to innovative startups. With campuses in 17 cities, Per Scholas has trained more than 14,000 individuals in tech skills, building bridges to careers in technology. To learn more, visit PerScholas.org.
Sign up for our Monthly Impact Report
More News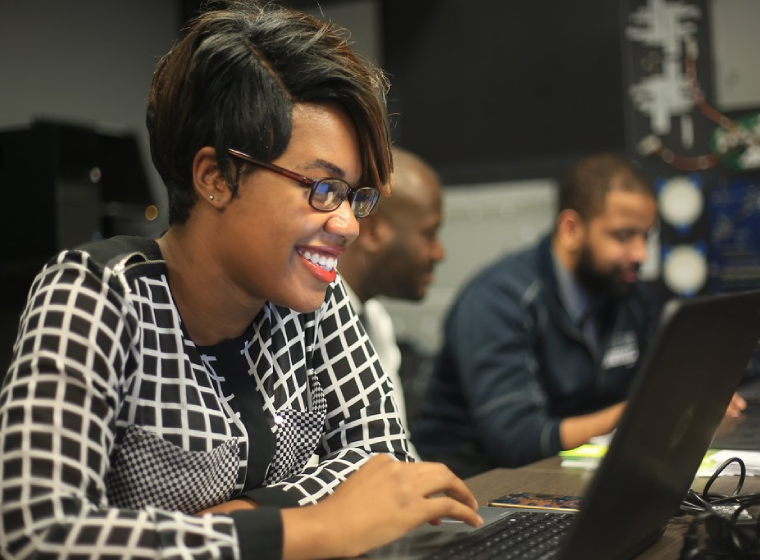 Donate Now
Your support makes a powerful difference in our ability to build a technology talent training solution that creates greater access and equity.