Pioneering Cybersecurity Diversity with Per Scholas Diverse by Design
Pioneering Cybersecurity Diversity with Per Scholas Diverse by Design
With Cybersecurity Awareness Month coming to a close, there's no better time to discuss the vital need for diversifying the cybersecurity workforce, the potential consequences for technology industry leaders not addressing this issue, and the multifaceted approach that Per Scholas is adopting to break down barriers for underrepresented talent. At Per Scholas, we're providing tech talent solutions with tailored training for organizations and upskilling opportunities for technologists. 
Cybersecurity Demands Innovation & Diversity
In the ever-evolving realm of the technology industry, the role of cybersecurity as a guardian of our digital assets and infrastructure cannot be overstated. However, we face a challenge that has become too familiar – the absence of diversity within the cybersecurity workforce. An article from Forbes states, " The International Consortium of Minority Cybersecurity Professionals (ICMCP) points out women are barely 14% of the information security ranks, while women make up 51% of the U.S. population. The U.S. Labor Department says African Americans make up a scant 3% of information security analysts in the U.S. today." 
Technology requires innovation. Without technology, we would suddenly find ourselves in a state of crisis because our quality of life relies heavily on it – our days start with technology literally at our fingertips. Diverse workforces lead to better innovation that stands as the cornerstone keeping organizations competitive, forward-thinking problem solvers. Cybersecurity, a critical component of technology, should be no exception to diversity. The lack of diversity, particularly concerning gender and ethnicity within the cybersecurity workforce, poses a challenge to innovation.
Diversity brings a host of benefits. It ushers in fresh perspectives and insights that are vital for comprehensive risk assessment, robust security strategies, and responses to emerging threats. In a continuously evolving cybersecurity environment, diverse teams possess the adaptability and expertise required to tackle these challenges adeptly. Diverse cybersecurity teams are specially positioned to detect and address biases in security systems and algorithms, ensuring the integrity and fairness of our cybersecurity measures. Within the technology sector, the demand for cybersecurity professionals has grown exponentially. Organizations must broaden recruitment efforts to encompass underrepresented groups, enabling the industry to tackle this scarcity and foster economic growth and innovation. This strategic shift also empowers organizations with the invaluable opportunity to tap into the potential of individuals who are traditionally overlooked.
Paving the Way for Diverse Cybersecurity Technologists
At Per Scholas, we understand that underrepresented talent often encounter barriers to entry into the cybersecurity field, and we have taken proactive measures to combat these challenges. For more than 25 years, Per Scholas has been unlocking potential for individuals, communities, and employers through rigorous training for careers in tech, including cybersecurity.
We offer free technology workforce development programs, removing the financial constraints that many talented individuals from underrepresented groups face, and actively facilitate connections, mentorships, and networking opportunities to help participants bridge the gap in professional networks, a crucial element in securing employment. 
Per Scholas Diverse by Design specifically promotes a culture of inclusivity and actively combats unconscious biases within the tech sector by championing diversity and inclusion as part of our core values. Per Scholas Enterprise Solutions also recognizes the significance of upskilling existing talent and providing tailored training for organizations and offers customized training solutions to equip organizations with the skills and knowledge necessary to navigate the evolving threat landscape effectively with partner organizations committed to building a diverse workforce. 
Advancing Equity to Increase Opportunities in Cybersecurity
Now is the time to diversify the technology industry, where innovation and security are pivotal to success, and the need for diversity in the cybersecurity workforce is not up for debate. As technology industry leaders, we bear a unique responsibility to champion diversity, equity, and inclusion opportunities within our ranks. Per Scholas is partnering with CGI, a Global IT and business consulting firm, to address this challenge and provide sustainable solutions. We have curated a customized invite-only event along with CGI dedicated to diversity in the cybersecurity industry entitled "Advancing Equity to Increase Opportunities in Cybersecurity." This event will bring awareness to the challenges of starting a career in cybersecurity and how to develop strategies to increase access and representation.  
Sign up for our Monthly Impact Report
More News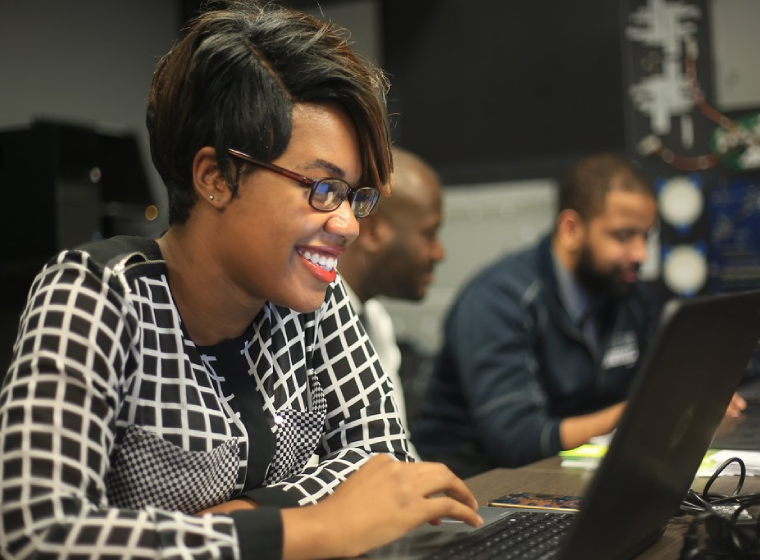 Donate Now
Your support makes a powerful difference in our ability to build a technology talent training solution that creates greater access and equity.