ROI 2014: A packed house of supporters inspired to "Dream beyond what is directly in front of you."
Last night, June 12, Per Scholas honored three outstanding partners whose contributions of time and talent, employment opportunities, funding, vision and leadership have played a key role in creating bright futures for our graduates.
More than 250 of our closest industry leaders and supporters mingled with many of Per Scholas' accomplished alumni–namely featured speakers of the night Greg Lee, Tristan Delgado and keynote speaker Shannon Branch–at the Grand Hyatt Hotel for the third annual ROI dinner. It was a night of fun, food, inspiration, and Mariachi music provided by the all-female group Flor de Toloache.
We were honored to celebrate the contributions of Barclays and Keith Klain, whose ingenuity and generosity built the Per Scholas Software Testing Education Program (STEP) last year. As a direct result, close to 100 students have completed STEP training, with graduates earning average salaries o $36,000. The final honoree of the night, IT consulting firm Doran Jones, saw promise in Mr. Klain's vision of a software testing center in the Bronx. Now, Doran Jones is Per Scholas' private-sector partner on our software testing job creation initiative. Doran Jones will operate the new Urban Development Center (UDC), co-located at Per Scholas' headquarters in the South Bronx, and provide software testing to its clients. We look forward to seeing 150 Per Scholas STEP graduates employed at the UDC over the next 18 months. An incredible commitment.
The message was repeated many times in the night. We could not do any of this without the support of those who support and inspire us, our corporate partners. Special thanks to our sponsors, including Barclays, Bloomberg, the Creating IT Futures Foundation, Dell, Doran Jones, JPMorgan Chase, High Point Solutions, NYSE-Euronext, Prudential, and generous donors Con Edison, Control Group, EMC, and Vicom.
Thanks to the generosity of our attendees, the ROI Corporate Dinner was just as much about looking forward as it was about celebrating our past successes. A quarter of a million dollars was raised through the generosity of our sponsors and individual guests, to go towards our students like Shannon, Greg and Tristan, who have ended cycles of poverty and unemployment through access to Per Scholas' technology education and job services.
In giving the final award of the night, the Innovator of the Year award to Doran Jones, Per Scholas Executive Director Angie Kamath expressed: "Leadership takes vision, a bit of risk-taking, and an ability to dream beyond what is directly in front of you." We are so lucky to have partners that step up to that tall order to allow us to continue growing and provide life-changing opportunities for our incredible, deserving students.
Pencil in ROI 2015 and continue to support the important work of Per Scholas and spread the word to others. There are many ways to help us rebuild communities. Volunteer your time to a student, be part of expanding the UDC, help us enter new cities across the country, make a personal gift, hire a graduate, or join an advisory or board role. With your contributions, Per Scholas will continue to grow.
Sign up for our Monthly Impact Report
More News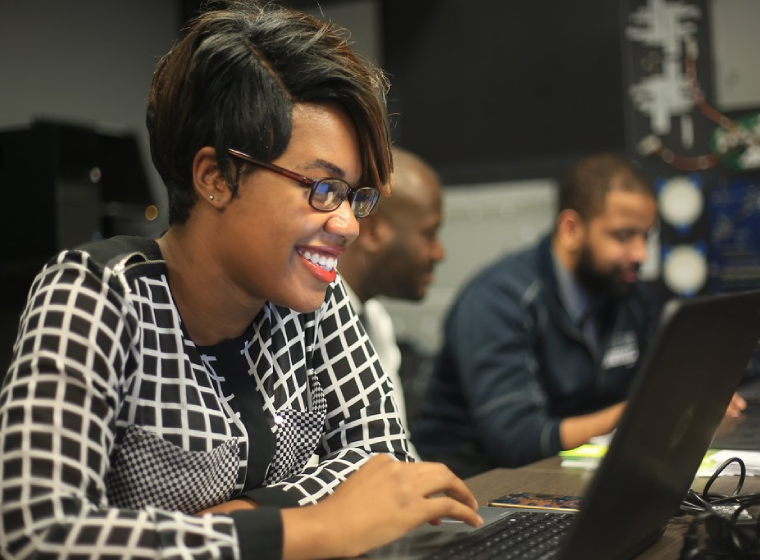 Donate Now
Your support makes a powerful difference in our ability to build a technology talent training solution that creates greater access and equity.