Software testing course launches in Cincinnati, thanks to invested support from Ingage Partners and Thrive Impact Sourcing
Per Scholas is proud to announce a new training program in collaboration with Ingage Partners and Thrive Impact Sourcing designed to prepare individuals from the Greater Cincinnati region for positions as quality assurance software testers. The eight-week pilot course began April 11, at Per Scholas' CityLink Center location with 22 participants, all drawn from the Per Scholas student recruitment process.
Like all Per Scholas courses, the software testing program is offered free-of-charge to participants. The pilot training is generously funded by Ingage Partners and Thrive Impact Sourcing, which hopes to hire at least half the graduates immediately after completing the course.
"We believe the creation of this intensive training opportunity will provide a much needed talent pool to the Greater Cincinnati area, allowing us to engage with adults who are unemployed or in low-wage positions, and looking for a better career path" says Kelly Dolan of Ingage Partners and Thrive.
By the end of the course, participants will learn industry-leading testing skills and techniques in a lab-based, instructor-led environment. In addition, they are given access to real-life projects and participate in field studies to learn alongside working professionals. Graduates are then given the opportunity to interview for full-time positions directly with Thrive Impact Sourcing and other corporate partners.
"This relationship is validation that our approach works to both serve the employer community by providing a valuable talent pipeline as well as preparing motivated and curious adults for life-changing careers in technology," affirmed Paul Cashen, Managing Director of Per Scholas Cincinnati.
Per Scholas has provided its IT Support course to more than 170 individuals from Greater Cincinnati since 2012, and this new software testing course will allow it to prepare even more individuals for life-changing careers in the IT sector. Nearly 85 percent of graduates of the IT Support training are now working in the IT industry, earning on average $30,000 in that first job, and the vast majority receiving benefits as well. The average starting salary for a software tester in Greater Cincinnati is estimated to be $35,000-40,000 a year.
The software testing curriculum was first developed in partnership with Barclays and other industry leaders, and first launched in Per Scholas' Bronx location in 2014. To date, 143 students have graduated and are earning on average $36,000 in initial salaries. Applications are currently being accepted for admission to the next Cincinnati based course beginning in July to individuals 18 and older who meet the standard criteria. Learn more at perscholas.org/apply.
Per Scholas
Per Scholas is a national nonprofit that drives positive and proven social change in communities across the country. Through rigorous and tuition-free technology training and professional development, we prepare motivated and curious adults who are unemployed or in low wage jobs for life-changing careers as IT professionals, and we create onramps to businesses in need of their talents. Today we provide our solutions in six cities across the country: Atlanta, GA; Cincinnati and Columbus, OH; Dallas, TX; the National Capital Region; and New York, NY. To date, Per Scholas has trained over 5,000 individuals, helping them build lasting, life-changing careers in technology. For more information, visit perscholas.org, Twitter @PerScholas and Facebook.
Ingage Partners is a Management and Technology Consulting company. Located in Cincinnati, Ingage Partners provide full solution delivery consulting services to produce amazing results through a combination of skills including Software Development, Delivery Management, Product Management and User Experience Design. A purpose driven business model is what makes us different. Ingage Partners vision is to be a thriving example of business for good in order to inspire other companies to think differently so growing our collective impact on the world. Thrive Impact Sourcing is being launched as a new business as part of the Ingage Group of companies. For more information, please visit www.ingagepartners.com
Thrive Impact Sourcing exists to reshape the socioeconomic trajectory of Cincinnati's most disadvantaged populations living in poverty by providing sustainable careers in the field of IT. This is accomplished by producing real business value for its clients. Thrive is a local start-up pioneering an Impact Sourcing business model located in Cincinnati's urban core. Impact Sourcing creates high quality job opportunities for an untapped talent pool in low-employment areas transforming lives and making businesses more efficient. Thrive concentrates on a proven approach to Quality Assurance to provide functional testing services, test management, and usability testing. Data Transformation services are also a part of Thrive's offerings. On-going training, mentorship and life coaching sets these professionals and their families on a path to Thrive. For more information, please visit www.thrivecincinnati.com
Sign up for our Monthly Impact Report
More News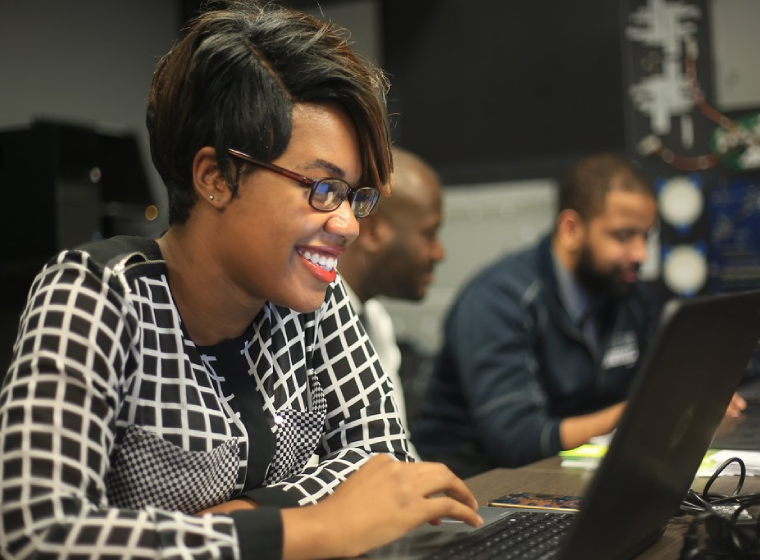 Donate Now
Your support makes a powerful difference in our ability to build a technology talent training solution that creates greater access and equity.