Student Feature of the Month: NYSE Veteran Associates
August is a big month for three recent graduates of Per Scholas. Hired to join the New York Stock Exchange (NYSE) Veteran Associate program, Thiry Ngin (Navy), Nelson Casillas (Army) and former Student of the Month Sara Yarbrough (Army) will finish the ten-week engagement and move on to bigger things. We were excited about this milestone and naturally had to go pay them a visit before the program ended.
When we sat down to learn more about their work, we were joined by executive Daryan Dehghanpisheh, VP of Business Development for NYSE Technologies, who is becoming involved with Per Scholas in the wake of our successful 2013 ROI Corporate Dinner. For the next hour, we felt fortunate to be part of a wide-ranging conversation about business technology, NYSE, Per Scholas, and the extraordinary opportunities available to anyone with the drive and skill to succeed in IT.
Our graduates especially enjoyed comparing their diverse experiences. Thiry was placed on the e-Learning and end-user training team, while Nelson joined the telecommunication department. Sara worked directly on the trading floor providing tech support. As Veteran Associates, all three were tasked with the same responsibilities as their NYSE colleagues, with whom they'd already started forming close relationships. Each of them, they shared, had a mentor who was truly invested in their professional growth and learning.
Thiry spoke for them all when she said "I am learning so much!" She added that "Teaching technology was what I set out to do when I came to Per Scholas. And I'm doing it. I gave my first training presentation to staff last week."
At the same time, all three graduates were proud to represent returning U.S. veterans on the floor of the New York Stock Exchange — and were overwhelmed by the support and goodwill they experienced. "They care about us (veterans) so much, they really do. They have a unique appreciation for what we did," Sara shared.
A bonus perk of being a NYSE Veteran Associate: all have participated in the closing bell tradition. Nelson joined the ceremony celebrating the U.S. Army's 238th birthday with a 4-star general. "When we walked into the trading floor for the closing bell, everybody stopped what they were doing to applaud us — like we were celebrities walking through. I was so moved by the respect they showed us."
And you can tell from this video (Sara left of middle) that it was a true thrill for her, too.
This past Monday, July 22, a networking event was hosted just for the veteran associates with employers interested in hiring them: Bank of America, Merril Lynch, Marsh and Pepsico all attended to take resumes and meet candidates. Before the end of the program, Honeywell and AIG will also be coming to do the same.
"Per Scholas and this internship have brought me back to life and I am sure that it will lead to a permanent job," Nelson expressed. Before Per Scholas, Nelson could only find occasional temporary employment. He learned about Per Scholas through an online job search and came to the Bronx to enroll the very next morning.
A similar story, Thiry was laid off from her position working in accounts receivable for a company. She knew technology would give her the job security she was seeking to give her life more stability. And we all know Sara's story (and if you don't, read it here). All three came to Per Scholas ready to change their lives for the better — and for good. Thanks to the help and unwavering support by NYSE, these three are well on their way.
Before we parted ways with the students, we made our way down to the trading floor for some obligatory photo ops. And this is when the coolest part happened — at least to me as an observer from Per Scholas. Everybody knew our students. Everybody. A trader in his blue jacket passed by and stopped to shake hands and say hello to Sara. Thiry was hollered at from across the way as we walked through with friendly greetings. Nelson waved around as they called him out. The New York Stock Exchange trading floor was visibly thrilled to see our students!
Call me crazy, but when are interns ever this well known and engaged with the company teams? I had to pause and let the warm and fuzzy feeling run its course, like we feel so often in our awesome jobs working for Per Scholas. Our students aren't just interns for the summer or brought on out of charity or being given a freebie opportunity as a nice gesture. They are recognized professionals, appreciated by their colleagues. What a wonderful reminder this was.
Sign up for our Monthly Impact Report
More News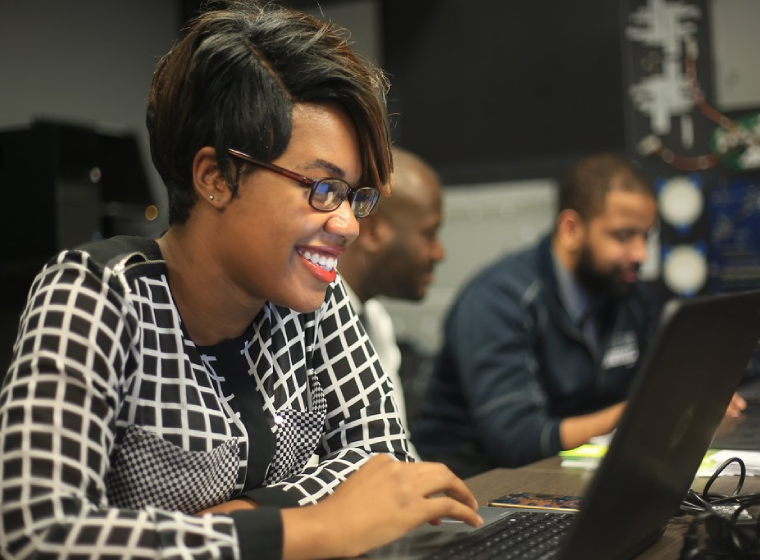 Donate Now
Your support makes a powerful difference in our ability to build a technology talent training solution that creates greater access and equity.