Student Spotlight: Marianne Linardos, Cincinnati
Marianne Linardos – a Navy veteran with two college degrees – never thought finding a good job would be so hard.
Yet after four years of unsuccessfully searching for permanent employment, Linardos found herself standing on a street corner, holding up a cardboard sign that touted her willingness to work.
The sign read: "Grad for Hire."
"I added a few decals representing my status as a Navy veteran, and I drew a graduation hat, representing my status as an alum of Miami University," she said. "I thought parading this sign in front of high-traffic areas near large business establishments would get attention."
It didn't. That was in 2011, just about when Linardos – who had not worked full time since 2007 – was ready to give up.
"I was working at McDonald's for minimum wage," she said. "I had pretty much given up hope on achieving any goals in my life."
Then an online job search fluke changed Linardos's life for the better, forever. She stumbled upon an ad promoting free IT training classes through Per Scholas.
Like the Creating IT Futures Foundation, Per Scholas is a national non-profit organization that provides free, high-quality technology education to the unemployed and people from groups under-represented in the IT industry, including ethnic minorities, women and military veterans. Together, the two organizations are collaborating to bring the IT-Ready program to more U.S. cities.
"I was searching for jobs online in the Cincinnati area, and that's when I found the Per Scholas ad. And it sounded great," Linardos said. "There was just one problem – registration had ended and the class started in three days. I mulled that over in my head the whole weekend: 'What should I do? I have to somehow get into that class. I may never get this opportunity again.'"
Tapping into her vast well of determination and courage, Linardos did the only thing she could think to do – she showed up unannounced at the Per Scholas IT-Ready training site on the first day of class and asked to join.
"As luck would have it, two people had pulled out of the class at the last minute," she said. "Andrea Applegate [Managing Director of Per Scholas Columbus] talked to me and allowed me to stay in the class while my application was evaluated."
Her application was approved. Being admitted to the IT training program didn't immediately solve all of Linardos' problems. She faced a long daily commute in her unreliable car. When she wasn't in class, she made hamburgers at minimum wage, earning barely enough to buy a tank of gas. And as a single parent, she continued to juggle the needs of her three children.
The classroom work itself, too, proved to be a challenge. Linardos had attained the rank of Petty Officer 3rd Class in the Navy, working in electronics, which she assumed would give her a leg up during IT training.
"But information technology is far different from electronics," she said. "IT deals more with applications, whereas electronics deals more with internal components, like repairing mother boards. So while I was familiar with technology, the majority of the material I was learning was new. It was a little scary."
According to Applegate, the feeling of intimidation is a typical response from Per Scholas students, the vast majority of whom are mid-career adults who haven't stepped inside a classroom for years and, more important, are new to technology. Linardos credits her Per Scholas instructor, Adam Turner, for making coursework interesting and understandable.
"Adam is one of the best instructors I've ever had, and after six years of college, I've had quite a number of instructors," she said. "He constantly quizzed us to make sure that everyone had a firm understanding of the material. His delivery demanded your attention, because he tried to deliver even the driest of material in an informative but interesting fashion."
Following her graduation, Linardos worked with Chris Williams, an associate director of business solutions for Per Scholas, who works with local business partners to develop employment opportunities for students. Williams persuaded Linardos to accept an apprenticeship position with Pomeroy; although not close to her home, the company would be a good fit for her skills and personality. With her fingers crossed, she began making the hour-long one-way commute.
"The job was a project coordinator position, and I was more afraid of losing that opportunity than I was afraid of losing my car," she said. "The engine light came on, but it got me through the first several weeks without complication. Finally I had enough paycheck stubs to get a car loan. I am now the proud owner of a Honda Accord Hybrid. The money I will save on gas will make up most of the car payment."
And the work she's doing for Pomeroy? To say she's loving it, Linardos said, is an understatement. Her future has completely changed.
"I am able, once again, to hope and dream of a future," she said. "I believe I can provide a better life for my children. I believe I can survive without being a burden to society or my loved ones. I feel I can finally dream and grow."
Story written in collaboration with the Creating IT Futures Foundation.
Sign up for our Monthly Impact Report
More News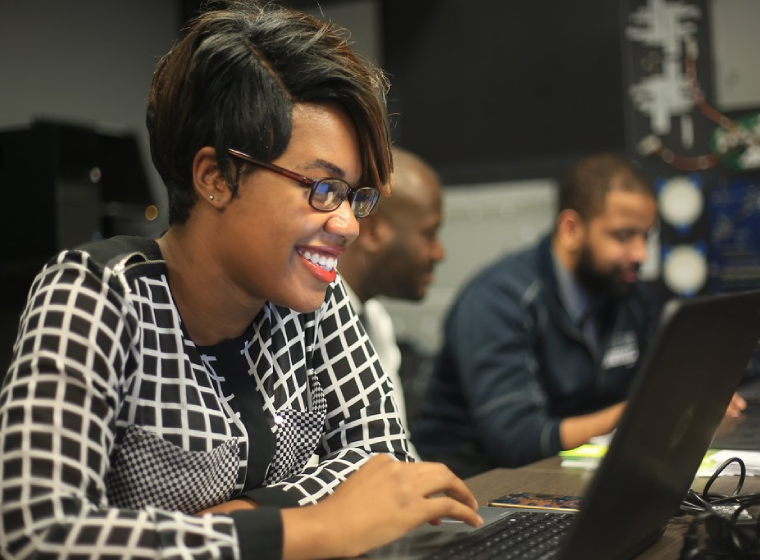 Donate Now
Your support makes a powerful difference in our ability to build a technology talent training solution that creates greater access and equity.