Success of Per Scholas Cincinnati and Thrive Impact Sourcing Partnership Highlighted and Featured in Various Media
Last April, Per Scholas launched a new Software Testing training course in Cincinnati in partnership with Ingage Partners and Thrive Impact Sourcing. The collaboration has succeeded by preparing individuals from the Greater Cincinnati region for open positions as quality assurance software testers. Thrive Impact Sourcing committed to hiring at least half of the graduates immediately upon course completion. After three courses, however, Thrive has hired over 80% of the graduates, demonstrating the quality of candidates and training the students receive at Per Scholas.
Last month, the graduation for the Software Testing course was featured on Fox 19, with a video segment that highlighted the students accomplishments. To this day, Thrive has hired 37 Per Scholas alum for positions as QA (Quality Assurance) Analysts in their firm.
The unprecedented partnership between Per Scholas and Thrive has opened the doors to a career in tech for many students. "I have nothing but hope and excitement about my future. Just three or four months ago I was expecting to be just above minimum wage…I work for a company that cares about my success and they pay for my training." says Taj Crooms, Per Scholas ambassador. Fellow ambassador Angela says that becoming a software tester and working at Thrive has been an important change in her life. "I'm not dreading going to work everyday. I'm not frazzled, frustrated, or disappointed anymore."
Since it's creation, the partnership between Per Scholas and Thrive has peaked the interest of various media outlets and has had a demonstrable impact on the economy. Soapbox Media states "Thrive Impact Sourcing's disruptive methods impact local employment rates" highlighting the unique "urban impact sourcing" model used between Thrive and Per Scholas to provide high-quality opportunities in low-employment, urban areas. "Thrive is fortunate to have mission-aligned, client partners who were early adopters of this disruptive business model," says Kelly Dolan of Ingage Partners and Thrive.
The Software Testing course provides participants with industry-leading testing skills and techniques in a lab-based, instructor-led environment. In addition, they are given access to real-life projects and participate in field studies to learn alongside working professionals. Graduates are then given the opportunity to interview for full-time positions directly with Thrive Impact Sourcing and other corporate partners.
About Thrive:
Thrive Impact Sourcing exists to reshape the socioeconomic trajectory of an untapped talent pool living in poverty by providing opportunities to launch a career in the field of IT. Thrive produces real business value for its' clients by offering a local IT outsourcing solution from our Urban Outsourcing Center. New Analysts are surrounded by on-going mentorship from senior IT professionals while engaged in software testing projects with a variety of clients. Using this model, we bring a competitive and competent pool of IT talent to the marketplace. Thrive is a local start-up pioneering an Impact Sourcing business model located in Cincinnati's urban core. Impact Sourcing creates high quality job opportunities for an untapped talent pool in low-employment areas transforming lives and making businesses more efficient. Thrive concentrates on a proven approach to Quality Assurance to provide functional testing services, test management, and usability testing. Data Transformation services are also a part of Thrive's offerings. On-going training, mentorship and life coaching sets these professionals and their families on a path to Thrive. For more information, please visit www.thrivecincinnati.com Or follow them on social media on Facebook.
Check out past Monthly Impact Reports here
Sign up for our Monthly Impact Report
More News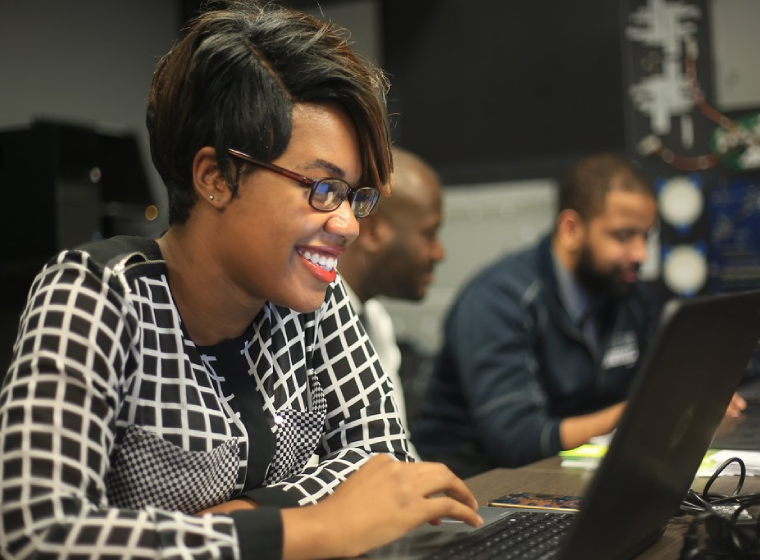 Donate Now
Your support makes a powerful difference in our ability to build a technology talent training solution that creates greater access and equity.