U.S. Senator Kirsten Gillibrand Visits National Tech Training Nonprofit, Per Scholas
U.S. Senator Kirsten Gillibrand Visits National Tech Training Nonprofit, Per Scholas
Discussion included opportunities to strengthen and expand successful workforce models and partnerships across New York.
October 29, 2019 Bronx, NY — Today, U.S. Senator Kirsten Gillibrand visited national tech training nonprofit, Per Scholas, to meet with students and staff and discuss first-hand a successful training model that is preparing motivated adults who are unemployed or underemployed for careers in technology. For over twenty years, Per Scholas has built employer-informed curriculum to ensure that the training students receive is relevant to today's job market. In the last two years, Per Scholas has developed customized training tracks that are preparing students with in-demand skills for nuanced jobs at corporations. Currently Per Scholas offers nine unique training tracks in New York including: IT Support, Cybersecurity, Systems Administrator, Web Development, Data Engineering and Programmer Analyst.
Senator Gillibrand, a champion for economic mobility and working families, spoke with three students at Per Scholas' Bronx training location enrolled in the Cybersecurity, Web Development and IT Support training tracks. Students shared details from the intensive 15-week training, the importance of industry recognized certifications, and the professional development opportunities including resume workshops and mock-interviews with employer partners. Students also discussed their backgrounds with the Senator and emphasized their limited experience in technology prior to coming to Per Scholas, however, each student identified strongly as life-long learners, dedicated problem solvers and a strong passion for tech.
"I was delighted to tour Per Scholas and meet with teachers and students learning the technical skills needed to get the in-demand, high-skilled jobs of today and be prepared for the 21st century jobs of tomorrow," said SenatorGillibrand. "Companies across New York State have many high-tech jobs available, and I have fought for legislation that will help train students with the technical and computing skills they need to fill these jobs. I will continue to do everything I can to make sure that our state has the resources they need to better prepare students for high-quality jobs."
"We were thrilled to host Senator Gillibrand at our Bronx headquarters, today, and meet Per Scholas students, the future technologists of tomorrow. Each student is an individual with both the intelligence and determination to succeed and all they are lacking is an opportunity — Per Scholas provides that opportunity" says Plinio Ayala, President & CEO, Per Scholas. "We have developed unique partnerships across sectors and industries to leverage our experience identifying and training talent from the community and worked with an extensive employer network to understand the relevant skills – and place students in sustainable careers."
Per Scholas has been evaluated by two randomized control trials (RCTs) that have proven graduates earn more, are half as likely to rely on public assistance and experience substantial increases in life satisfaction. In addition, the most recent RCT demonstrated that graduates are earning more year over year suggesting that Per Scholas is able to provide students with a career and growth potential and not just a job.
Per Scholas data shows that 85% of students graduate and 80% of graduates are employed. By partnering with over 500+ companies in New York alone, Per Scholas has built a strong and diverse talent pipeline for employers in New York City. In 2017 Per Scholas enrolled over 500 individuals in New York and 1,000 nationally. Just this month Per Scholas announced the enrollment of its 8,000 student with plans to continue expanding training tracks and opportunities in New York and across the country.
About Per Scholas:
Per Scholas is a national nonprofit that drives positive and proven social change in communities across the country. Through rigorous and tuition-free technology training and professional development, we prepare motivated and curious adults who are unemployed or underemployed for successful careers as technology professionals, and we create onramps to businesses in need of their talents. Today we provide our solutions in seven cities across the country: Atlanta, GA; Greater Cincinnati, OH; Columbus, OH; Dallas, TX; the National Capital Region; Newark, NJ and New York. To date, Per Scholas has trained 8,000 individuals, helping them build lasting, life changing skills and careers in technology.
Sign up for our Monthly Impact Report
More News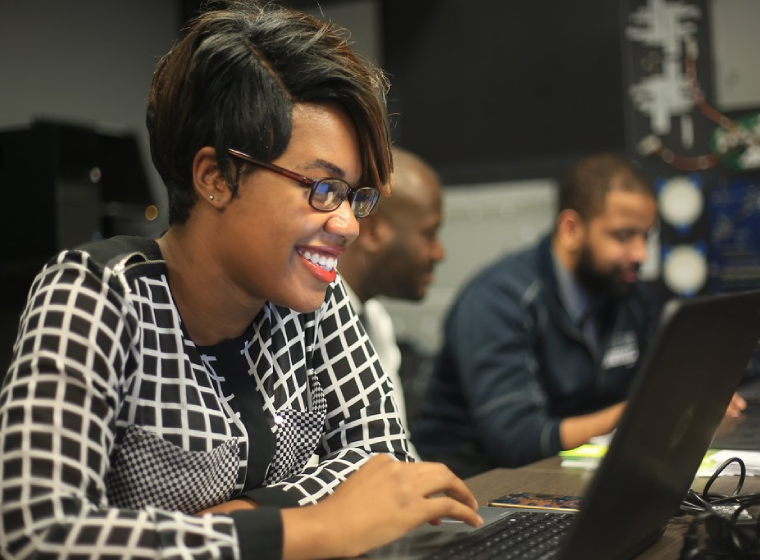 Donate Now
Your support makes a powerful difference in our ability to build a technology talent training solution that creates greater access and equity.