Workforce Impact Report 2016: The Transformation of Workforce Development in Dallas-Fort Worth
Nearly $1 million has been earned in wages by the formerly unemployed of Dallas-Fort Worth.
The outcomes are a result of a $500,000 investment grant by JPMorgan Chase & Co. to nonprofit Per Scholas to bridge the technology skills gap.
DALLAS, MARCH 8, 2016 – In less than one year, nearly $1 million has been earned in wages by the formerly unemployed of Dallas-Fort Worth, who are now gainfully employed in technology careers as a result of a $500,000, two-year grant by JPMorgan Chase & Co. awarded to Per Scholas this past year.
The national IT job training nonprofit opened in South Dallas near Fair Park in March 2015, working to bridge the significant middle-skill job gap existing in the region's growing technology job sector.
"Our partnership with Per Scholas means more people will get better jobs, helping each graduate provide a better life for their family," said Jay Clingman, head of Chase Middle Market Banking in Dallas. "Helping people gain the work skills they need will transform lives and strengthen our region's economy."
As Per Scholas nears its one-year anniversary, it celebrates with stories from some of its 100 participants from its tuition-free technology training. The nonprofit is hosting a forum on March 8 with JPMorgan and other workforce providers to address the impact their services are having on closing the city's skills gap. CitySquare, Jewish Family Services, Literacy Instruction for Texas (LIFT) and NPower will join Per Scholas to reveal an impact data report on the region's progress to date in closing the skills gap. The forum will take place March 8, 2015 at 10:00 a.m. to 11:00 a.m.at the Dallas Public Library auditorium (Central Branch, 1515 Young Street).
Preview of the findings include:
700 jobs filled in the past 3 years among graduates of the workforce agencies
Starting salaries range from $26,000-$45,000 by participant graduates
All participants were unemployed and/or living in poverty
Employer partners and workforce participants who benefited will augment the positive data with personal testimonies.
Dallas resident and Per Scholas graduate, Alex Hernandez, will be one of the panelists speaking. Prior to finding Per Scholas, Alex held manual-labor jobs and never earned more than $10 an hour. Alex was one of the first local residents to enroll in the full-time course where he received hands-on training and industry credential CompTIA A+ certification, all offered to him at no cost thanks to investments from JPMorgan Chase & Co. and many others who help to fund the $7,000 it cost to prepare Alex.
A job offer was made to Alex prior to his graduating from Per Scholas. Today he works for Turner Construction in the IT department. "To say life has improved is an understatement," he said.
Residents interested in the training can learn more at perscholas.org.
About Per Scholas
Per Scholas is a national nonprofit offering free, high-quality technology job training and career development to unemployed and underemployed individuals. Since 1998, more than 5,000 have enrolled in its job training programs. For more information, visit perscholas.org, Twitter @PerScholas and Facebook.
About JPMorgan Chase
JPMorgan Chase & Co. (NYSE: JPM) is a leading global financial services firm with assets of $2.6 trillion and operations worldwide. The Firm is a leader in investment banking, financial services for consumers and small businesses, commercial banking, financial transaction processing, and asset management. A component of the Dow Jones Industrial Average, JPMorgan Chase & Co. serves millions of consumers in the United States and many of the world's most prominent corporate, institutional and government clients under its J.P. Morgan and Chase brands. Information about JPMorgan Chase & Co. is available at www.jpmorganchase.com.
Sign up for our Monthly Impact Report
More News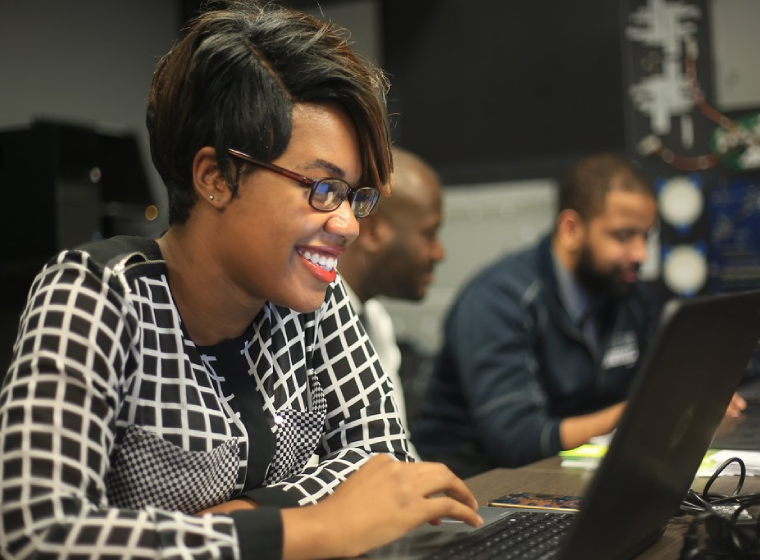 Donate Now
Your support makes a powerful difference in our ability to build a technology talent training solution that creates greater access and equity.