Yulonda Stevens | Student of the Month
It's the norm for parents to take their children to school. But Yulonda Stevens took her son Sharod to school — to enroll in class with her. The Stevens family made Per Scholas a family affair.
"My son and I applied together and were both accepted together, in the same class. Now we study together, quiz each other. He helps me figure out problems I don't understand, and I help him." Yulonda shared. The Stevens family is the first in Per Scholas history (to our best knowledge) to have a mother and son in one class. Sure, plenty refer family members once they graduate — but to take this on side by side? It's kind of adorable.
Yulonda, 51, always wanted to branch into the technology industry but feared putting her job on hold to take the plunge, so never did. Her career spanned decades working in finance but following the economic downturn, Yulonda experienced not one but two layoffs. Per Scholas was the answer to her prayers after over two years without work strained the family finances. It also opened a long-awaited door to pursue a personal passion. She brought Sharod along with her to enroll knowing technology was a field wide open with opportunity and the route for a stable future.
Her story is not an unusual one these days for so many Americans who have been negatively affected by the recession. Many students around Yulonda's age who were loyal employees, committed to their respective careers, come to us needing a new 21st-century skill set, recognizing the evolution of today's job market. By Per Scholas offering a free training for jobs in one of the most in-demand industries, it gives this productive population of our local workforce the "new economy" skills to reinvent themselves and contribute again, as they always have. It's a win-win for all.
Following training and the completion of her CompTIA A+ certification, Yulonda hopes to begin in an entry-level role, potentially with Per Scholas employer partner JPMorgan Chase where she is currently in interviews, and work up to network security on her new career track. Yulonda has her eye set on the advanced certifications offered to Per Scholas graduates free of charge courtesy of the Creating IT Futures Foundation. She will pursue the Security+ certification in the coming months following her core training.
"My grandkids love that grandma is in school, just like them. It used to be me asking what they were learning in school and how their school day went," she laughs. "Now it is them asking me."
In addition to Yulonda's family learning approach, she was recognized by the Per Scholas staff in Columbus as the stand-out student to feature this month. She repeatedly scores high marks on her quizzes, with a laser-focused dedication to master the material. She attends class every single day, always coming in on time. And most importantly, she brings the best attitude. The moment you speak with her, you can tell that it'd be hard to wipe a smile off her face.
"I'm so happy to be here. Our class is like a large family. We laugh every day. We help each other every day. We have study groups to support one another on the weekends — even our instructor Mr. Miao attends. Everyone is invested in the success of everyone else." The feeling is mutual — we couldn't be happier to have her in our Per Scholas family, too.
Yulonda graduated with her son and fellow classmates from the second class of Per Scholas Columbus on April 12 (see pictures). From now on, if you have a problem with your computer, just call the Stevens' house. Someone there will likely be able to fix it.
Sign up for our Monthly Impact Report
More News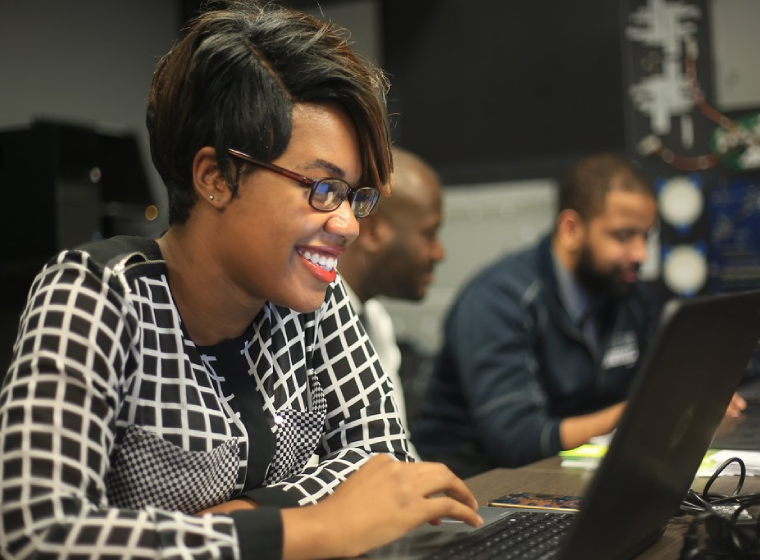 Donate Now
Your support makes a powerful difference in our ability to build a technology talent training solution that creates greater access and equity.