2023 Outlook: Lasting Tech Careers
As we ease into 2023, the outlook for tech workers may appear rough at first glance. For the last several months, a series of layoffs at numerous high-profile tech companies, such as Google, Amazon, Twitter, Salesforce, and Microsoft, as well as at smaller-scale tech companies, have rocked the tech industry. Layoff-tracking site layoffs.fyi reported that, in 2023 alone, over 400 tech companies have laid off a total of almost 120,000 workers from tech jobs. Furthermore, the future state of the U.S.'s economy also seems precarious: in December, a survey of economists predicted a 70% chance that the U.S. would enter a recession at some point in 2023. 
Such rocky news is enough to make any aspiring tech worker nervous about entering the industry. However, contrary to what one might expect, data seems to indicate numerous open tech jobs available, a fast hiring turnover rate for tech employees, low tech unemployment rates, and new roles available to tech workers in previously overlooked industries. Below, we will explore why now might just be as good a time as any to get started in tech, and how Per Scholas alumni can navigate this confusing time. 
Is now a good time to launch a career in tech?
From a glance at the news, the outlook for tech industry workers seems grim. Announcements of mass layoffs from all manor of tech companies have been filling the news for months. According to tracking site Layoffs.fyi, on average, approximately 1,600 tech workers have been laid off every day in 2023 so far, with numbers already reaching 15% of the total number of tech workers laid off in 2022. Just this week, Twitter announced that it would be laying off 10% of its remaining staff, the latest in a series of similar announcements from other tech companies, large and small.
Such news might lead one to believe that this is a bad time to
be involved in the tech industry, but data actually seems to paint a different picture of what it means to work in tech right now. While tech layoff rates are indeed high, tech hiring rates are also very high, and tech workers are still in incredibly great demand. According to CompTIA's analysis of the U.S. Bureau of Labor Statistics' report on tech jobs, December 2022 saw job gains in four of five tech sector categories, and December was the "25th straight month of net employment growth in the tech industry." Software developers and engineers, IT support specialists, IT project managers, systems engineers and network engineers were noted to be in high demand, and "Washington, D.C., New York City, Chicago, Los Angeles and Dallas led the list of metro markets with the highest volumes of tech jobs postings." 
In job search site Indeed's 2023 annual ranking of U.S. "best jobs," eight of the top ten jobs were tech jobs. This ranking is based on job opportunity, meaning that these top jobs are in high demand from employers, and are rapidly growing. The ranking was as follows:  "full-stack (No. 1); data engineers (No. 2); cloud engineers (No. 3); senior product managers (No. 5); back-end developers (No. 6); site reliability engineers (No. 7); machine learning engineers (No. 8); and product designers (No. 10)." 
The Labor Department's January jobs report showed that the U.S. unemployment rate reached a 50-year low this January, "signaling the economy, and job market in particular, remains strong despite growing layoffs among technology firms that splurged on labor during the pandemic." Furthermore, a recent CompTIA analysis indicated an increase in employer job postings for potential future tech hiring, as well as low tech unemployment rates, which suggests that many laid-off tech professionals are quickly finding new work. 
In fact, an analysis of workforce data provided by Revelio Labs and reported by Business Insider last month found that "among laid-off tech workers, 72 percent have found new jobs within three months. Even more surprising, a little over half of them have landed roles that actually pay more than what they were earning in the jobs they lost." An analysis of the findings noted that, "laid-off workers are actually more likely to find a new job quickly now than at the height of the tech hiring frenzy of July 2021," although individuals with hard tech skills are now more in demand than those who work in the tech industry in "softer" roles, such as communications and HR. 
Many tech workers also seem to be finding success landing tech roles at companies outside the tech sector. Tech work will always be in demand, especially now that many non-tech companies are continuing to digitally upscale in the wake of the pandemic. According to a ZipRecruiter survey, approximately 74% of laid-off tech workers found new jobs in tech, with the remaining 26% finding tech roles in various other industries. "Tech skills are in high demand across the economy, with government agencies, aerospace companies, health systems, and retailers frequently noting shortages of software engineers, cybersecurity professionals, data analysts, and web designers," the survey stated. 
HR services firm Randstad predicted that 2023 will see a 25-30% growth from last year in demand for tech talent in non-tech sectors. "The widespread adoption of digital technologies has driven non-tech industries…to hire more tech professionals to ensure data security, information processing and reduce consumer grievances," said Sanjay Shetty, the Director of Professional Search & Selection and Strategic Accounts at Randstad. "This rapid shift to digital operations has created a demand for tech talent in non-tech fields, leading to a significant increase in tech hiring that has remained strong despite the ongoing pandemic recovery." 
Per Scholas alumni have opportunity to upskill and connect with employers
Fortunately, our Per Scholas graduates are well-prepared for landing jobs in tech. We believe in taking a multifaceted approach to preparing our learners for entry into the tech workforce, which gives them an edge over other applicants in the field. Not only are learners equipped with top-notch technical skills, they also undergo rigorous professional development training to tailor and polish their resumes, cover letters and LinkedIn profiles, practice mock interviews, and prepare to conduct themselves in a professional setting. 
We also partner with leading tech companies to bring industry experts and professionals into our classrooms who speak with our learners about what it is like to work in the tech industry, conduct mock interviews, and help our learners grow their professional networks. "One of the biggest benefits of Per Scholas was them being able to put us in the room with people that we wouldn't normally be in the room with," said Matt Watkins, a recent graduate of Per Scholas St. Louis' Cybersecurity course. "We were in the room with CCOs and CEOs and big movers and decision makers in the corporate IT cybersecurity space. Without Per Scholas, I don't know how I would have come to meet these people and connect and network with them. I've already had three interviews within the months since graduating, and all of them were a direct result of the connections I made during this program." 
After graduating from Per Scholas, our alumni are also well-supported. For up to two years after graduation, alumni have access to our numerous resources including career coaching, financial coaching, and job placement assistance. Our learner support team aims to mirror an Employee Assistance Program (EAP) by providing alumni with access to coaching regarding mental health and wellness, work-life balance, and financial advising. "We're committed to providing continued access to skill enhancing learning opportunities that alumni can leverage during the job search and attainment process, and throughout their career journey," said Sierra Harvey, Director of Alumni Engagement and Training at Per Scholas. "This is possible through our instructor-led and asynchronous course offerings as well as providing space and opportunity for alumni to connect with each other and with other industry professionals." 
Per Scholas' business solutions team acts as a liaison between Per Scholas alums and our employer partners by sourcing employment opportunities, supporting alumni as they find gainful employment, and helping foster employer connections. Our professional development team continues to be available after graduation to help alumni refresh their personal and professional knowledge and skills, including resume/ cover letter review, pitch and interview practice, and online presence review. Finally, our technical instructors are available to alumni for all technical questions and professional references. Alumni may also level-up their skillsets and earn more certifications through our alumni courses. 
In closing, although recent news about layoffs in the tech industry and the state of the economy may be deterring to some hopeful future technologists, now actually appears to be a good time to launch a career in tech. Tech jobs are still widely available (even if not necessarily at tech companies), and tech talent is in as high a demand as ever. At Per Scholas, our diverse learners and alumni are prepared and supported through the process of training, job searching, and launching or upskilling their tech careers –  therefore changing the face of tech. Although the future of the U.S. economy may be uncertain or recession-bound, Per Scholas will continue to help our learners prepare for and land high-growth jobs in tech.           
Are you an employer looking to build your tech talent pool? Read more about recession-proofing your tech talent pipeline here.                                
Sign up for our Monthly Impact Report
More News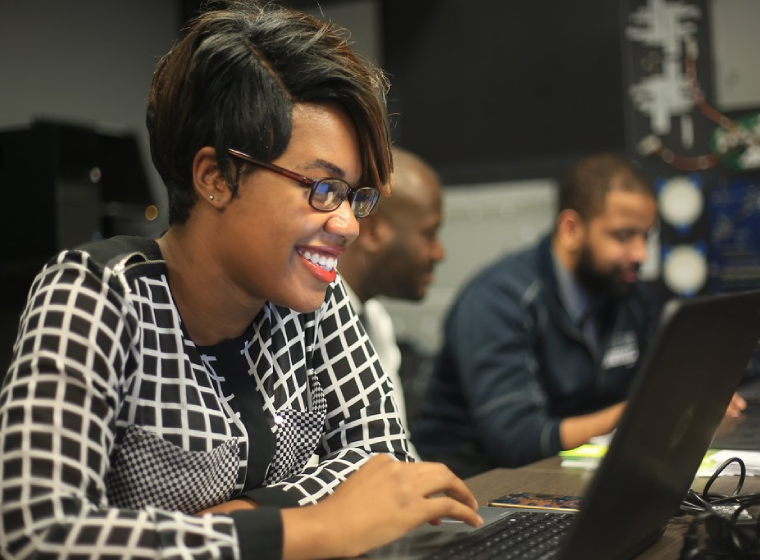 Donate Now
Your support makes a powerful difference in our ability to build a technology talent training solution that creates greater access and equity.