The Importance of Upskilling and Reskilling
In a competitive job market with many shifting gears from The Great Resignation, there is more focus on employees to upskill and reskill in their industry to become greater experts in the field.  When it comes to technology, Per Scholas not only trains our learners to become skilled technologists, but we also offer upskilling and reskilling opportunities that support our corporate partners with top-tier candidates for their organizations. Why is it important to upskill and reskill in the tech industry? Because the industry is ever-evolving and simply put; the more you know, the more you grow. From a business perspective, it is alluring to hire individuals who are eager to learn more or have previously done so to further their careers. Luckily, Per Scholas prepares our learners for thriving tech careers with these opportunities.  
Throughout The Great Resignation, Per Scholas has been able to navigate the new industry challenge and help our enterprise clients through our customized training upskilling and reskilling courses. Our Executive Vice President of Social Ventures, Damien Howard, was recently invited to serve on a panel at The Big Exit Conference and spoke on how Per Scholas is helping companies win the War on Tech Talent. "We're all facing a war on talent amid the Great Resignation, so the opportunity is right in front of us to make diverse, equitable, and inclusive hiring decisions that will push business — and bottom lines — forward," Damien mentioned during his panel discussion. Not only are we providing strong tech talent for our partners, but a diverse group of technologists that will bolster Diversity, Equity, and Inclusion efforts for corporations. The IT industry is struggling with diversity, where only 40% of the IT workforce is diverse today and only 26% is women. There is limited supply and high demand for diverse candidates, which is what Per Scholas has worked to bridge a gap in the workforce.  A study conducted by the Boston Consulting Group (BCG) identified diversity as a key driver of innovation, finding that diverse teams produce a minimum of 19% more revenue
Per Scholas graduate Maria Patokina took advantage of one of our upskilling courses that advanced her coding capabilities. After successfully completing her initial course in March 2021, Maria did not have a job lined up, so she felt it was important for her to continue learning and gain certifications. Maria enrolled in the Google IT Automation with Python Alumni training course. "The Python certification helped a lot in several ways,"  she reflected. "Taking this certification course helped me better understand general coding principles and other languages, like Javascript." After completing the course in May 2021, Maria realized that the new certification made her a standout candidate in her job search. She soon began her first tech job as a Software Engineering intern at a leading corporation. Maria credits the certification for improving her coding skills and creating a habit of self-studying that she feels is important in the IT field. "I learned a lot in a short period of time with Per Scholas that prepared me with a lot of practical, hands-on experience," Maria said about her experience. 
With so many different avenues to go down in the tech field, upskilling and reskilling opportunities are pertinent for both companies and employees.  Per Scholas' alumni training courses that have been customized for our partners are one way to defeat the Great Resignation we have recently faced in America and a great opportunity for organizations to strengthen their DEI ties.  Data has shown that 87 – 90% of our learners are people of color and about 30% of that number identify as women, further proving we're a turnkey solution for enterprises looking to diversify their technology talent immediately – with customized courses and opportunities for our graduates to continue towards success as technologists.  For more information on our upskilling opportunities, visit our website.  For questions about diversifying your tech talent pipelines with our incredible talent, set up a discovery meeting to discuss how we can work together and move the needle around diversity, digital transformation, and superior tech talent within your firm.
Sign up for our Monthly Impact Report
More News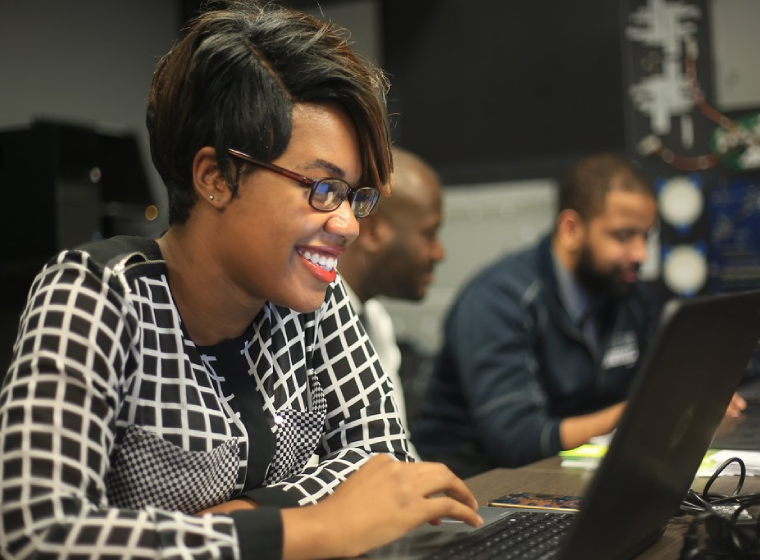 Donate Now
Your support makes a powerful difference in our ability to build a technology talent training solution that creates greater access and equity.