3rd Annual Ping! Event Biggest Ever
The 3rd annual Ping! event had the biggest turnout yet with 250 guests coming out to support Per Scholas' women in tech mission at SPiN in New York City.
Front and center all night were the very women representing the movement to increase the number of women of color in the techindustry — who are estimated today to make up only 3% of the tech workforce. Per Scholas will train 500 New Yorkers by the end of 2014 and at least 35% will be women — the highest percentage ever to enroll in our history. Per Scholas is further committed to making that figure 50% by 2016 — in short, we will train nearly 1,000 women to launch technology careers.
The night had many fun additions this year with a photo booth (run by Per Scholas Women in Tech grad Ana Luz Perez!), a pop-up shop by Sartor, rides from Lyft for all guests, Jets and Barclays Center ticket prizes, General Assembly passes and lots of hijinks. As always, the doubles tournament was fiercely competitive. The bar keeps being raised year after year as sponsors and individual supporters vie for the coveted Ping! trophies. Props to the champs Gautej and Jonathan of team Heavy No Spin (and also last year's 2nd place winners) who took on GFT Group in the finals. Congrats to all the winners and thanks to all 16 teams for participating in the tournament.
We also thank our 16 sponsors who made this night possible — Accenture, Barclays, Bloomberg, Braddock Matthews, Career Group, Doran Jones, General Assembly, Google, JPMorgan Chase, Liquid Technology, Lyft, NY Tech Council, PIMCO, Prosperian Wealth, Public Works Partners, and RVM.
Special recognition is due to the 2014 host committee members: Carrie Bloss, Kate Campbell, Barbara Chang, Ben Chrenlich, Carolyn Gamanos, Debra Ellen Glickstein, Ankur Jain, Kate Janeski, Suneet Kamath, Kari Kovarik, Adam Nalewajek, Annie Norbeck, Amanda O'Donnell, Nisha Patel, Michelle Pullaro, Damian Rivera, James Wanga — and of course the Per Scholas Board of Directors.
With our third Ping! event in the bag, we are humbled by the overwhelming positive response. There are many ways to support our goal to train 1,000 women for careers in tech. Stay involved! Your support has a profound impact on the lives of our students.
From everyone at Per Scholas, thank you.
Sign up for our Monthly Impact Report
More News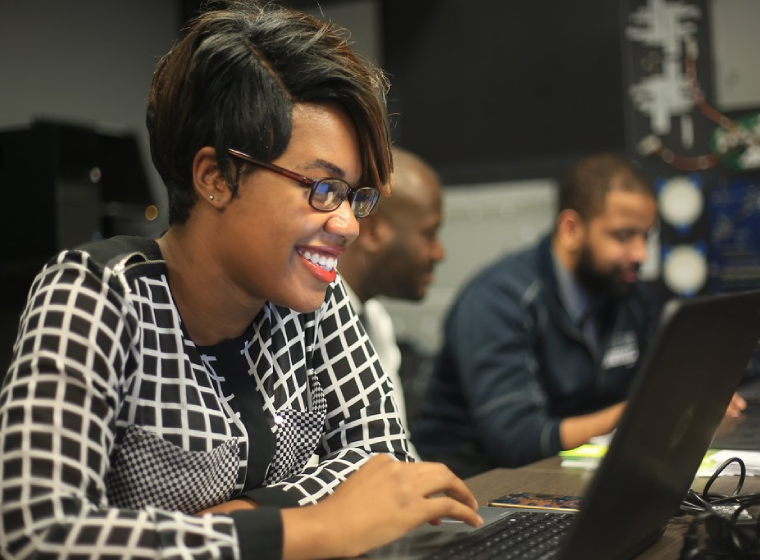 Donate Now
Your support makes a powerful difference in our ability to build a technology talent training solution that creates greater access and equity.