​Building a Tech Corridor in the South Bronx, Doran Jones and Per Scholas Celebrate Grand Opening of Urban Development Center
Technology consulting firm Doran Jones and nationally-recognized IT job training nonprofit Per Scholas celebrated the grand opening of the first-of-its-kind Urban Development Center (UDC) that will bring hundreds of high-tech jobs and millions in economic development to one of the nation's poorest neighborhoods in the South Bronx.
The ceremony on September 16, 2015 was held at Doran Jones' new 15,000 square foot corporate headquarters at 804 East 138th Street in the Bronx and attended by guests from technology, education, government, finance, and nonprofit. Remarks were made by Doran Jones co-CEOs Matt Doran and Keith Klain as well as President of Per Scholas, Plinio Ayala, New York City Chief Technology Officer Minerva Tantoco, Bronx Borough President Ruben Diaz, President of the New York City Economic Development Corporation Maria Torres-Springer, and Elizabeth de Leon on behalf of Governor Cuomo.
Greeting the audience with "Hello, fellow nerds!" to reciprocal cheers, NYC's CTO Minerva Tantoco expressed the local opportunity to seize. "Employment in tech in New York City grew by 57% in seven years. That is six times more than the citywide average according to the U.S. Department of Labor. By 2020 there will be 1.4 million computer jobs in this country and universities will only be able to fill 29% of these jobs. Places like the UDC will be a key part of keeping tech jobs here. Doran Jones is the future. I am incredibly proud to be a part of this celebration."
"We want to make sure Bronx residents have their fair share of tech jobs. The thirst from Bronxites is there. We want this to be the next tech hub. As the Borough President I am proud to be here. You have a champion in me," said a passionate Ruben Diaz, Borough President of the Bronx.
The celebration included high school student Olivia Ross presenting a new app she is developing with Doran Jones for the Melrose School located in the South Bronx. The app that will go live in 2016 helping connect parents of the students to school updates, activities and alerts. The crowd was captivated seeing the young technologist pitch her product, further highlighting the opportunity and talent for tech development in the city's outer neighborhoods.
Maria Torres-Springer, President of the New York City Economic Development Corporate, encouraged a vision for growth, "This is a true virtuous cycle that we need to replicate."
The Urban Development Center is a full-service software development and testing center competitive with outsourced service providers in India and Eastern Europe, providing corporate clients with an unprecedented opportunity to bring technology jobs back to America and into communities with immense overlooked potential. Doran Jones plans 80 percent of the UDC's 150-person capacity to come from graduates of Per Scholas' tuition-free Software Testing course—a full-time, 8-week job training course.
A champagne toast concluded with Klain rallying the group to dispel the skepticism that a high-tech business can succeed servicing Fortune 100 financial clients with a talent pipeline provided by a workforce development program out of the South Bronx. "It does work. We are doing it. No more excuses."
The center was built thanks to capital support from The Booth Ferris Foundation, The Clark Foundation, The Hagedorn Foundation, the Heron Foundation, The Ira DeCamp Foundation, and The Weinberg Foundation; as well as generous program funding for our tuition-free Software Testing course from The ACE Foundation, BNY Mellon, Con Edison, The Heckscher Foundation for Children, JPMorgan Chase, New York Community Trust, and The Tiger Foundation. Local Bronx Brewery sponsored with refreshments and catering provided by Latino-owned business YourPanadas.
For photos of the event, click here.
About Doran Jones
Based in New York, Doran Jones is a technology services firm that specializes in software development and testing consulting and outsourcing. Its clients include Fortune 100 banking and financial services firms across the continental United States. Managed by a world-class executive team with extensive experience in all aspects of software development and testing, they are backed by a board with a strong track record in financial services and community investment.
Website: http://www.doranjones.com/
Twitter: www.twitter.com/doranjonesinc
About Per Scholas
Per Scholas is a national nonprofit offering free, high-quality technology education, job training, and career development opportunities to individuals underrepresented in the workforce. Since 1998, more than 5,000 unemployed and underemployed adults (18+ years old) have enrolled in its job training programs. For more information, visit perscholas.org, Twitter, Instagram, and Facebook.
Sign up for our Monthly Impact Report
More News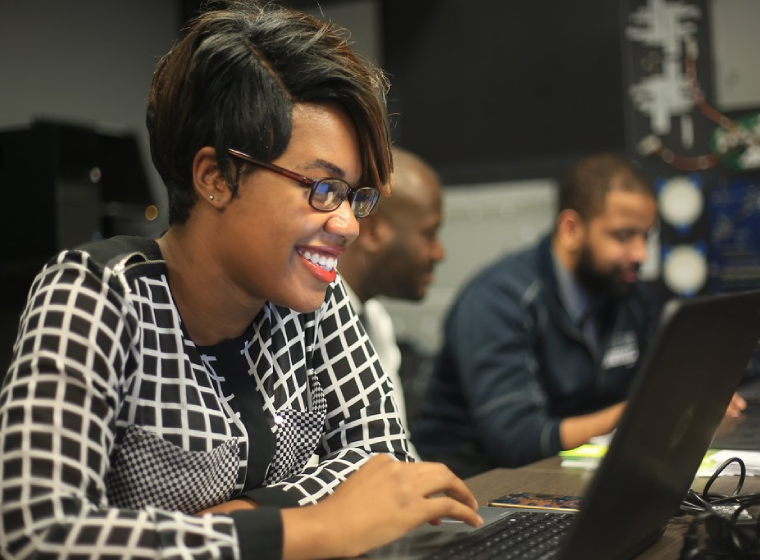 Donate Now
Your support makes a powerful difference in our ability to build a technology talent training solution that creates greater access and equity.