Greetings from Per Scholas St. Louis!
Per Scholas is thrilled to reflect on this month's expansion to our 18th city, St. Louis! This marks our first campus launch in 2022. We are honored and grateful to Cortex Innovation Community for their warm welcome as part of their strategy to accelerate inclusive economic growth in the region.
We were excited to participate at The Global Center for Cybersecurity's MiniCon and host a welcome breakfast for community and industry leaders and partners with Cortex. The reception and welcome by Cortex, community partners, and local media has been overwhelmingly positive, including feature pieces by St. Louis Business Journal, St. Louis National Public Radio, Flyover Future, and first-day coverage in The St. Louis Post-Dispatch. 
Per Scholas St. Louis will host its inaugural cohort in Cybersecurity this summer in response to the need for Cybersecurity technologists in the community. According to CompTIA's April jobs report, St. Louis ranked seventh in the nation for the most new tech job postings. And after talking with local employers and partners, the need for cybersecurity skills is at the forefront. 
Per Scholas St. Louis is led by Managing Director Dr. Charlie Mackey, Jr. Upon his hiring, Charlie reflected, "I am honored to join Per Scholas and lead our transformational work here in St. Louis. I believe our training removes two of the largest barriers for members of our local community who aspire to work in technology: access and affordability. By removing these barriers, Per Scholas learners and our future St. Louis graduates can achieve social and economic mobility." 
"Our partnership with Cortex – and being located in this incredible District – will propel our ability to interact with the local tech community and employers in need of tech talent," he continued. 
At the Global Center for Cybersecurity MiniCon, Per Scholas Graduate Elena Bilko participated on a panel discussing Diversity, Equity, and Inclusion in Cybersecurity, with fellow tech training graduates from CyberUp and NPower St. Louis. Elena, a New York Cybersecurity graduate from late 2020 shared her story about being a successful career-switcher from the fashion to the tech industry and highlighted that without Per Scholas, she would not have been able to break into the field.  Elena also shared her commitment to helping spread the word about the power and impact of programs like Per Scholas.  
As we continue to grow based on market demands, the Per Scholas St. Louis team will grow as well. We are currently recruiting for several St.Louis-based roles as we continue to settle into the Gateway to the West. 
Sign up for our Monthly Impact Report
More News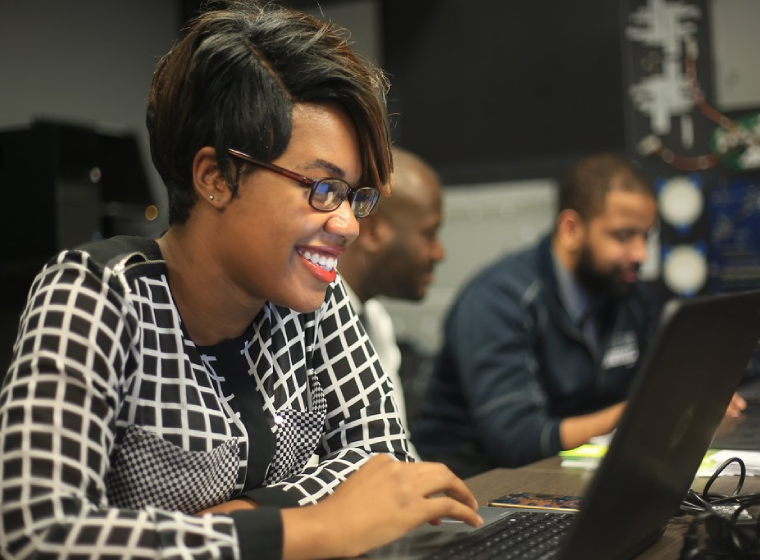 Donate Now
Your support makes a powerful difference in our ability to build a technology talent training solution that creates greater access and equity.