NPower and Per Scholas Each Receive $1M Grants from Truist Foundation to Support Tech Training across North Carolina
NPower and Per Scholas Each Receive $1M Grants from Truist Foundation to Support Tech Training Across North Carolina  
Grants will help expand access to careers in technology, boost
economic mobility for underserved adult learners
CHARLOTTE, N.C., Aug. 10, 2023 – In an era where technology and digital prowess have become essential for many job opportunities, Truist Foundation today announced $2 million in commitments to support a singular focus: forging pathways to economic mobility through technology-oriented training initiatives in communities across North Carolina. A $1 million grant will go to national tech training nonprofit NPower and a separate $1 million grant will go to Per Scholas, a national nonprofit that aims to advance economic equity through training for tech careers. 
"North Carolina has long been a thriving tech hub, but not everyone has access to the opportunities it offers," said Lynette Bell, president of Truist Foundation. "Truist Foundation wants to make careers in tech accessible to everyone across the state, and by offering coursework and career opportunities in more communities, NPower and Per Scholas are helping to break down those barriers to entry." 
Per Scholas will use its funding to double the size of its technology skills training program offering in the Tarheel state. Through dynamic partnerships, Per Scholas North Carolina will offer remote training programs to more than 250 learners in rural areas of the state in an effort to increase access and opportunity for high-growth careers in technology. 
As it expands, the organization will grow its powerful partnership with Wilkes Community College to provide tech skills, professional development and coaching to learners in Western North Carolina, outside of Charlotte city limits. With a robust roster of employer partners, from Fortune 500 companies to innovative startups, some previous Per Scholas North Carolina graduates were able to double their pretraining wages in their first tech job, which can result in sustainable economic mobility.
"Per Scholas is grateful for this tremendous investment into Per Scholas North Carolina from Charlotte-based Truist Foundation, helping to increase pathways to economic mobility for North Carolinians. We know the transformative impact a career in technology can have on individuals, and increasing access and opportunity is key. Per Scholas North Carolina has seen the impact of our rural training model already, injecting more than $1.9 million back into local communities," said Mike Terrell, managing director of Per Scholas North Carolina. "We're very humbled by Truist Foundation's grant, which will help us unlock potential for even more aspiring rural technologists, in turn building stronger communities, companies and economies."  
Using the grant funds, NPower will expand its free flagship Tech Fundamentals training program into North Carolina for the first time with a location in Raleigh—a vibrant city within the Research Triangle community. The 16-week training program addresses barriers that exist among young adults ages 18 to 26, military-connected individuals and women of color eager to enter the field of technology.
The ambitious expansion seeks to attract, educate and empower at least 150 new learners over the course of the grant, and aims to hone their skills to master the art of information technology (IT) with the expectation of acquiring expertise equivalent to professionals with one to two years of experience. One of the goals of this initiative is for the impact to extend beyond the boundaries of learning, enabling these graduates to confidently embrace the digital economy and its myriad possibilities.
"Real innovation begins when the problem statement is clear and there is a sincere commitment to address it. That's why we're thrilled to be partnering with Truist Foundation for our expansion into North Carolina," said Bertina Ceccarelli, CEO of NPower. "Empowering underserved communities through innovation in tech and embracing diversity isn't just a vision; it's the driving force behind NPower's mission, where every challenge becomes an opportunity to pave the way for a brighter, more inclusive tomorrow."
During an event at Truist Center in Charlotte, Truist Financial Chairman and CEO Bill Rogers joined Bell, Ceccarelli and Caitlyn Brazill, chief development officer of Per Scholas, to formally announce the grants and discuss their impact across North Carolina. Terrell and NPower Executive Director Ray Trapp also participated in a panel moderated by Bell to discuss the importance of progressing economic mobility in North Carolina.
North Carolina is known as a tech hub in the U.S. In 2021, commercial real estate leader CBRE ranked Raleigh-Durham and Charlotte among the top tech talent markets in the U.S. and Canada. According to their findings, Charlotte proved to have one of the most diverse tech talent workforces in the U.S. and ranks among the top 10 states in the nation for total employment in this sector. 
# # #
About NPower
NPower is a national nonprofit on a mission to move people from poverty to the middle class by training youth from underserved communities and military-connected individuals in a range of tech skills and placing them in quality jobs. Students who enter their free, six-month program, earn industry-recognized certifications and graduate with the competencies of an IT professional with one to two years of experience. NPower also places students in paid internships with corporate and nonprofit organizations. Eighty percent of NPower graduates get a full-time job or continue their education. Not only is NPower changing life trajectories for individuals from vulnerable communities, but they are also strengthening the overall competitiveness of U.S. businesses hamstrung by today's limited pool of IT talent. To learn more about NPower, visit www.npower.org.
About Per Scholas
For more than 25 years, Per Scholas has been advancing equity and increasing opportunity across America. Per Scholas unlocks potential for individuals, communities, and employers through rigorous training for careers in tech. Partnering with dynamic employer partners, from Fortune 500 companies to innovative startups, we are building sustainable and diverse talent pipelines, together changing the face of tech. With national remote training and campuses in 20 cities and growing, Per Scholas offers tuition-free training in the most in-demand tech skills, including Cloud, Cybersecurity, Data Engineering, IT Support, Software Engineering, and more. To date, more than 20,000 individuals have gained the skills to launch high-growth tech careers, earning three times their pre-training wage. Diversity, equity, inclusion, and belonging is our DNA, with 85 percent of learners are people of color, two in five are women, and more than half have a high school diploma as their highest education credential. Learn more by visiting PerScholas.org and follow us on LinkedIn, Twitter, Facebook, Instagram, and YouTube. For local updates, follow Per Scholas North Carolina on LinkedIn and Facebook. 
About Truist Foundation
Truist Foundation is committed to Truist Financial Corporation's (NYSE: TFC) purpose to inspire and build better lives and communities. Established in 2020, the foundation makes strategic investments in nonprofit organizations to help ensure the communities it serves have more opportunities for a better quality of life. Truist Foundation grants and activities focus on building career pathways to economic mobility and strengthening small businesses. Learn more at Truist.com/Foundation.
# # #
Sign up for our Monthly Impact Report
More News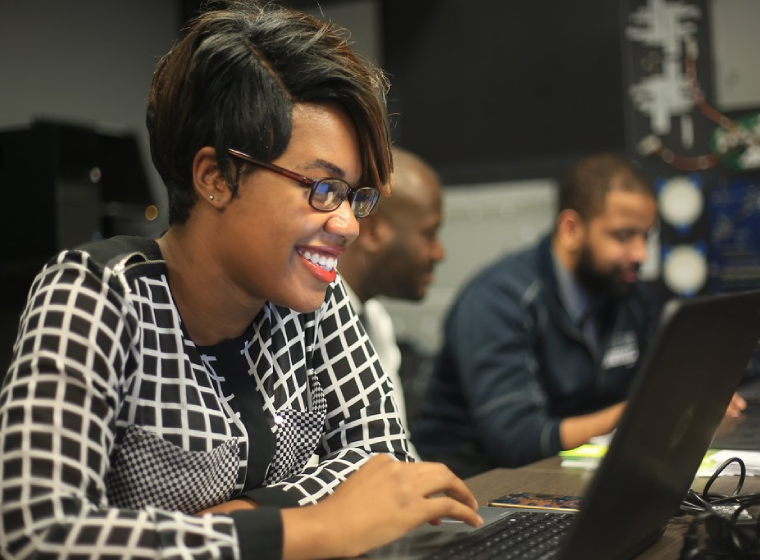 Donate Now
Your support makes a powerful difference in our ability to build a technology talent training solution that creates greater access and equity.