Per Scholas and Anthem Foundation Together Expand Learner Support Team
Funding will provide one-on-one support services for learners at six Per Scholas campuses across the country over next three years
New York, NY (August 3, 2021) – Today, national skills training nonprofit Per Scholas announced a multi-year grant from the Anthem Foundation, the philanthropic arm of Anthem, Inc., to expand its national Learner Support Team. Per Scholas, committed to increasing diversity within the tech sector, nationalized Learner Support at the start of the COVID-19 pandemic in March 2020. This grant will expand the tech training organization's ability to provide virtual wellness workshops, COVID-19 health education, and one-on-one mental health sessions, all with the aim of managing stress and anxiety during the pandemic and beyond.
Through the three-years, with a $700,000 grant from Anthem Foundation, Per Scholas aims to provide more than 5,250 learners across five states and six cities including in Atlanta, Cincinnati, Columbus, Dallas, Denver, and New York with robust wellness, stress management, and benefit navigation services.
"COVID-19 has exacerbated many of the physical and mental challenges that Black and brown individuals already face on a day-to-day basis, like career-related anxiety and stress around balancing their work and home life, as well as financial planning. At Per Scholas, we feel it's our responsibility to support learners throughout their training journey, which is why we're dedicated to offering robust wellness services as a way to help navigate these challenging times," said Plinio Ayala, President and CEO of Per Scholas. "The Anthem Foundation's commitment will provide vital support to thousands of Per Scholas learners over the next three years, ensuring they have access to not just the tech skills, but the life skills they need to secure a good-paying, middle-class career."
Additionally, the grant will provide ongoing support to alumni who are two-years post-graduation. It is estimated 30 percent of learners will take advantage of the one-on-one individualized service, which will help to facilitate Per Scholas' nationwide 80 percent placement rate, ultimately enabling learners and alumni from diverse backgrounds to secure quality careers in the tech field.
"Evidence suggests the lack of diversity in the tech industry, coupled with the pandemic's economic consequences has impacted this disparity even more, which underscores the importance of addressing racial inequalities in the workforce," said Felicia Norwood, EVP and President, Government Business Division, Anthem, Inc. "Through our collaboration with Per Scholas, we are working to create a more diverse workforce and build pathways to careers in technology for residents in our communities."
Since the Learner Support Team began to offer its support nationally in March 2020, more than 600 learners have benefitted from quarterly expert panels featuring established speakers to explore the connection between wellness and professional success; weekly wellness and wealth building series to identify strategies, strengthen skills and build reflective personal practices; and opt-in one on one coaching. Coaching is learner-led and structured around goal setting and building plans to achieve them.
To learn more about Per Scholas and its nationally recognized tech training, now offered in 17 cities across the nation, please visit PerScholas.org.
About Per Scholas
Per Scholas is a national organization that has been advancing economic mobility for 25 years. Through rigorous training, professional development, and robust employer connections, we prepare individuals traditionally underrepresented in technology for high-growth careers in the industry. We partner with leading employers to build more diverse talent pools, directly connecting our graduates to new career opportunities at businesses ranging from Fortune 500 companies to innovative startups. With campuses in 17 major metropolitan areas, Per Scholas has trained more than 14,000 individuals in tech skills, building bridges to careers in technology. To learn more, visit perscholas.org.
About Anthem Foundation
The Anthem Foundation is the philanthropic arm of Anthem, Inc. and through charitable contributions and programs, the Foundation promotes the organization's commitment to improving lives and communities. Through strategic partnerships and programs, the Foundation addresses the social drivers that will help create a healthier generation of Americans in communities that Anthem, Inc. and its affiliated health plans serve.  The Foundation focuses its funding on critical initiatives that make up its Healthy Generations Program, a multi-generational initiative that targets: maternal health, diabetes prevention, cancer prevention, heart health and healthy, active lifestyles, behavioral health efforts and programs that benefit people with disabilities. The Foundation also coordinates the company's year-round Dollars for Dollars program which provides a 100 percent match of associates' donations, as well as its Volunteer Time Off and Dollars for Doers community service programs. To learn more about the Anthem Foundation, please visit http://www.anthem.foundation and its blog at https://medium.com/anthemfoundation.
Sign up for our Monthly Impact Report
More News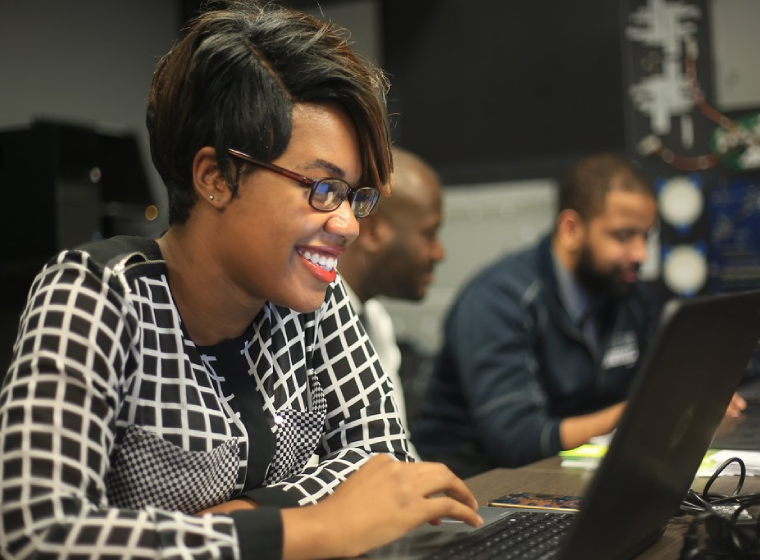 Donate Now
Your support makes a powerful difference in our ability to build a technology talent training solution that creates greater access and equity.