Per Scholas and Microsoft Collaborate to Expand Cloud Training Across the U.S.
The new collaboration will help prepare 1,500 diverse learners for high-demand tech careers
New York, N.Y. (February 10, 2022) – Today, national skills training nonprofit Per Scholas announced it will collaborate with Microsoft to expand training opportunities for diverse learners across the U.S. The organizations will provide free technology training, resources, and guidance to 1,500 individuals – in Atlanta, Chicago, New York, and other cities – with the goal of helping participants fully prepare for in-demand jobs in cloud computing.
As businesses across the country look to build their digital presence and keep up with changing market needs, the demand for skilled cloud computing professionals continues to rise. New reports suggest that 90 percent of enterprises expect cloud usage to exceed prior plans due to COVID-19, with 92 percent of enterprises now utilizing a multi-cloud strategy. To keep up with these demands, Per Scholas will develop and pilot a new Microsoft Azure training curriculum that provides learners – particularly women and BIPOC individuals who have been disproportionately impacted by COVID – with the opportunity to learn high-demand cloud skills free of charge, leveling the playing field for workers across the country.
"Per Scholas has always understood the value of training individuals for high-growth careers, and our work would not be possible without the support of incredible organizations like Microsoft," said Caitlyn Brazill, Chief Development Officer at Per Scholas. "Through Microsoft's skills initiative, we'll have the opportunity to unlock even more opportunities for individuals who deserve the opportunity to move into life-changing careers, while also supporting employers who are in dire need of qualified cloud talent."
As part of the collaboration, Per Scholas aims to achieve an 80 percent job attainment rate for its graduates, in part through access to Microsoft's Career Connector platform, which matches employers in need of tech workers with capable graduate talent, as well as utilizing Per Scholas's career services and hiring network. Nationally, four in five Per Scholas graduates launch their tech careers within 12 months of graduation, earning on average four times their pre-training wages.
"Per Scholas is holistic, from business development to the Learner Support Team – the team that supports your finances, job coaching, interviewing, all of it. Per Scholas is a one-stop-shop for somebody who wants to make a change," said Tricia Erby, a 2021 Per Scholas graduate from Atlanta, who is now working as an associate customer service analyst at Sage Software.
"Per Scholas is incredibly proud to expand our work with Microsoft to develop an inclusive, resourceful, and job-ready workforce across U.S. cities, including right here in Atlanta," said Sherri Sims, Managing Director of Per Scholas Atlanta. "We've already witnessed the strong impact that Per Scholas's training program had in Seattle with our inaugural cohort this summer, and we're looking forward to continuing this work by empowering diverse learners nationally with life-changing education that will move them into high-growth careers."
"We need to expand career and economic advancement opportunities for those who have been systematically underserved," said Naria Santa Lucia, Microsoft General Manager for Digital Inclusion and U.S. Community Engagement. "That's why we're collaborating with organizations including Per Scholas to broaden access to computer science education nationwide."
For more information, and to learn about upcoming Per Scholas courses offered in collaboration with Microsoft, please visit www.PerScholas.org/Microsoft. 
# # #
About Per Scholas
Per Scholas is a national organization that has been advancing economic mobility for 25 years. Through rigorous training, professional development, and robust employer connections, we prepare individuals traditionally underrepresented in technology for high-growth careers in the industry. We partner with leading employers to build more diverse talent pools, directly connecting our graduates to new career opportunities at businesses ranging from Fortune 500 companies to innovative startups. With campuses in 17 cities, Per Scholas has trained more than 15,000 individuals in tech skills, building bridges to careers in technology. To learn more, visit PerScholas.org.
Sign up for our Monthly Impact Report
More News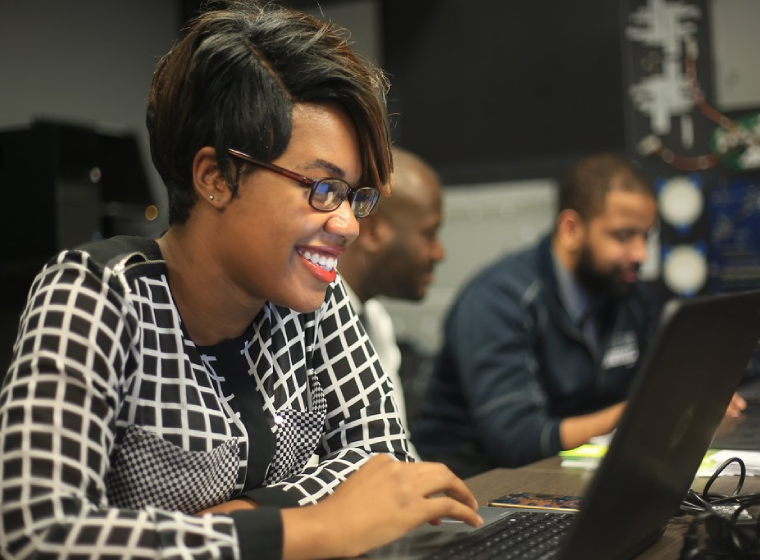 Donate Now
Your support makes a powerful difference in our ability to build a technology talent training solution that creates greater access and equity.