Per Scholas Announces Three Senior Leadership Promotions
Per Scholas Announces Three Senior Leadership Promotions
Poised to Advance Key Initiatives in Enterprise Solutions, Culture Advancement, & Professional Development for Learners 
BRONX, NY (October 31, 2023): Per Scholas, a national nonprofit committed to advancing economic mobility and unlocking potential through technology career training, today announced the exciting promotions of three invaluable leaders: Caitlyn Brazill to Chief Revenue Officer (CRO), Montreece Smith to Chief People Officer (CPO), and Noah Mitchell to Deputy Chief Training Officer (DCTO). 
Caitlyn Brazil is promoted to Chief Revenue Officer (CRO) after successfully holding the position of Chief Development Officer (CDO) at Per Scholas for more than six years. In her new role, Caitlyn will drive a cohesive revenue strategy with consistent messaging aimed at our key stakeholders: employers, philanthropic partners, and learners. She will also oversee three closely interconnected departments: Marketing and Communications, Enterprise Solutions, and Development. Per Scholas recognizes Caitlyn for spearheading the strategic planning and implementation of the organization's sustainability and growth model, which had a significant impact across all Per Scholas locations. During her tenure as CDO, Caitlyn was instrumental in  providing the necessary resources to quadruple the organization's annual impact. 
"It is an honor to be elevated to the role of Chief Revenue Officer at Per Scholas," said Caitlyn Brazill. "It's of utmost importance for me to use my new position to connect more enterprises with diverse, often overlooked skills-trained talent. Bridging the tech talent gap is more than just filling roles, it's about fueling economic growth and ensuring a diverse, inclusive workforce."
Per Scholas' new Chief People Officer (CPO), Montreece Smith formerly held the position of Executive Vice President, People for Per Scholas, where she played a crucial role in the People Strategy and its connection to the goals of our rapidly expanding organization. As CPO, Montreece will carry the responsibility of driving organizational results through a high-performing culture characterized by accountability, professional growth, psychological well-being, and wellness for Per Scholas. 
Finally, Per Scholas' Noah Mitchell will assume a new role as Deputy Chief Training Officer (DCTO) that will be pivotal in driving our primary initiatives as we expand to meet our training targets for 2024. This will involve setting performance standards for sourcing learner candidates, establishing connections with our talent solutions pathway, and supervising the professional development of our learners. Noah previously served as the Regional Senior Vice President for Per Scholas and is the former Managing Director for Per Scholas Columbus.
"The recognition of these three incredible leaders at Per Scholas is a testament to their dedication to being a driver of economic mobility," said Plinio Ayala, President & CEO, Per Scholas. "Their passion, perseverance and commitment to our mission and culture pave the way for all future leaders and will play a vital role in helping Per Scholas ultimately change the face of tech."
About Per Scholas 
For more than 25 years, Per Scholas has been advancing equity and increasing opportunity across America. Per Scholas unlocks potential for individuals, communities, and employers through rigorous training for careers in tech. Partnering with dynamic employer partners, from Fortune 500 companies to innovative startups, we are building sustainable and diverse talent pipelines, together changing the face of tech. With national remote training and campuses in 20+ cities and growing, Per Scholas offers tuition-free training in the most in-demand tech skills, including Cloud, Cybersecurity, Data Engineering, IT Support, Software Engineering, and more.
To date, more than 20,000 individuals have gained the skills to launch high-growth tech careers, earning three times their pre-training wage. Diversity, equity, inclusion, and belonging is in our DNA: 85 percent of Per Scholas learners are people of color, two in five are women, and more than half have a high school diploma as their highest education credential. Visit PerScholas.org and follow us on LinkedIn, X/Twitter, Facebook, Instagram, and YouTube.
###
Sign up for our Monthly Impact Report
More News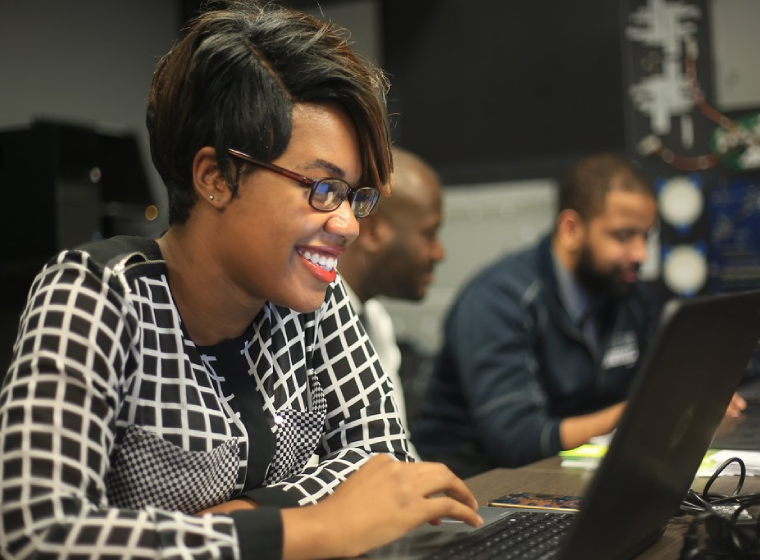 Donate Now
Your support makes a powerful difference in our ability to build a technology talent training solution that creates greater access and equity.