Per Scholas Cyber Apprenticeships: Nationally Needed, Locally Ready to Close Talent Gaps
Per Scholas Cyber Apprenticeships:
 Nationally Needed, Locally Ready to Close Talent Gaps
On the last day of July, the White House and the Office of the National Cyber Director announced a National Cyber Workforce and Education Strategy (NCWES) unique in vision and approach at a time where there are over 755,000 Cybersecurity jobs open in the United States. At Per Scholas, we applaud the administration in accelerating its focus on the cyber workforce across sectors, along with the organizations who have made commitments to support this effort – ranging from the National Security Agency (NSA) to Microsoft to MassBay Community College. We too have made a significant commitment to support and fuel our nation's need for skilled cyber technologists. 
Solving for the Cyber Skills Shortage: Per Scholas Registered Apprenticeships Align with White House Workforce and Education Strategy
NCWES lays critical groundwork to equip every American with foundational cybersecurity skills, transform cyber education in the U.S, and expand and enhance the national cyber workforce. It emphasizes competency-based cyber education, making this education more affordable and accessible, promoting skills-based hiring, and attracting and hiring a more qualified and diverse cyber workforce. Per Scholas shares these commitments, and has been hard at work tailoring an innovative solution to provide more employers with diverse cyber talent, while connecting workers that have been historically underrepresented in the industry to viable cyber career paths: Cybersecurity Support Technician Registered Apprenticeships.
Playing to Our Strengths: Per Scholas Cyber Capabilities, Commitments, and Cost Savings
For more than 25 years, Per Scholas thrives in understanding talent market needs and designing aligned solutions. We are perhaps most known across our 22 (and counting!) U.S. campuses for our pre-employment training programs, but these are not our only available skills training opportunities! We are currently registered with the Department of Labor as a National Program Sponsor for Cybersecurity apprenticeships, and in the process of confirming our 2024 employer partnerships.
Why should an employer consider Per Scholas Cybersecurity apprenticeships? 
Our Cyber roots run deep. Per Scholas has placed its graduates with over 850 companies and organizations, and since 2016 we have prepared over 2,000 diverse adults for entry- and mid-level Cyber roles. Through our Cybersecurity training, our apprentices obtain CompTIA CYSA+, Splunk, and Cisco certifications. Barclays – one of our first Cybersecurity employer partners – recognized the potential early on, and worked with us to establish our first Cyber curriculum tailored toward entry-level individuals aspiring to join the Cybersecurity field. Within this inaugural partnership, over 40 Per Scholas grads were hired into Barclays as apprentices, interns, or full-time hires; 30% of the graduating training class identified as women, and 13% as veterans. Rita McCaffrey, a Barclays Program Manager, highlighted that "engaging women, underrepresented ethnic and racial groups, and people with disabilities brings essential perspectives to problem solving" and that "in order for us to meet the emerging workforce skills gap, we must – all businesses must – work to foster innovation through diverse perspectives and experiences." (1)
We are committed to increasing diversity, equity, and inclusion in tech. Per Scholas graduates are 85% people of color and over 40% women. Over ⅓ of these individuals are adults under 30 early on in their careers, and ⅔ do not have a 4 year degree. When we say that we are expanding the Cyber talent pool, we mean it. Nationwide is one company that can attest to our ability to train and place underrepresented talent in apprenticeship roles, and to how much these individuals succeed when given the opportunity. In the field of software engineering – another domain with talent and diversity gaps – Nationwide has taken on 49 Per Scholas apprentices; thus far, they have hired over 80% of them on full-time based on how well apprentices learned and performed on the job and position openings within Nationwide's teams.
The ROI on apprenticeships is there. For every $1 invested in apprenticeship, organizations realize an average return of $1.47. (2)  Through our yearlong Registered Apprenticeship Program, Cyber apprentices are paid on a progressive wage scale; this is a cost effective way to cultivate talent, even before potential tax credits and subsidies accessible at the state and federal levels. When Per Scholas builds an apprenticeship partnership, one of the first things we do together is review the employer's job description(s) and workplace needs with our Cyber work plan comprised of over 80 competencies and 2000+ hours of on-the-job experience; together, we help employers come out with talent trained in their specific technical needs and experienced in their company's norms and culture.
Seeking Employer Partnerships: Let's Tackle this Challenge Together
We are actively working to close Cyber talent gaps, while generating sustainable career pathways in the Cyber field. Sharing the comprehensive vision of the NCWES, we aim to transform Cyber skill acquisition, career development, and companies' abilities to protect their assets in an increasingly complex digital environment. If this is something that excites you – let's work together! We are taking on a limited number of apprenticeship partners this fall, and look forward to seeing the transformative impact apprenticeship can have within your organization. Contact us at [email protected] to begin the conversation.
(1) https://perscholas.org/wp-content/uploads/2021/05/barclays_per_scholas_defending_the_digital_frontier-2.pdf
Sign up for our Monthly Impact Report
More News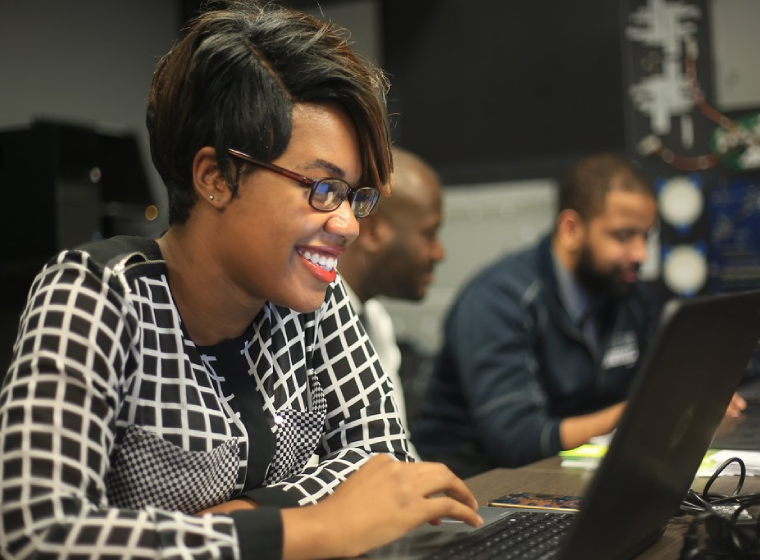 Donate Now
Your support makes a powerful difference in our ability to build a technology talent training solution that creates greater access and equity.