Per Scholas Honors Trailblazers in Equity with Per Scholas Diverse by Design North Star Award
Per Scholas Honors Trailblazers in Equity with Per Scholas Diverse by Design North Star Award
Honorees recognized at Per Scholas Diverse by Design: A Day of Unlocking Potential
PURCHASE, NY — On October 2, 2023, Per Scholas, a national nonprofit committed to advancing economic mobility and increasing access to tech careers, hosted its Third Annual Per Scholas Diverse by Design North Star Awards Ceremony that recognized partners whose efforts drive significant Diversity, Equity, Inclusion, and Belonging (DEIB) impact. The ceremony took place at Per Scholas' annual "A Day of Unlocking Potential" event at the Brae Burn Country Club in Purchase, New York, that gathered tech enthusiasts, equity advocates, business leaders, Per Scholas alumni, and philanthropists all committed to diversifying America's technology workforce.
This year's distinguished honorees of the Per Scholas Diverse by Design North Star Award were Dr. Marian Croak, Vice President of Engineering, Responsible AI & Human Centered Technology at Google, Reshenda Daniels, Global Director of Talent, DEI & Accessibility at Visa, Russell Contreras, Senior Race & Justice reporter at Axios, and Black Theatre United, accepted by Founder Vanessa Williams. Together they build on the legacy of past honorees, such as Pittsburgh Steelers Coach Mike Tomlin who received the North Star Award last year for his dedication to diversity for the NFL. 
"These individuals are not just honorees – they are torchbearers for an inclusive future," said Damien Howard, Chief Enterprise Solutions Officer at Per Scholas and Co-Founder of Diverse by Design. "Their relentless dedication is reshaping industries and creating spaces where everyone can thrive."
Started in 2016 with ITSMF, Per Scholas Diverse by Design aids businesses in crafting a pipeline filled with diverse candidates, ranging from entry to executive levels, all equipped with skills customized to the company's needs. Since launching 28 years ago, Per Scholas has enrolled more than 20,000 learners across its 20+ campuses to help usher them into thriving careers with their 850+ corporate partners.
"We must strive to create an environment where everyone's contributions are recognized, and opportunities for career advancement are available," said Reshenda Daniels, Global Director of Talent, DEI & Accessibility at Visa. "We must ensure that there is a voice for the voiceless in the corporate space."
This star-studded day of golf and an evening of giving was made possible thanks to our generous supporters: Marquee sponsor TEKsystems; Birdie sponsors Capgemini, Deloitte, and Liquid Technologies; Par sponsors The Anna-Maria & Stephen Kellen Foundation, Arch Global, CDW, Cooperative Laundry, Delta, Ikon Business Group, Mitchell Martin, Ponce Bank, and Team Spraggins; and of course, Per Scholas Diverse by Design supporters TEKsystems, Capgemini, CGI, Chubb, Comcast NBCUniversal, Google, and NFL Foundation. 
To learn more about Per Scholas and its mission to advance economic equity through rigorous training for tech careers and to connect skilled talent to leading businesses, visit: https://perscholas.org/. To learn more about Per Scholas Diverse by Design visit www.diversebydesign.org.
About Per Scholas Diverse by Design
Per Scholas Diverse by Design launched in 2016 with Information Technology Senior Management Forum (ITSMF) to make a meaningful impact and increase diversity, equity, inclusion, and belonging (DEIB) in technology. Per Scholas Diverse by Design promotes solutions-driven conversations about diversity, equity, and inclusion within the tech. We also produce meaningful content that empowers C-suite leaders to make both valuable and socially impactful decisions for their organizations and provide access to sophisticated customized training and talent sourcing solutions to meet companies' talent demands while transforming the diversity landscape of their organizations.
About Per Scholas 
For more than 25 years, Per Scholas has been advancing equity and increasing opportunity across America. Per Scholas unlocks potential for individuals, communities, and employers through rigorous training for careers in tech. Partnering with dynamic employer partners, from Fortune 500 companies to innovative startups, we are building sustainable and diverse talent pipelines, together changing the face of tech. With national remote training and campuses in 20+ cities and growing, Per Scholas offers tuition-free training in the most in-demand tech skills, including Cloud, Cybersecurity, Data Engineering, IT Support, Software Engineering, and more.
To date, more than 20,000 individuals have gained the skills to launch high-growth tech careers, earning three times their pre-training wage. Diversity, equity, inclusion, and belonging is in our DNA: 85 percent of Per Scholas learners are people of color, two in five are women, and more than half have a high school diploma as their highest education credential. Visit PerScholas.org and follow us on LinkedIn, X/Twitter, Facebook, Instagram, and YouTube.
###
Sign up for our Monthly Impact Report
More News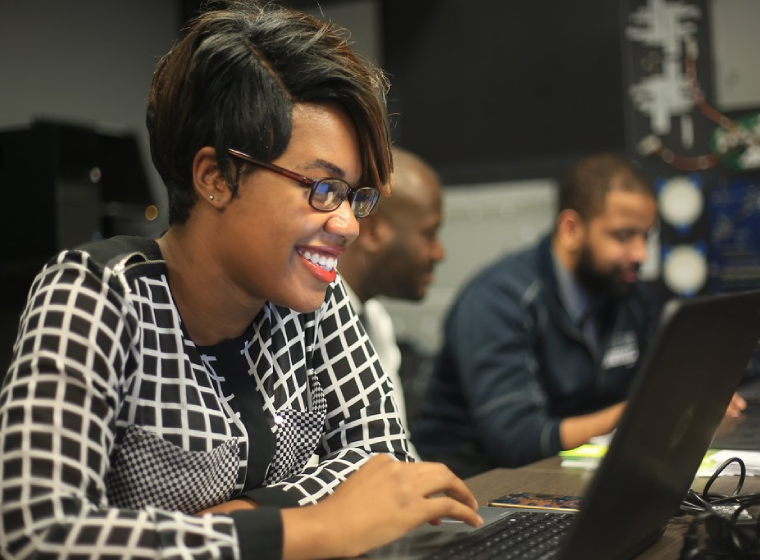 Donate Now
Your support makes a powerful difference in our ability to build a technology talent training solution that creates greater access and equity.