Per Scholas Learners Thrive with Learner Support Team & The Anthem Foundation
When our learners graduate from Per Scholas and launch their careers in tech, we are confident in their ability to succeed in their IT roles as they are well-rounded with technical skills, career development, and life skills brought on by our Learner Support Team.  Per Scholas created a national Learner Support Team at the start of the COVID-19 pandemic in March 2020, to ensure every learner across every campus could access these supports. A recent multi-year grant from the Anthem Foundation, the philanthropic arm of Anthem, Inc., will help us expand our national Learner Support Team and our ability to provide virtual wellness workshops, COVID-19 health education, and one-on-one mental health sessions, all to manage stress and anxiety during the pandemic and beyond.  As a result of this investment, Per Scholas aims to provide more than 5,250 learners across five states and six cities including in Atlanta, Cincinnati, Columbus, Dallas, Denver, and New York with robust wellness, stress management, and benefit navigation services.
We've seen the impact of the Learner Support Team on learners including Franchelis Encarnacion and Travis McCullough, who both took advantage of this support.  
Since her childhood in the Dominican Republic, Franchelis was always intrigued by technology and working with computers. Her exposure to technology all began when her mother put her into a computer basics program at the age of ten that piqued her interest throughout her life. In 2021, Franchelis applied for the IT Support course at Per Scholas New York after obtaining her GED at The Door with her passion for technology in mind.  When she first started her training at Per Scholas, Franchelis was concerned that she couldn't complete her training because everyone else had more experience, but her mentor from the Learner Support Team, Amanda, encouraged her to keep going and was a great point of reference for motivation. "As an ESL learner with Spanish as my first language, it was difficult for me to understand the tech verbiage, but I learned a lot of vocabulary through Per Scholas' training," she reflected.  
Franchelis took advantage of the Learner Support Team, a program supported through funding from the Anthem Foundation, multiple times throughout her IT Support cohort. Her interactions with Amanda were centered around course-related stress, test preparation, and confidence-building – all aspects which gave her the capabilities to graduate and now have a job in technology. Since graduation, Franchelis received her Google IT certification and is now working for BNY Mellon on the Returning Home project to help set up computers for those who need assistance. With mentorship and career guidance from the Learner Support Team, Franchelis was confident and skilled enough to move forward in her technology career. 
Another learner that took advantage of our Learner Support Team is Travis McCullough, a recent Per Scholas graduate from our IT Fundamentals cohort after months of remote training.  Previously a paralegal, Travis decided to change career paths and dive further into technology, something he always had an interest in. He would listen to tech podcasts and watch videos to take apart his personal computers but did not have the time, affinity, or money to obtain a four-year degree.  On his decision to apply to Per Scholas, Travis recalled, "I saw online with Per Scholas that everything was straightforward and approachable with no fine print. Per Scholas was here to help me learn at no cost. There were no surprises."  
Upon his first week of training, Travis was notified of the different resources Per Scholas provides for its learners – one of which he took advantage of as his training progressed.  Travis took advantage of Per Scholas' Learner Support Team, and reached out to Devin, a Learner Support Manager, to review his financial plan and scholarship opportunities.  They met every two weeks to review different resources for financial planning, test anxiety, study tools, and IT engagement.  Travis recalled the impact his Learner Support Team had on his experience: "It was exactly what I needed; more than what I came to them for. The entire process was awesome." Now, Travis has graduated, and a new career in IT is on the horizon.
Travis has already acquired his Google IT certification and graduated from Per Scholas at the end of July, tested for his CompTIA A+ certification, and will start his career in technology – where he already has multiple job offers to come his way.  Travis is excited for his future and credits taking advantage of the professional development aspect of his course and the Learner Support Team to reaching this point of his newfound career path – just like Franchelis.
Sign up for our Monthly Impact Report
More News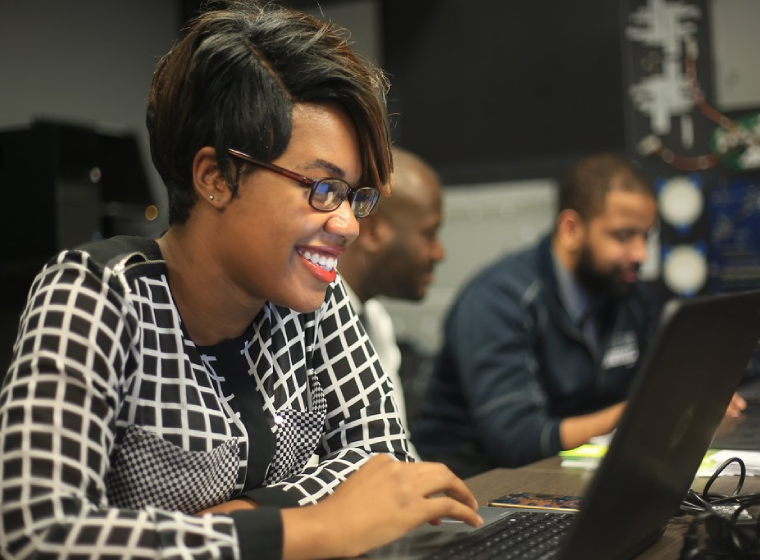 Donate Now
Your support makes a powerful difference in our ability to build a technology talent training solution that creates greater access and equity.