TEKsystems and Per Scholas Announce Partnership
Partnership will help unemployed and underemployed men and women launch careers through high quality technology training and career development services.
TEKsystems®, a leading provider of IT staffing solutions, IT talent management expertise and IT services, and Per Scholas, a nationally recognized IT job training nonprofit, today announced the launch of a national partnership that aims to provide unemployed and underemployed individuals with access to high quality technology and certification training, job placement and career development services.
Per Scholas and the Creating IT Futures Foundation, the philanthropic arm of IT industry association CompTIA, founded IT-Ready to teach underemployed and unemployed individuals the necessary technical and professional skills required to secure a job in IT. IT-Ready locations are individually operated by Per Scholas and the Creating IT Futures Foundation.
IT-Ready is a free eight-week course that prepares hard-working students to obtain industry-recognized CompTIA A+ certification and begin careers in IT as desktop support specialists, IT support analysts and network field technicians. Nationally, 5,000 Per Scholas and IT-Ready students have been trained to date, with 85 percent or more participants graduating and obtaining industry certification, and nearly 80 percent of graduates securing jobs.
The goal of the partnership between TEKsystems and Per Scholas is to advance the IT-Ready training and augmenting the nation's IT workforce. The companies will focus on the entire IT-Ready network which currently spans six sites: Cincinnati; Columbus, Ohio; Dallas; Minneapolis / St. Paul, Minnesota; New York City and Silver Spring, Maryland, while also working to add new locations in the future.
In addition to financial support, TEKsystems will be providing "sweat equity" in each city where Per Scholas builds a facility and offers training. TEKsystems employees specializing in various areas of IT from information security to end-user support will provide resume-coaching and advice about career opportunities, perform mock interview training and offer other types of career guidance. Additionally, as part of the partnership, TEKsystems will help Per Scholas graduates find career opportunities upon graduation. Across the cities where the partnership exists, TEKsystems has placed several dozen Per Scholas and IT-Ready graduates in IT jobs to date.
"As an employer-driven, sector-focused nonprofit, we would not be successful without the support of our industry partners like TEKsystems," said Plinio Ayala, President and CEO of Per Scholas. "Thousands of adults have enrolled in our courses across the U.S., with graduates earning more than $150,000,000 collectively. The commitment from TEKsystems to create opportunity for these individuals through offering funding, employment opportunities and volunteer support in all of our markets will be a key contributor to this life-changing work. We are excited to expand the impact of this relationship."
"Expanding our partnership with Per Scholas is very exciting. Per Scholas' skill in developing a pipeline of IT talent aligns with our ability to provide organizations with highly qualified IT professionals. We've been placing Per Scholas graduates for several years now, and we're confident we'll have a bigger impact on the communities where we live and work with the larger investment from both organizations," says Faith Johnson, TEKsystems vice president of human resources.
About Per Scholas
Per Scholas is a national nonprofit offering free, high quality technology education, job training, and placement and career development opportunities to unemployed and underemployed individuals. Since 1998, nearly 5,000 have enrolled in its job training programs. The Per Scholas model has been twice recognized by the White House for its effectiveness serving the unemployed and proven successful through independent studies. For more information, visit perscholas.org, on Twitter @PerScholas and Facebook.
About TEKsystems®
People are at the heart of every successful business initiative. At TEKsystems, we understand people. Every year we deploy over 80,000 IT professionals at 6,000 client sites across North America, Europe and Asia. Our deep insights into IT human capital management enable us to help our clients achieve their business goals – while optimizing their IT workforce strategies. We provide IT staffing solutions, IT talent management expertise and IT services to help our clients plan, build and run their critical business initiatives. Through our range of quality-focused delivery models, we meet our clients where they are, and take them where they want to go, the way they want to get there.
TEKsystems. Our people make IT possible.
Sign up for our Monthly Impact Report
More News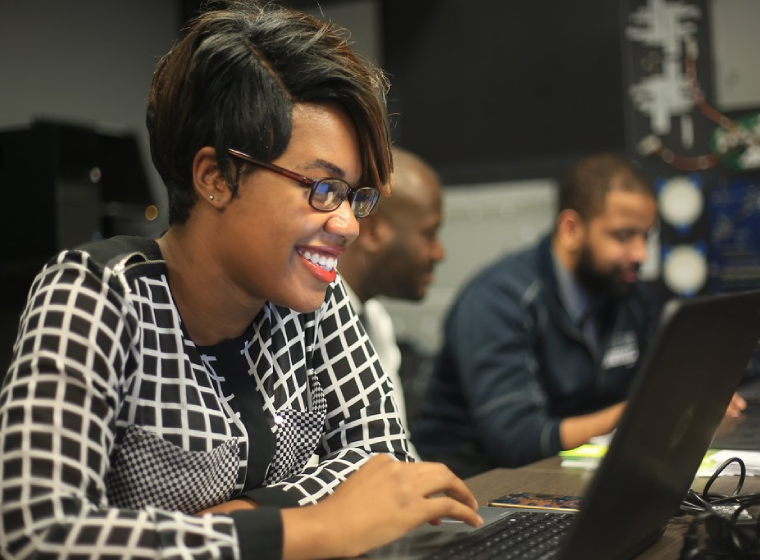 Donate Now
Your support makes a powerful difference in our ability to build a technology talent training solution that creates greater access and equity.