Systems Support
Data Center Powered by TEKsystems
This 8-week course prepares learners for in-demand Telecoms and Network Engineering openings TEKsystems has in Phoenix. Learners will gain practical knowledge and hands-on experience with data center connectivity and best practices through real-world labs, rack construction, wiring, and troubleshooting techniques.
No cost, no catch. Tuition-Free training and job connections.
Most CISCO IT Essentials certification holders move on to a job in IT support, like a help desk technician. Help desk technicians solve technical issues and work with people.
Most CISCO Network Essentials certification holders move on to a job in IT support, like a help desk technician. Help desk technicians solve technical issues and work with people.
Most CompTIA A+ certification holders move on to a job in IT support, like a help desk technician. Help desk technicians solve technical issues and work with people.
CompTIA Network+ helps develop a career in IT infrastructure covering troubleshooting, configuring, and managing networks.
The Google IT Support Professional Certificate introduces learners to troubleshooting, customer service, networking, operating systems, system administration and security. No prior experience is required.
Applicants with all levels of experience in tech are encouraged to apply.
CompTIA Cybersecurity Analyst (CySA+) is an IT workforce certification that applies behavioral analytics to networks and devices to prevent, detect and combat cybersecurity threats through continuous security monitoring.
While anyone may apply for this course, some technical background may be helpful.
While these courses may include either intermediate or advanced material, technical knowledge specified in these listings will be required as a prerequisite for applicants to be considered for admission.
Gain the knowledge and skills necessary to effectively demonstrate an overall understanding of the AWS Cloud and start a career in cloud computing.
In-person learning takes place at one of our facilities across the US.
Remote learners must live within commutable distance of a Per Scholas campus to best facilitate our professional development and post-training employment support. For individuals who live outside of a commutable distance, you may be eligible for our National training courses.
Hybrid courses allow flexibility for learners to participate in the course remotely or in-person based on several factors. Learn more about the course you're interested in by reaching out to your admissions lead or attending an admissions overview after applying.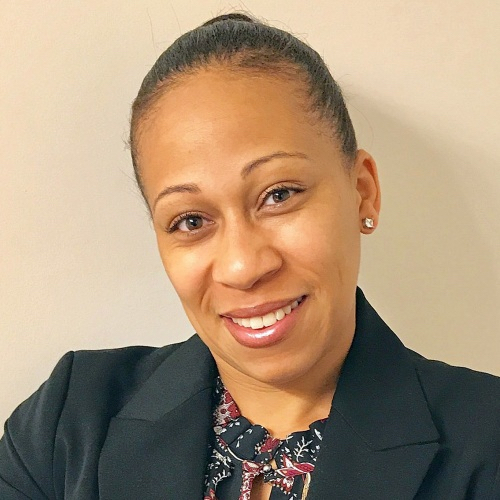 ?
Have questions?
We can help with course selection, and answer questions about eligibility requirements and special circumstances. Contact an admissions team member
What jobs can I get as a Data Center graduate?
As a Data Center graduate, you will enhance your skills, equipped with the knowledge to fulfill a wide range of technology jobs such as:
Datacenter Technician

Network Engineer
Telecoms Technician
This program in partnership with TEKsystems is designed to meet specific local job demand at the end of the program. TEKsystems is committed to interviewing all graduates upon successful completion of the program. To support this, TEKsystems recruiters will play an active role in your career development throughout the class, including mock interviews and resume reviews. Per Scholas does not require candidates sign a contract with any employer partner. Learners are always free to their own future.
$48K the average salary Data Center graduates make at their first job
Strengthen your Professional Profile
---
START YOUR TECH CAREER WHEREVER YOU ARE IN YOUR CAREER
Per Scholas will train you if you are new to tech or a seasoned veteran looking to upskill and remain competitive as the industry grows.
Per Scholas' training was the challenge that, at the end of the day, got me closer to my dreams.
---
CUSTOMIZED PROFESSIONAL DEVELOPMENT AND NETWORKING
Regular Career Development like resume reviews, mock interviews, and "Meet the Employer" sessions will familiarize you with our employer partners, meet with other IT professionals and help prepare you for the job search.
---
DIRECT JOB PLACEMENT SUPPORT
Graduates will receive job placement support from the employer partner and identify career opportunities leveraging their new and existing skills. If TEKsystems doesn't work out, Per Scholas staff will continue to provide connections with other employer partners.


After Per Scholas, I was suddenly getting interviews because Per Scholas is well-known and reputable. It has been night and day in terms of the difference between before and after Per Scholas.
What You'll Learn
---
Server Management Technology
Gain basic knowledge about hardware and components, Interfaces/media, BIOS and UEFI, PSU's, mass storage technologies, IDRAC, as well as an Introduction to RAID.

---
System Administration, Cloud and Virtualization Basics
Operation system overview, type 2 client side visualization, type 1 enterprise visualization, cloud computing fundamentals with AWS.
---
OSHA Safety Training
In addition to the CISCO Networking Essentials certification, you'll be able to take the OSHA 10-Hour General Industry and the NFPA 70E - Standard for Electrical Safety in the Workplace training courses & certifications.

Curriculum
Hands-on training along with career development and guest speakers
View
---
Learn to Think Like An IT Professional
Prepare to handle real workplace demands by challenging your understanding of course material and setting you up for professional success.
---
Participate in Hands-on Labs
To provide an innovative, hands-on learning experience, Per Scholas provides learners with a tech kit based on their training track and delivery model, whether in person or remote. These kits are designed to enhance the learning experience and will be utilized in labs throughout the course.
---
Professional Training with TEKsystems
Strengthen your tech professional resume and practice your interviewing skills with current employer partner employees and recruiters.
Meet Your Instructors
Learn from certified teachers with years of real-world training experience. Our instructors don't just teach you what you need to know, but how to learn it.
Meet Our Graduates
The teachers were super knowledgeable, very friendly, and helpful if you had any questions. I am so thankful for this opportunity to get my life back together.
Data Center Training Application Details
Learner Profile

You may qualify to become a Per Scholas Data Center Learner if you:

Are aged 18 or older
Have a High School diploma, equivalent, or higher
Are authorized to work in the U.S.
6 months of tech experience or A+ certified
Live within commutable distance of our Phoenix campus
Can read, write and speak in English
Can attend classes full-time for the entire duration of the course
Are able to start a full-time job after course completion
Ready to make an important commitment to building your future
Meet the pre-training income policy guidelines 

*Women, youth, unemployed, underemployed and U.S. Veterans strongly encouraged to apply

Admissions Process

1. Submit an Eligibility Form

2. Admissions Overview: Once you submit an Eligibility Form, you'll be directed to our Admissions Overview registration page. During this virtual webinar, you'll learn more about our admissions process and next steps.

3. Assessments: Each training requires either an academic assessment, tech assessment or both. Information will be provided in detail at the Admissions Overview.

4. Interview: Individuals who meet the assessment score requirements will be invited to attend a behavioral interview.

5. Background Check: Per Scholas believes technology can create opportunities and is committed to ensuring applicants are set up to succeed beyond the training program. Using a fair and efficient platform through Checkr, applicants will receive a secure link, provide the necessary virtual consents and complete the required screening information. Background check results will be provided to both the applicant and Per Scholas.

6. Offer Letter and Onboarding: The Admissions team will review assessment scores and interview results and offer seats to eligible candidates. The learner onboarding process mirrors Employment Onboarding.

Please note, this application process is very competitive and not all applicants will be accepted for our limited slots.
More than a Technical Training
Additional professional development and support included to help you develop the skills you need for the job you want now and in the future.
---
Phoenix Campus
In-Person courses offer each trainee their own lab-based computer workstation for the entire course with breakout spaces to socialize and study.


---
Build Personal and Financial Wellness
Learners and Alums partner with our Learner Support team to gain financial control and chart a path to achieve financial goals and design success plans to achieve personal goals and support personal wellness.
---
Alumni Advancement
Complimentary upskilling opportunities extended to alumni up to two years post graduation to help them match in demand employer hiring profiles and continue their career growth.
Frequently Asked Questions
How can the course be free? Are there hidden fees?

Most people who learn about us think: "Too good to be true." We know it seems that way, but it's true. Our services are provided at no cost to you, using funds we raise from foundations, corporations, government and generous individuals.

The costs you can prepare for include transportation or childcare—expenses that take care of you so you can focus on your studies.

Will a stipend be provided during the duration of this course?

Yes, $250 stipends from the Learner and Alumni Success team will be distributed to all learners in the cohort.

What if I don't have a Laptop? What are the computer requirements?

Computer requirements are determined by each specific curriculum track. During the onboarding process, we will review each learner's needs on a case-by-case basis. If you have any concerns about your situation, please elevate to the admissions team during the admissions process.

I receive unemployment insurance benefits or other benefits that require me to spend time working or looking for work. Can I still enroll?

Yes. Generally, Per Scholas courses are approved for people receiving unemployment insurance, as well as other benefits that would ordinarily require them to spend time working or looking for work. Your benefits should not be affected. If you have questions or concerns about your situation, please contact us.

I meet other requirements, but I am not a U.S. citizen and haven't received my work authorization yet. Can I still apply?

Unfortunately, we cannot process your application until you have received clearance to work in the U.S. However, if you are experiencing problems, we may be able to refer you to other organizations that may be able to help.

I have childcare responsibilities. Can you accommodate me?

We have onsite staff available to help students navigate childcare options. Ask to speak with the Childcare Navigator when you attend an info session.

I have a disability. Can you accommodate me?

We comply fully with the Americans with Disabilities Act and other relevant laws and regulations. Please contact an Admissions team member to discuss your specific situation and needs.

Does Per Scholas have a Non-Discrimination policy?

We're proud to be an equal opportunity employer. All qualified applicants will receive consideration for employment without regard to age, race, color, religion, sex, sexual orientation, gender identity or national origin. See our full EEO statement here.