Careers in Computer Networking
Computer networking is a rapidly growing field that contains a variety of career paths, and the skills of network professionals are vital and in high demand across many industries. The U.S. Bureau of Labor Statistics (BLS) predicted in a 2016 study that network engineer employment would grow by 6% over the following ten years, and studies suggest that the number of network jobs in the field currently exceeds the number of qualified candidates, presenting an excellent opportunity for interested and qualified applicants. 
To become a qualified computer networking professional, there are a number of skills that must be mastered and several certifications that you can obtain to indicate to employers your level of knowledge in the field.
Below, we will discuss the roles and responsibilities of computer networking professionals, as well as the certifications necessary to launch a career in the field of networking. 
What is Computer Networking?
According to Amazon Web Services, "computer networking refers to interconnected computing devices that can exchange data and share resources with each other. These networked devices use a system of rules, called communications protocols, to transmit information over physical or wireless technologies." Computer networks link millions of users and devices, making it fast and easy to transmit data securely. Virtually all of today's organizations use networks to deliver and distribute information to their customers, employees, or clients. It is vital for these organizations that their network systems run smoothly, so skilled network engineering professionals are in high demand.
IT Specialists who work in Computer Networking are responsible for the maintenance and facilitation of these computer networks, including the tasks of analyzing, troubleshooting, and evaluating arising computer network issues and keeping the networks secure. 
There are a number of different responsibilities that go into creating and maintaining a network, and these duties are divided between roles. More specifically, network specialists and administrators are responsible for overseeing day-to-day operations, and network architects and engineers take part in "designing and building local area networks (LANs), wide area networks (WANs), and Intranets." These roles may be combined in various ways, depending on the size of the organization.
What Do Network Professionals Do?
There are a number of responsibilities that network professionals tackle on a daily basis. Below we will outline a few.
Maintain and monitor computer networks
One of the primary responsibilities of a

network professional

in any capacity is to ensure that network communications between resources and users are running smoothly. "Resources" here may be defined as "workstations, servers, remote devices, printers, or any device with Internet (IoTs)." Network professionals ensure that user access to these resources remains reliable and fast, and they investigate and address any inefficiencies or faults in the network.

According to IT career development website PCWDLD, "maintaining a network sometimes entails dealing with third-party providers such as Cloud, ISPs, CDNs, VPNs, mobile networks, etc. Also, as most servers and networking equipment runs on Linux, learning how to install, update, and configure Linux using CLI is vital for any network professional."
Design Networks
Higher-level network engineers or architects can be responsible for designing new networks or updating and adjusting existing networks. These network designers must consider several factors in the complex design process, including the physical layout of their buildings, the network's expected capacity, any wireless or voice considerations, and the budget at hand.
Innovations and Integrations
Like all branches in IT, the computing networking field is constantly evolving and changing rapidly. Network professionals are responsible for researching and adopting any new technologies that protect or maintain their networks more efficiently. They must use their skills, knowledge, and any constraints such as budget to find the right balance between exciting new technologies and effective, well-established technologies.
Networking project management
Sometimes, network professionals are assigned to oversee networking projects. In these cases, "a network manager may participate in anything, from designing, dealing with providers and personnel, managing hardware and software deployment, and doing testing procedures."
Types of careers in computer networking
Many different jobs fall under the umbrella of computer networking. We will outline some of the common ones below.
Network Engineer 
Network Engineers are responsible for designing and managing computer networks and maintaining those networks for optimal performance. They also lead operations such as installation and configuration of network devices, troubleshooting issues, and technical support and assistance.
 Network Support Specialist
 Network Technician
Network technicians are responsible for setting up internet connections, establishing different types of networks, and connecting them. They may also troubleshoot and repair hardware and software devices.
 Network Architect
"

Computer network architects

build data communication for companies. They create layouts for a communication network, explain to management how it will work, keep information security at the forefront of the design, upgrade hardware, research new technologies, and more." 
Computer Systems/Network Analyst
Computer systems or network analysts study the technological infrastructure of a company and determine how effective it is at meeting the organization's goals. They also work to repair, maintain, and improve these systems to ensure their security and efficiency.
Computer Networking Certifications
There are multiple ways to enter the field for individuals interested in getting involved in computer networking. Although helpful, a college degree is not required. There are, however, certifications that are necessary to land an entry-level position in the field, as well as a wide variety of more advanced certifications that can allow networking professionals to specialize in certain areas.
The two most basic certifications that provide a candidate with the skills necessary for an entry-level position in networking are the Cisco CCNA certification and the CompTIA Network+ certification. These two certifications can act as a prerequisite for obtaining more advanced certifications in the future.
Cisco CCNA
The CCNA or Cisco Certified Network Associate certification is one of the fundamental certifications for entry into the networking field. This certification prepares candidates for the processes of installing, setting up, configuring, troubleshooting, and operating a routed and switched computer network.

According to the

Cisco

website, the "CCNA exam covers networking fundamentals, IP services, security fundamentals, automation, and programmability. Designed for agility and versatility, CCNA validates that you have the skills required to manage and optimize today's most advanced networks." Like all Cisco certifications, this certification expires after three years and must be regularly renewed. 
CompTIA Network+
The CompTIA Network+ certification is another fundamental certification for entry into the field of networking. This certification covers networking fundamentals, security, implementation, troubleshooting, and operations. According to the

CompTIA

website, "Network+ validates the technical skills needed to securely establish, maintain and troubleshoot the essential networks that businesses rely on…Unlike other vendor-specific networking certifications, CompTIA Network+ prepares candidates to support networks on any platform."
Sign up for our Monthly Impact Report
More News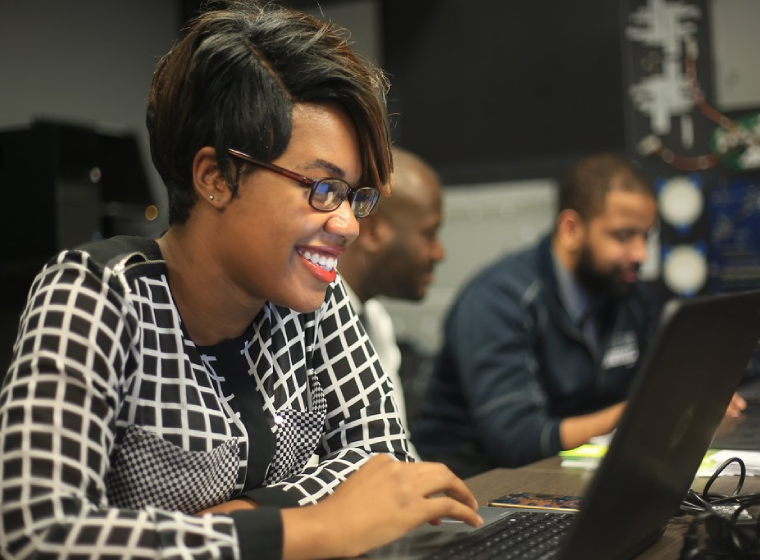 Donate Now
Your support makes a powerful difference in our ability to build a technology talent training solution that creates greater access and equity.