Cognizant and Per Scholas Open Bronx Training Center for Platform by Per Scholas
On September 18, Cognizant Technology Solutions and Per Scholas celebrated the opening of the new Cognizant Bronx Training Center for Platform by Per Scholas at 804 East 138th in the South Bronx. The partnership between Per Scholas and Cognizant will provide tuition-free training and direct hiring opportunities to New Yorkers who seek new careers and professional advancement opportunities in Information Technology.
Over the course of the next year, Per Scholas will train up to 650 New Yorkers on nuanced technical job specifications. At the end of each 8 to 12-week course, students will be prepared to fill in-demand IT jobs. Cognizant's goal is to hire at least 350 graduates to fill good paying positions based in the Bronx and surrounding New York region as it increases operations in New York. Per Scholas will work with existing employer partners to place the remaining graduates.
Attendees of the celebration included Congressman José Serrano, Francisco D'Souza, CEO, Cognizant and Plinio Ayala, President & CEO, Per Scholas and numerous workforce funders, community partners and current Platform by Per Scholas students.
Annie Norbeck, Managing Director, Social Ventures, Per Scholas kicked off the event program by acknowledging the 65 students to date who have enrolled in Platform by Per Scholas' two training tracks: Quality Engineering and Application Support Management. The first graduation for students in the Quality Engineering Program will take place at the end of September.
Eric Westphal, Senior Director of Global Legal and Corporate Affairs Operations, Cognizant continued by acknowledging the dire need for innovative solutions like Platform by Per Scholas. "Employers in the U.S. are struggling to find enough qualified applicants to fill open IT and STEM positions. At the current rate, the U.S. Bureau of Labor Statistics projects that by 2020, there will be a 1.4-million-person gap between demand for software development jobs and applicants qualified to fill those positions," Eric said.
Plinio Ayala, President & CEO, Per Scholas continued with an urgent message for all employers. "Talent is not defined by your zip code or even your degree he said. "This partnership seeks to unearth talent that is often overlooked, unlock it and create a pipeline of skilled workers. This is the ideal triple win scenario – our employer partner wins but so does our economy and the people that the Cognizant Bronx Training Center will serve," Plinio added.
A similar message was reinforced by Francisco D'Souza, CEO, Cognizant. "As a leading professional services firm, Cognizant is intensely focusing on having the right skill sets – which change over time – and pursuing specialized talent wherever in the world it lives to ensure client access to their knowledge. Our view is that employability depends less on what you already know, and more on how well you can learn, apply, and adapt."
To round out the program, Treniese Ladson, a South Bronx Native and  current Quality Engineering student told her inspiring story. Treniese shared that she started her career as a gemologist but after experiencing professional and personal adversity including her mother's battle with cancer, she courageously decided to pursue her passion – technology. She said, "Although the particulars may vary, each of my classmates have undertaken an equally dynamic journey." Treniese continued, "Because of Cognizant's Investment, my classmates and I are prepared to embrace our future career opportunities. And, because of Per Scholas' diligence and hard work our future in technology looks bright."
After the program, guests were invited to tour the state-of-the-art training facility which features four computer labs, a student lounge, and a reception room, which held a majority of the evening's festivities.  The $6 million Cognizant program is supported by Empire State with $2 million in performance-based tax credits through the Excelsior Jobs Program.
To learn more about these upcoming training opportunities or details about Cognizant's partnership with Per Scholas, please visit www.platformbyps.org or email [email protected].
Sign up for our Monthly Impact Report
More News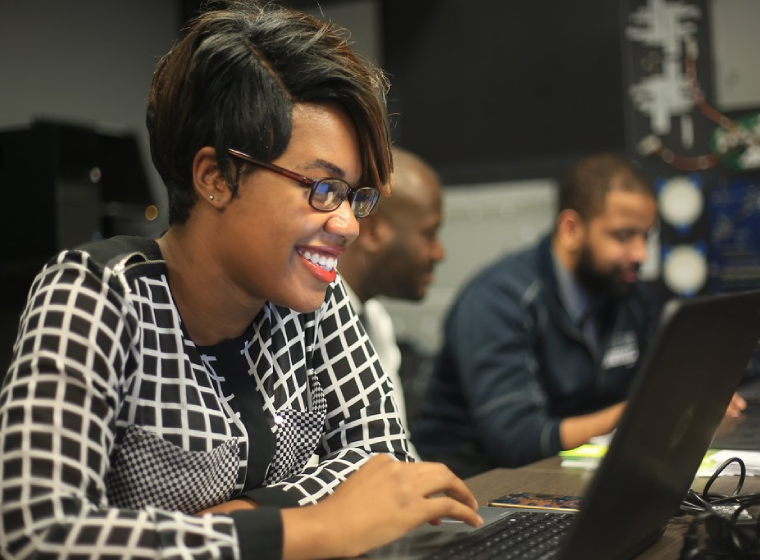 Donate Now
Your support makes a powerful difference in our ability to build a technology talent training solution that creates greater access and equity.