Diverse by Design Hosts Fourth Convening at Google's Global Headquarters
Wednesday, October 25, 2017 marked the fourth installment of the Diverse by Design conversation series at Google's global headquarters in Mountain View, CA. Over 100 leaders representing organizations across the tech, finance and nonprofit sectors gathered to reflect on the need for entrepreneurship and innovation in delivering diversity, ensuring equity and infusing inclusion philosophies into the workplace. Speakers and panelists shared best practices in uncovering unconscious bias in hiring and tactics for C-suite leaders to identify, coach and retain diverse talent across all levels of their organizations.
The two hour conversation kicked off with welcome remarks from Ginny Clarke, Diversity & Internal Mobility Lead, Leadership Staffing of Google. Ginny discussed the evolution of Google's talent philosophy to recruit and hire diverse candidates. She encouraged leaders to invest in competency based hiring as a tool to assess candidates more equitably and have greater potential to receive offers.
Guests were treated to comments from our event lead sponsors, JPMorgan Chase when Jason Mills, Executive Director of Machine Learning & Advanced Analytics spoke to the opportunity that leaders in tech have to hire diverse talent to build products that will change the world and create a future free of the biases we have inherited in the present. He challenged the audience to consider the power that technology has in helping us all lead better lives and how having diverse leaders involved in that conversation, helps even more people have greater possibilities.
The event showcased two panels, the first focused on a Town Hall conversation between the audience and employers who were tackling diversity within their companies through an entrepreneurial lense. Companies were touted as being both nimble and courageous in their approach to keep pace with the rampant innovation across the sector. In light of tech companies' recent practice of releasing their diversity data, panelists pushed the audience to consider the importance of also retaining their current talent and making their environments more welcoming and inclusive. The panel was moderated by Kelly Burton, CEO of Founders of Color. Panelists included Danielle Beavers, Director of Diversity & Inclusion, Greenlining, Jesse Cortez, Global Inclusion Effectiveness Lead, Inclusion and Diversity, Hewlett Packard Enterprise, Molly Ford, Director of Equality Programs, Salesforce and Erika Lunceford, Director, BNY Mellon.
In line with the event's theme of engendering diversity through an entrepreneurial lens, Stephanie Lampkin spoke to technology's power to build inclusive recruiting systems. As founder and CEO of Blendoor, she works to mitigate unconscious bias in hiring by sharing candidate info without photos, names or dates of employment to ensure equitable consideration in the hiring process. Blendoor  uses analytics to help leaders to unearth their biases and offers remediation support to help them change their organizations.
Thought leaders from the Solutions Panel addressed how their companies are building pipelines for diverse talent through public-private partnerships, such as Per Scholas' partnership with Cognizant and through extending their lenses to recruit from minority serving institutions and the need for tech leaders from underrepresented backgrounds should play a role in helping to elevate extant diversity initiatives and programs. Solutions panel members included, Luis Arzu, Chief Information Security Officer, Farm Credit Financial Partners, Inc., who served as the Moderator – Kelly Dolan, Co-Founder, Thrive Impact Sourcing, Viola Maxwell-Thompson, President & CEO, ITSMF and Eric Westphal, Senior Director of Global Legal and Corporate Affairs Operations, Cognizant.
Per Scholas' own Damien Howard, Vice President, Social Ventures and Kenneth Walker, Senior Vice President, Core Mission Support closed the event by charging the audience to be courageous, bold and intentional to generate the change needed in the technology sector.
Sign up for our Monthly Impact Report
More News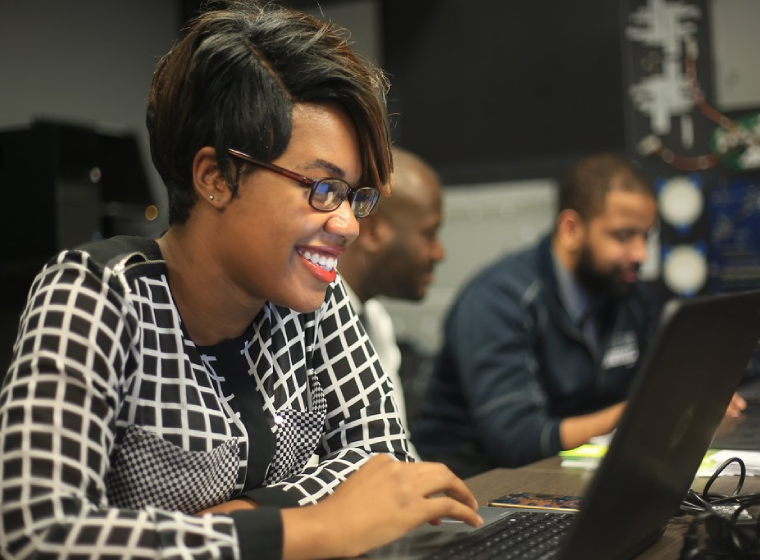 Donate Now
Your support makes a powerful difference in our ability to build a technology talent training solution that creates greater access and equity.