Diverse by Design Actively Engages in Celebrate Diversity Month
During Celebrate Diversity Month, Diverse by Design (DxD) has been proud to engage in a number of exciting activities to communicate the importance of building greater diversity in the tech workplace. Throughout the month, we offered real solutions for improving DEI at the many tech companies that have committed to building greater diversity in their tech organizations.
In early April, DxD led two virtual workshop sessions, hosted as part of the National Society of Black Engineers' 47th Annual Convention exploring both the business case for diversity and the power of storytelling in increasing Black representation in tech.
On Tuesday, April 6, The Business Case for Diversity convened a dynamic conversation between industry leaders from BNY Mellon, Cox Enterprises, S&P Global, Dropbox, and JPMorgan Chase & Company. The discussion dug into a 2019 McKinsey report concluding that ethnically and culturally diverse companies are 36% more profitable than companies that are more racially monolithic. Panelists shared their insights on how being intentional about diversity simply makes good business sense.
On Wednesday, April 7, Diverse by Design hosted its first ever Black Like Me Story Slam. One of the major barriers preventing Black individuals from entering the tech industry is a lack of exposure to the many different roles a career in tech offers. Representation matters. Storytelling changes lives. This 50-minute event featured 4 Black tech professionals at varying stages in their careers. Emceed by storyteller Garrison Hayes, each shared their journey, lessons learned, and the joys and struggles of being a Black professional in tech in a Story Slam format.
On April 22, Diverse by Design convened a regional virtual event in partnership with our Atlanta Managing Director, Tracey Palmer.
This event, titled The Equalizer: Relationship Building as a DEI Tool, featured super-connector Joey Womack, CEO/Founder of Goodie Nation.  Joey was a standout choice to conduct a conversation about diversity and professional networking in the workplace. In a time when many jobs are filled through "who you know," he is making it part of his mission to change that narrative and connect more people to the right networks that have access to careers.  
A key strategy is relationship building and creating a professional network, which Joey stated is like having superpowers. Here are some of his pointers:  
Be intentional about constructing a network, such as attending events that relate to fields you're interested in.

Set up informational interviews to learn from senior leaders. These leaders believe in life-long learning and often like to help others. 

Join groups such as Black, Latin, and Women tech organizations so that you can make quality connections beyond your existing network. 

Look for organizations, like Per Scholas, that help break down traditional barriers, such as the need to attend 4-year colleges, and provide alternative networks to access jobs in the tech industry. 
Joey Womack's insights provide ways to access opportunities in the growing tech field that can lead to a career in tech and thriving wages.  
Not only was the DxD team active in virtual conferences and workshops, they also got out on the airwaves.  Nia Darville, Director of Diverse by Design, was interviewed by Atlanta Business Radio Daily – you can link to her interview here. In this Q&A format interview, Nia delivered powerful solutions to DEI challenges in the tech workplace.
Sign up for our Monthly Impact Report
More News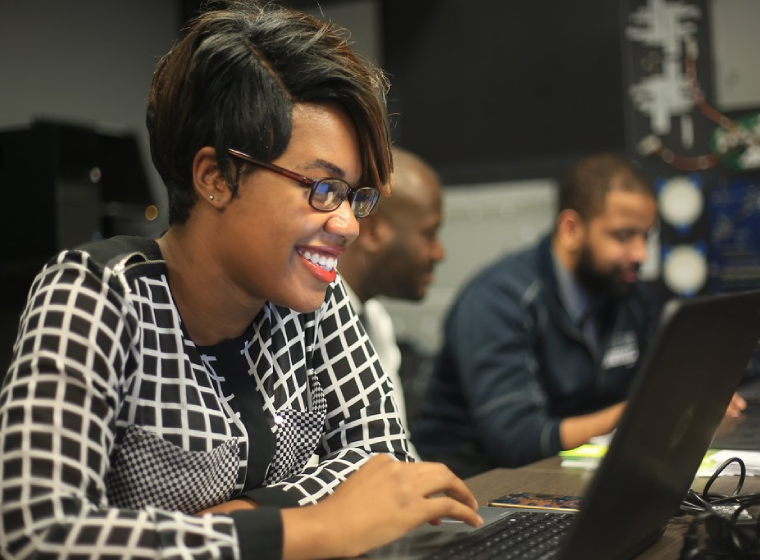 Donate Now
Your support makes a powerful difference in our ability to build a technology talent training solution that creates greater access and equity.