Google.org Provides Per Scholas with a $1.5 Million Grant to Advance an Equitable Recover
As we mark one year since the start of the COVID-19 pandemic put tens of millions of Americans out of work, we're starting to see signs of hope. But while vaccinations and reopenings suggest a return of normalcy, many of our most vulnerable community members risk being left behind. 
Through a generous partnership, Per Scholas and Google.org are working together to bring free immersive tech skills training and Google Career Certificate programming to 3,000+ BIPOC adults. This is a major contribution to Per Scholas' goal of to propel 13,000+ diverse adults to a thriving wage by 2023.
Currently, for Black and Hispanic workers, the reported jobless rates remain significantly higher than the general population numbers, as they have been throughout the Covid-19 pandemic. And for many who were working low-wage jobs across leisure, retail and hospitality sectors, these jobs are not expected to come back. Meanwhile, demand for tech talent continues to rise, and employers across industries are paying a  renewed focus on filling open roles with diverse talent, including individuals from nontraditional educational backgrounds. 
Per Scholas and Google.org are providing individuals traditionally underrepresented in technology with the skills they need to meet these current labor demands, while working to ensure all alumni achieve a true thriving wage – enough to save money for retirement, invest in children's education, or own a home – within two years of graduation. Through this grant, Google.org is providing free access for learners to its array of Google Career Certificates to 2,000+ Per Scholas alums [ register for IT Automation with Python today].
This work also encompasses support for Per Scholas' Diverse by Design – which provides corporate leaders with the training and resources they need to recruit, retain, and cultivate diverse talent. Through solutions-driven conversations about diversity, equity, and inclusion within tech, DxD produces meaningful content that empowers C-suite leaders to make valuable and socially impactful business decisions, and provides access to sophisticated customized training and talent sourcing solutions.
Google's own Stephanie LeBlanc-Godfrey, Global Head of Inclusion for Women of Color, recently participated in a Diverse by Design panel discussion, hosted by Per Scholas, titled the 140K: Women and the Pandemic in which we explored the unique challenges that COVID-19 has presented for women and the solutions tech companies are employing to address them.  Stephanie emphasized that, "It is our responsibility to make tech careers more accessible to women, and one clear solution to significantly accelerate that opportunity for women is through organizations like Per Scholas, which provide tuition-free tech-training, reducing the barriers of time and financial cost women traditionally face when they are trying to enter the tech industry.  This levels the playing field and makes access to tech career opportunities more equitable."
This announcement builds on a five-year history with Google.org, which has supported local markets in New York  and Atlanta, and has already awarded Google Career Certificates to more than 1,000 Per Scholas learners who have completed in Google IT Support Professional and Google IT Automation. 
The powerful impact of the Google and Per Scholas tech training partnership comes to life through the experience of our graduates. Curtis Kirksey had been interested in getting into the tech industry for a while, but it wasn't until he lost his sales job due to the COVID-19 pandemic that he realized it was time to pursue his dream career.  In his words, "the life-altering event" taught him that "mindset is crucial to one's well-being," and once he realized that, he began working on himself.  
Curtis enrolled in Per Scholas' Network Support training program and, although attending a full-time remote class was extremely challenging, he managed to earn his CompTIA A+, CompTIA Net+, and Google IT Support certifications AND graduated as class Valedictorian. 
Curtis was in such high demand that he had several job offers when he graduated. He is currently employed full-time in the tech industry, earning significantly more than he did in his previous role in sales.
"Your opportunities are endless when it comes to this type of industry," Curtis told WSB-TV Atlanta in a recent interview about his experience. He hopes to one day be chosen to work at the new Google site in Atlanta. "That would be a dream job to work for Google, and to know they are right here in my backyard," Curtis said. "It gives me hope."
Google.org's support is helping propel students like Curtis to successful careers with thriving wages, while also helping Per Scholas advance racial and economic equity in the tech workforce, and create high-quality career pathways opportunities for thousands of diverse individuals who might otherwise never have been able to access them. 
An instructor with one of our learners, exploring the internal workings of a computer (pre-Covid).
Sign up for our Monthly Impact Report
More News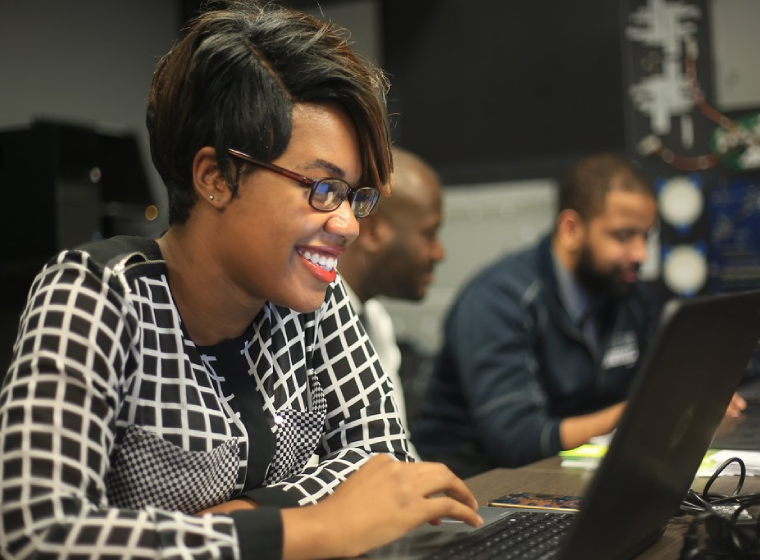 Donate Now
Your support makes a powerful difference in our ability to build a technology talent training solution that creates greater access and equity.