Grad Nyaisha lands job at Xerox after building experience and skills through Per Scholas
Nyaisha is 21 and works at one of the largest multinational corporations in the world: Xerox. It goes without saying that Nyaisha is smart. But, she is so much more than tech smart; this girl has vision way beyond her years.
Nyaisha grew up in the Bronx with her parents and her younger brother. At age 18, when all of her friends were saying "yes" to expensive four-year colleges and universities, Nyaisha pressed pause. She knew that investing in an expensive education would be fruitless unless she truly knew what she wanted to do first.
"I know a lot of people that rushed into college because that's what their parents wanted them to do. A lot of them dropped out or got pregnant," she says. Success, according to Nyaisha, is about experience and skills.
Nyaisha radiates optimism and drive. Her mom and dad were young parents living in the Bronx, but still finished college and pursued careers, showing Nyaisha and her brother that hard work pays off.
In her late teens and early 20s, Nyaisha did some serious self exploration instead of jumping into college. She had always loved technology, but wasn't sure how to get her foot in the door. "I already knew I wanted to be in the IT industry but I didn't know how to get in without going to college."
Instead, after graduating high school, Nyaisha enrolled in two job readiness programs that connected her with internships, but she was concerned that she wasn't learning the hard skills needed to succeed in the competitive New York tech scene. One day she received an email from Per Scholas community partner NYCHA, the New York City Housing Authority, promoting a free A+/Net+ certification and IT job training course with job placement services. Curious and optimistic, Nyaisha jumped on the opportunity and applied to Per Scholas. Nyaisha enrolled in the Women in Tech class at Per Scholas and her journey to a career in technology was underway. She gravitated to Per Scholas' all-women's class because of competitive spirit. "I have always loved technology and actually like that it's a male-dominated field. I'm competitive. I love being a girl who's told: 'You can't do that' just so I can prove them wrong."
At Per Scholas, Nyaisha found the course challenging like most students. "Literally each day is precious. Even if you miss one day, you miss a world of information." She enjoyed the hands-on learning environment, and recognized that the skills-based training at Per Scholas was the key to honing her tech chops and landing a permanent position in the industry.
After completing the course, Nyaisha was a certified tech — and proud of it. "Now saying that I am A+ and Net+ certified, it really means a lot."
Upon graduation Nyaisha landed a job with Xerox. Although it was difficult transitioning into the workforce, especially navigating office culture, she now says that life is good. "I have a great rapport with all of my co-workers. I take pride in my job."
Before Per Scholas, she was making minimum wage. Today she is working in her first-ever tech job earning three times that. Her advice for future Women in Tech grads? "No matter how hard it is, stick with it. At the end of the day, it will pay off."
Sign up for our Monthly Impact Report
More News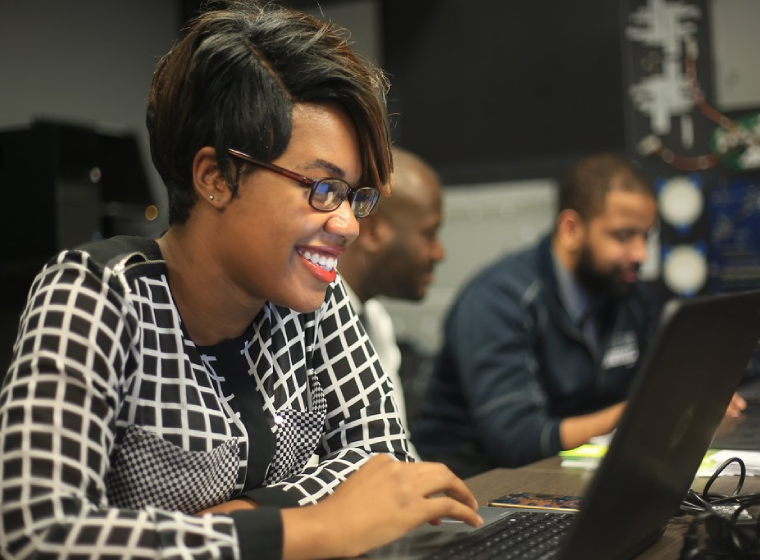 Donate Now
Your support makes a powerful difference in our ability to build a technology talent training solution that creates greater access and equity.