In his early 20s, grad Chris now has a life he never thought possible
Chris is living proof of how determination, hard work, and an open mind can lead to a pretty sweet life. His journey is remarkable.
When Chris was 19, he had held hourly wage jobs at Walmart and NAPA Auto Parts. He attempted to take a few college classes but was intimidated and discouraged, especially by the cost. He felt lost.
One morning he awoke and something was very wrong. He couldn't move a single muscle in his body. His mom had already left for work for the day and came home hours later to find him in this state. Alarmed, she rushed Chris to the hospital. The diagnosis was a rare disease–Juvenile Rheumatoid Arthritis. It left Chris paralyzed for a year and a half.
Chris loved sports and had been an athlete his entire life. Physically, he towered over his peers. That he now lay helpless was almost too much to bear.
The only hope he could latch onto was that the condition wouldn't be permanent. As he slowly recovered, Chris was advised to find a routine to help get his body back to a schedule, know the days of the week, re-familiarize itself with the passing of time. He needed to mentally readjust as much as physically.
"My grandma forwarded me this email about classes at Per Scholas. She knew I loved computers." So, he applied to the IT-Ready course in Columbus. Only two months after gaining his mobility back, he began attending class full-time Monday through Friday. This consistent routine, Chris said, helped save his life.
"It was a big life adjustment going from zero to 60. Per Scholas helped me more than just getting a job. They were people I could talk to, they listened and they helped me. Per Scholas got me back to normal," Chris said. He started from the beginning learning tech in the classroom and loved it. He says his instructor, James Miao, is the greatest teacher he has ever had.
Soon after graduating and getting A+ certified came the job search. Getting interviews was difficult, he said. "With no tech experience, it was hard to be taken seriously." He already had strong customer service skills, but bridging the experience gap was a challenge.
Undeterred, he put his resume on CareerBuilder.com and other job sites. Soon after, a company actually reached out to himwith an opportunity with Per Scholas Signature Partner JPMorgan Chase. With everything he learned in class, Chris was ready to nail the interview. "All the questions were word for word what we were taught at Per Scholas. I just pictured my career coach John [Tyus] asking me the questions and it made me less nervous." He got the callback two days later and started work the following week.
In a matter of months, he went from bedridden to tech professional, a truly transformative experience. "This time a year ago, I had just started my recovery. I can't believe it," he says.
In his early 20s, he is now earning more certifications and a salary he never thought would be possible. He works on JPMorgan Chase's global help desk. He supports workers around the world, troubleshooting tech issues from London to India to China and Australia. Along the way, he has to master many nuances: "Asking someone to type something in 'lower case' doesn't translate in India. You have to say 'small.' When I'm on a call in London, they never say goodbye. They tend to repeat the word OK over and over while you try to say goodbye. That took some adjusting to."
When we spoke with him recently, he was on his way to go pick up his new car and was expecting his first raise–a substantial one."All my friends are still in school and don't know what to do with life. I feel like an old man around them."
Chris works hard to be a role model. He is passionate about community engagement, and volunteers at his old high school to speak to students about career advancement opportunities outside of the traditional college path. "I am really happy to have this job. After everything I went through, I'm humble. I'm grateful."
Sign up for our Monthly Impact Report
More News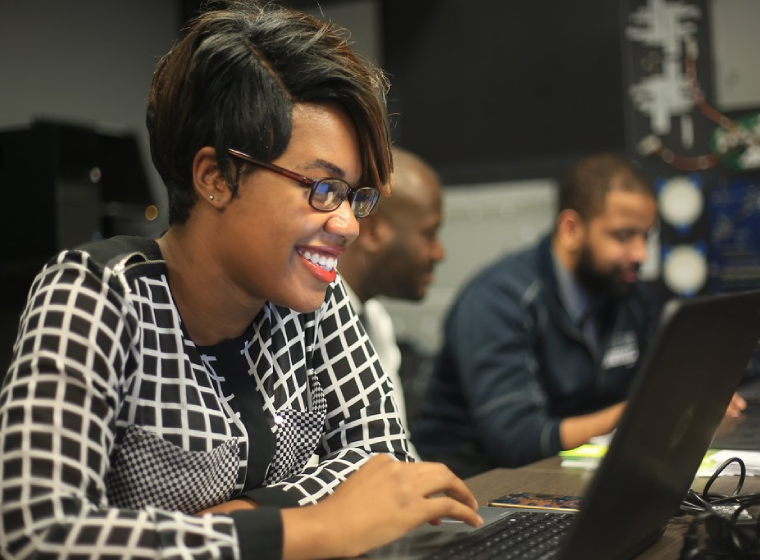 Donate Now
Your support makes a powerful difference in our ability to build a technology talent training solution that creates greater access and equity.