Miguel, September 2013 Student of the Month
Miguel, 26, lived in more than 10 different homes in his life. He survived cancer in his single digits. He learned to read when he was in the fourth grade. And our staff have bets on him to be one of the most successful graduates in Per Scholas history.
Miguel had about a million opportunities to — as people put it to him — "fall through the cracks". Fleeing a violent relationship with Miguel's father, Miguel's mother moved him and his three siblings from California to New York City when he was three years old. At the age six, he was diagnosed with Hodgkin's lymphoma, a cancer of the lymphatic system, and was in and out of Memorial Sloan Kettering until he was 10. By the age of 13, he and his sister were forced into foster care due to educational neglect (they weren't going to school). He spent two years in his first foster home and then returned back to live with his mom. One month later he was placed back into foster care.
In the following nine months, he lived in six different homes covering just about every New York City borough — and Long Island. He attended lots of different schools, encountered a lot of different challenges, and at 16, after his sister ran away, Miguel entered an agency operating boarding home (AOBH) where he lived with five other young men being cared for by two AOBH employees (Miguel refers to them fondly as "mamas"). At 19, he dropped out of high school and at 20 he aged out of the foster care system and moved in with one of his sisters in the Bronx. He got his GED, took a few classes through University of Phoenix, acquired debt, and went through hourly jobs one after another. His longest job was just under two years at Walgreens. Then, at the age of 26, he found Per Scholas.
I must admit I looked at Miguel with disbelief while interviewing him. The unfortunate reality is that you often hear more bad than good for kids who grow up as he did. According to research from Children's Rights, teens who age out of the foster care system are highly likely as adults to experience homelessness, poor health, unemployment, and incarceration. But sitting across from Miguel, I sense my own sheepish surprise to be speaking with an eloquent, well-mannered, borderline genius, stable young man. His assessment is, calmly, "I just deal with things as they come."
With so many housing changes, school changes, and disruptions in maintaining basic living standards, I wondered when computers ever had the chance to enter Miguel's life. "I would sneak into the basement of a museum near me when I was 11 — that was where the computers were — and I would stay down there for hours, day after day." By the age of 17, Miguel figured out enough about computers that he built his own buying cheap pieces online and finding others where he could. He built his second computer from scratch when he was 19. This is a common trend among a very specific group of our students — the natural techies who dive into it fueled by insatiable curiosity. When students like Miguel find Per Scholas, it's a match made in heaven and immediately noticeable in class. He excelled as a top student during his 15-week training led by our instructor Obinna Nwoke. So good, Miguel was nominated by his instructor and career development team to be part of the first-ever pilot software testing class (STEP) launched in August of this year.
"Miguel has a very, very bright future ahead of him," shared Tiernan Walsh, Director of Alternative Staffing at Per Scholas, who works with the STEP students directly on employment opportunities, including Miguel.
Per Scholas was only one single factor in Miguel's bright future. Hearing his story, we are touched by the individuals who are committed to social service, health services, foster care, and education. Many times, Miguel credited his former counselor, Chris, who he met when he was 15, as his life mentor. They're still in touch today (they texted while we were meeting, in fact). He spoke of a student resource teacher assigned to him at one of his schools who worked with him to get him caught up on his literacy. That teacher got Miguel up to his reading level in less than three months. Miguel only spoke fondly of his time at Memorial Sloan Kettering, believe it or not. We heard about each of his mothers and fathers, and "the mamas," who kept Miguel safe and on track. And of course his biological mother who took Miguel out of harm's way even when doing so meant a very tough road ahead. Look at the wonderful outcome because of that hard decision she made.
We are so incredibly appreciative of all who are committed to helping others, and I am confident saying we are all incredibly proud of Miguel.
**UPDATE**
Today Miguel works in San Francisco for One Kings Lane. He wrote recently to share he'd taken up mountain climbing and bouldering. Pretty rad.
Sign up for our Monthly Impact Report
More News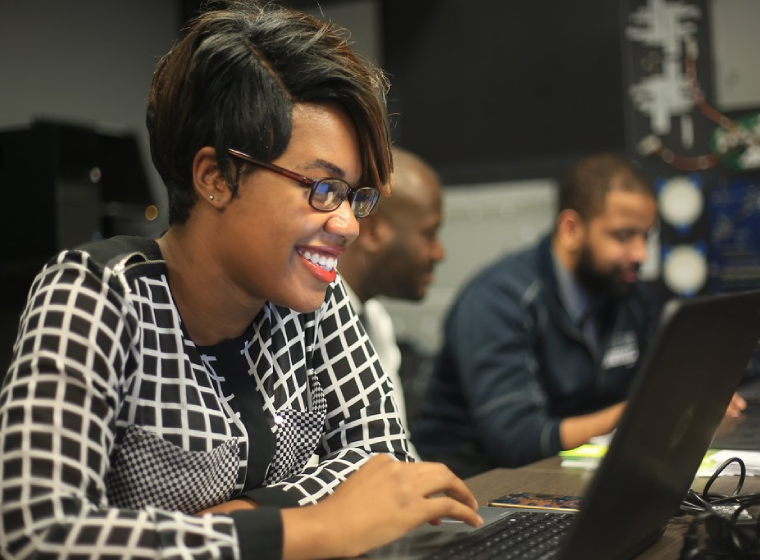 Donate Now
Your support makes a powerful difference in our ability to build a technology talent training solution that creates greater access and equity.