"I feel a certain sense of self worth I didn't have before" Per Scholas Alum AJ Digs Deep In Her Training to Find Success: Monthly Impact Report – Feb. 2017
Aquila Jimenez, a graduate of Per Scholas Atlanta's IT Support training course, is about to finish her first month as an IT Product Analyst at Worldpay. She is a member of the Solutions Engineering team, responsible for analyzing, designing and developing Worldpay's systems software. Her most recent project involved geolocating customer inquiries that will help the Solutions team analyze and understand patterns of support. Aquila goes by AJ and six months ago she said, "I didn't even know a motherboard was inside a computer."
AJ, along with many Per Scholas graduates, is a problem solver with a curious mind. Nancy Cox, Senior Vice President for Solutions Engineering at Worldpay remembers their first meeting when AJ shared, "I don't let things stop me. I dig in until I find it." For Nancy, and other Worldpay staff who are committed to hiring the best tech talent to suit their business needs, this was an immediate indicator that AJ was perfect for the Worldpay team.
From Nancy's perspective, "As an employer, what I see are college graduates and participants in other programs who aren't quite ready to work. When a company brings young talent into the organization, they become a project, because there are so few internal corporate training programs that close the training gaps. We are all wrestling with the tech hire initiative problem, wanting to be able to support people entering the technology workforce where we have many open jobs and nobody appropriate to fill them."
Before Per Scholas, AJ said she was one of those individuals. After graduating from Spelman College with a degree in Mathematics, she was turned down from countless job offerings because she lacked experience in the technology field. AJ found Per Scholas and a community of educators and students who were excited to launch into a hands-on learning process that gave AJ applied knowledge on specific subjects. "The instructor knew his stuff and constantly related our classroom to things that were going on in the world. When the Note 7 started exploding in everyone's pocket, our class discussed what was happening, what pieces were malfunctioning, and how it could be fixed."
AJ met Nancy during a mock interview series that Per Scholas set up with Atlanta employers to offer students a chance to practice their career-ready skills. AJ was quick to tell Nancy about her broad range of interests from hardware and networking to coding. According to AJ, "I am that person that wants to take in as much information as possible and then decide what I want to do with it. I told Nancy, I would work for a company in any position as long as they take my progression seriously. I am not sure exactly what I want to do, but I want to advance."
Nancy remembered those exact comments as a key indicator to the quality of Per Scholas students in general. For her, Per Scholas students demonstrated that they wanted a better job and income; however they were sincerely interested in technology and building their own knowledge. "Per Scholas is about finding the types of participants who truly want a career in the field and we were sold on AJ's problem solving capability. She is wired for this and we can fill in the other parts."
Worldpay, like many employers, is challenged to hire, train and retain a workforce that will continue to grow alongside the tech sector. The company has identified Per Scholas as a pipeline that develops local talent with a strong connection to the business community and local workforce. According to Nancy, "We are on a journey, we want to help the community and while in the process, benefit our own workforce and bottom-line."
AJ is equally excited about this growing partnership. A new Worldpay headquarters is in Atlanta and there will be many more positions opening in the future, especially on the product development team. There will be training opportunities and career tracks to choose from. AJ speaks fondly about her first month at Worldpay. "I think it has become very rare for companies to take their employees seriously. I feel a certain sense of self-worth I didn't have before. Getting this job, seeing how everyone else works every day, I don't have those performance fears anymore."
About Worldpay:
Worldpay is a leading payments company with global reach. We provide an extensive range of technology-led payment products and services to over 400,000 customers, enabling their businesses to grow and prosper. We manage the increasing complexity of the payments landscape for our customers, allowing them to accept the widest range of payment types around the world. Using our network and technology, we are able to process payments from geographies covering 99% of global GDP, across 146 countries and 126 currencies. We help our customers to accept more than 300 different payment types.
For more information, visit www.worldpay.com
Check out past Monthly Impact Reports here.
Sign up for our Monthly Impact Report
More News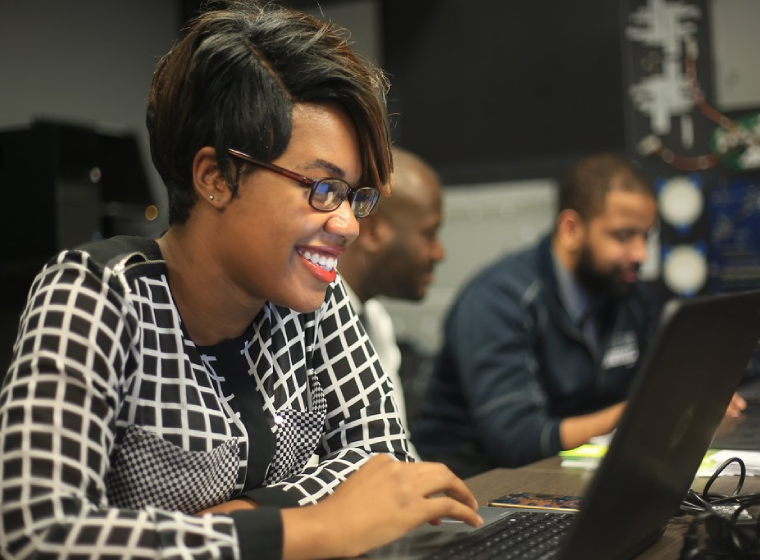 Donate Now
Your support makes a powerful difference in our ability to build a technology talent training solution that creates greater access and equity.