My Brother's Keeper What Works Showcase: Monthly Impact Report – Nov. 2016
This month, Per Scholas was among 33 organizations offered an opportunity to present at the White House at the My Brother's Keeper What Works Showcase.
In this science-fair style event, select organizations from across the country presented interventions that address MBK's goals and key tenets: 1) Getting a healthy start and entering school ready to learn: 2) Reading at grade level by third grade; 3) Graduating from high school ready for college and career; 4) Completing postsecondary education or training; 5) Successfully entering the workforce; 6) Keeping kids on track and giving them second chances; 7) Empowering parents and engaging caring adults and mentors.
Per Scholas addresses the fifth goal, successfully entering the workforce. We were one of only three organizations recognized as having a strong level of third-party evidence and verification, and the only workforce organization with this recognition. As such, Plinio was asked to give a "lightening talk" about the Per Scholas model in a sit-down program held before the exposition.
Following the morning's presentations, Plinio was joined by Wayne Kunow, Global Head of Information Risk Management for Barclays Investment Bank along with Jonathan Pena, Per Scholas graduate and Information Risk Manager at Barclays. The three discussed Per Scholas success with 200 audience members including White House officials, Federal agency representatives, foundations nonprofits, private sector partners and other My Brother's Keeper stakeholders as well as members of the media.
At Per Scholas, we believe that much of our nation's talent is hidden in plain sight: people in overlooked communities who may lack the opportunities—but not the motivation or intellectual curiosity—to join the ranks of our nation's growing tech sector. We prepare these individuals for successful careers as IT professionals, and create onramps to businesses in need of their talents.
Since our founding, Per Scholas has trained 6,000 individuals, helping them build successful careers in technology and spurring economic development in their communities.
We believe that a diverse workforce is a strong workforce. 90 percent of our students are people of color. In order to achieve diversity in the workplace, employers must be willing to recruit from nontraditional sources of talent. We help to build a more diverse technical workforce by creating educational onramps for individuals including women and people of color—groups staggeringly underrepresented in the tech sector today—and then providing top employers with access to our highly-trained and motivated talent pool.
Sign up for our Monthly Impact Report
More News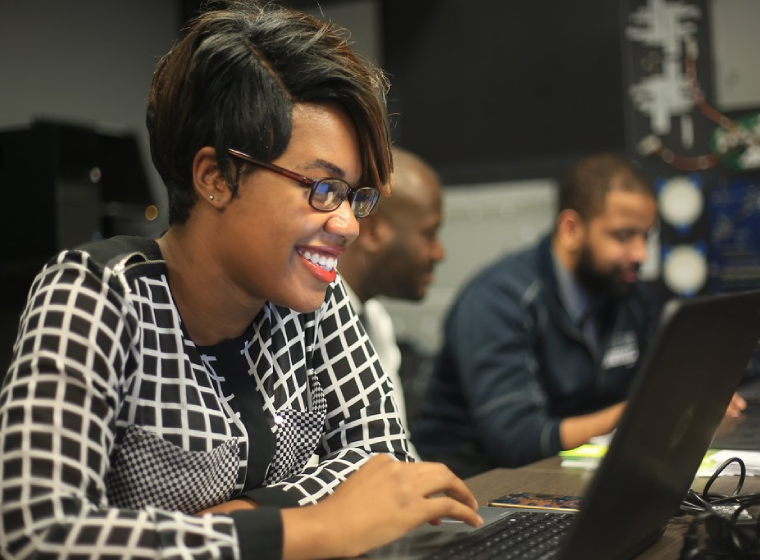 Donate Now
Your support makes a powerful difference in our ability to build a technology talent training solution that creates greater access and equity.