New Street Art and Murals Adorn the Halls of our Bronx Campus
Two murals have recently been completed at Per Scholas's Bronx campus, adding a colorful and vibrant look to the learning space's walls. The murals, which feature Per Scholas alumni rendered in different artistic styles, were completed separately by two local artists: Yazmeen Collazo and Alberto Rondon, who goes by DISTER.
The murals, funded by long-time Per Scholas partner, TEKsystems, are a creative endeavor to celebrate our learners and connect with our broader Bronx community, with an emphasis on women and diversity in tech. "We're honored to support a lasting representation of the impact Per Scholas has had on learners in the Bronx and across the U.S.," said Alice Zients, manager of corporate social responsibility, workforce development and foundation management at TEKsystems. "Our organizations share a similar purpose of creating opportunity through career success, and we look forward to transforming the lives of even more learners in the years to come."  See this link for a look at how the murals were created.
DISTER's mural features New York graduates Jadah Stone and Moja Chatman, and Dallas graduate Jordan Wofford. Yazmeen's mural includes Pittsburgh graduate Ashwini Neelgund, New York graduate Fabiana Rodriguez-Mercado, Charlotte graduate LeClair Boone, and Chicago graduate Veronica Vergara.
In addition to their artistic accomplishments as street artists and muralists, DISTER and Yazmeen were selected from over 100 submissions who competed to paint the murals at our Bronx campus.  These two local artists were chosen as finalists and received a financial award for their paintings thanks to the generous support of TEKsystems. Their selection as winners of the Per Scholas Bronx campus mural contest was based on their artistic proposals and past commitments to engaging the community in public art projects and nonprofit engagements, their alignment with the mission and values of Per Scholas and TEKsystems, their inclusion of the personality of Per Scholas learners and graduates, and their integration of the tone and mood of the Bronx in their completed pieces.
DISTER is a New York City-based artist with roots in Graffiti spray painting, writing and dance. "[My style] is predominantly influenced by Graffiti," DISTER explained. "By definition, true Graffiti has to be illegal. Words are important in how we describe things, especially when it comes to culture. So I'd say I am influenced by Graffiti style, but [the mural] is not necessarily a Graffiti piece." In a bow to the Graffiti style, DISTER added a unique "South Bronx" tag to his mural, making a connection to the neighborhood in the Bronx where the Per Scholas Bronx campus is located.
As for his inspiration for the mural's content, DISTER says he sought to inject color and human touch into the Bronx campus's walls. "I specifically wanted to humanize the building," he reflected. "It's really easy to think of school as just a place, so why not highlight the people of that area to represent more of the actual human experience?"
Yazmeen, hailing from the Bronx herself, attributes her inspiration largely to nature and what she felt Per Scholas brought to the South Bronx neighborhood. 
"The original inspiration [for the mural] was the nature that is often lacking in urban neighborhoods," Yazmeen recalled. "I included some leaves and branches, which to me symbolize growth, change, and how Per Scholas plays a part in that for so many of the underrepresented individuals in the tech industry. In this case, the four women who were featured are women of color, which is an underrepresented population when it comes to technology."
"I was thinking about what Per Scholas represents, not only in the neighborhood but in the tech industry in general. As a nonprofit, it speaks to the students in the neighborhoods it trains as something free that's offering all these opportunities that wouldn't otherwise be presented to certain individuals in certain areas; so that was a big inspiration. I had to think about what would symbolize growth and change. The inclusion of pixels exploding out also adds motion, which speaks to me of Per Scholas providing motion and a career trajectory for its graduates."  Also, images of birds flying and the rising sun reflect energy and the dawn of new horizons and opportunities for Per Scholas graduates.
Thanks to TEKsystems's generosity and the hard work of our artists, the two murals were completed as of mid-January. Their bright colors and bold styles bring an exciting element to the Bronx campus, which will provide a warm welcome for our learners and returning staff when the Per Scholas flagship Bronx campus reopens to in-person learning early in 2022. 
Not surprisingly, the artists, too, were touched by their experience working with Per Scholas. "It was really great to collaborate with Per Scholas and to know that a program like this exists in the South Bronx." DISTER said. "I have actually sent the program information to a few of my family who might be interested in attending!"  Which is exactly what we were hoping these murals would do, connecting Per Scholas more closely with the Bronx and its community.
Sign up for our Monthly Impact Report
More News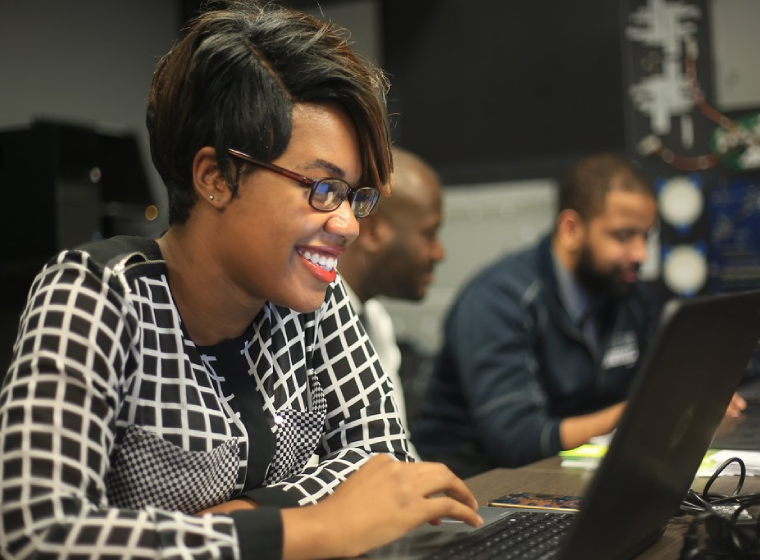 Donate Now
Your support makes a powerful difference in our ability to build a technology talent training solution that creates greater access and equity.