Nsia Realizes her Dream Career in Tech through Per Scholas
"I was someone who had a lot of things against them. There were a lot of things I had to overcome while I was at Per Scholas but I didn't let anything stop me. Per Scholas' message is you can do anything. And it's true. You can do anything."
Nsia is smart; she's tough. She's a hard worker. She loves electronics. And, she's taken all these attributes to launch her tech career at University of Maryland University College.
After high school, Nsia attended Grambling State University in Louisiana, pursuing a Bachelors in Engineering Technology. While at college, she became pregnant with a baby boy. Despite all the obstacles of having a newborn at home and her entire family in Maryland while going to school full time, Nsia completed her degree.
After college, however, the road to a career was not a smooth one. The tech field requires hands-on experience through internships. Because she had to work to provide for her son during college, Nsia didn't have the time or resources to work at an unpaid internship position. She worked in a retail job for a year, but knew that it was not a job that would be able to support her long-term.
Nsia says she draws her strength from her mother, who moved to the States from Trinidad to raise her eight children. She knew no one when she arrived. Nsia says, "Although it was stressful, every time I thought of her I knew I could do it, too."
After a year of job searching in Louisiana, Nsia moved back to Maryland to be closer with her family and to continue pursuing her career in tech. She says, "I don't let anything stop me from getting me where I want to be." Almost immediately after she was back in the National Capital Region, she found Per Scholas.
"I thought Per Scholas would be good. But, I didn't know it was going to be this good," she says. "When you hear 'free,' you don't think you are going to get any perks. But, it was so different. It was a good different."
At Per Scholas, Nsia really appreciated the help that the instructor provides to navigate through the challenging and dense technical material. She credits the career development portion of the training for helping her truly prepare for the workforce. "It really opened my eyes. It helped me become who I am today."
Her best moment of the whole experience? The day before graduation, Nsia learned that she had passed her A+ certification exam. She was proud because she had passed on the first try and could immediately start looking for a job. "I knew that was the next step in my life."
Now Nsia is working as a Technical Support Analyst at UMUC and saving up for a life with her boyfriend and son.
"My biggest accomplishment is getting into a great field while also taking care of my son. It's all a blessing because I see how much I have achieved," she says. "Anything is possible. Although it sounds cliche, once you put your mind to something, you can do it. No matter what anybody says, do it anyway."
Sign up for our Monthly Impact Report
More News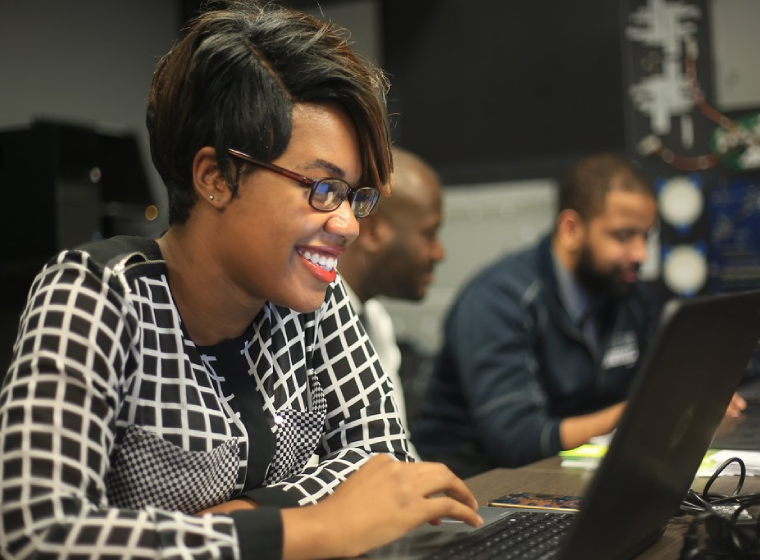 Donate Now
Your support makes a powerful difference in our ability to build a technology talent training solution that creates greater access and equity.