Per Scholas' CodeBridge Training Partnership with General Assembly featured in Fast Company
For over two decades, Per Scholas has supported dedicated students on their journey to careers in tech, creating a pipeline of new, skilled talent. Some Per Scholas students have backgrounds in tech, while others are just now breaking into the industry. Former athlete turned middle school janitor, Anthony Pegues, got his first taste of formal coding training at Per Scholas. This month, Anthony's story was featured in Fast Company magazine. The article discusses how a new partnership model between Per Scholas and General Assembly could be an answer to bringing talent from overlooked communities into successful coding jobs.
Anthony Pegues was a star football player in high school. After graduation, he attended community college and began working as a janitor at his old middle school, Isaac Young, in New Rochelle. Struggling to find career options Anthony decided to continue pursuing sports and began to start training as a boxer. His jabs and uppercuts took him all the way to the Golden Gloves state championship in 2011 at Madison Square Garden where he won the title. However, coding caught Anthony's attention soon after in 2012.
Pegues tried his hand at coding at the age of 24 and chuckles now, "I got nowhere, I had no clue what I was doing." But he needed something to work out in his favor and fast. His custodian job was scheduling him less than 30 hours a week to avoid offering benefits and he was sleeping on the floor of his mother's one-bedroom apartment. In 2015, due to his stint in boxing, Anthony was accepted into the Kilimanjaro Initiative for young adults who have used martial arts to overcome adversity. His climb up Mt. Kilimanjaro motivated Anthony Pegues to try coding again when he returned to the United States.
Anthony applied to a national coding academy, General Assembly's Opportunity Fund scholarship program but was denied. A General Assembly representative then recommended him to Per Scholas' CodeBridge program. CodeBridge represents a new partnership between Per Scholas and General Assembly and consists of five weeks at Per Scholas where students are prepared with the necessary skills to then move on to General Assembly's twelve week, challenging, full stack web development course.
This one-of-a-kind partnership is supported by AT&T Aspire, BNY Mellon and TechHire and allows Per Scholas the ability to provide students like Anthony with high quality technical instruction. In addition, Per Scholas gives each student career coaching, financial advice and two years of alumni support services. "The instructors are cool and they deliver the information we need the way we need it. Everybody learns differently, but everybody helps each other out," Pegues says.
After four months of hard work and sacrifice, Anthony Pegues was selected as his class's valedictorian. His determination at CodeBridge had paid off. Two months later, he began working as a junior full stack developer at e-commerce startup MM.LaFleur. Anthony hopes his story, from janitor to developer, can inspire other young adults who may be looking for their next opportunity. To read more of Anthony Pegues' story, click here.
Sign up for our Monthly Impact Report
More News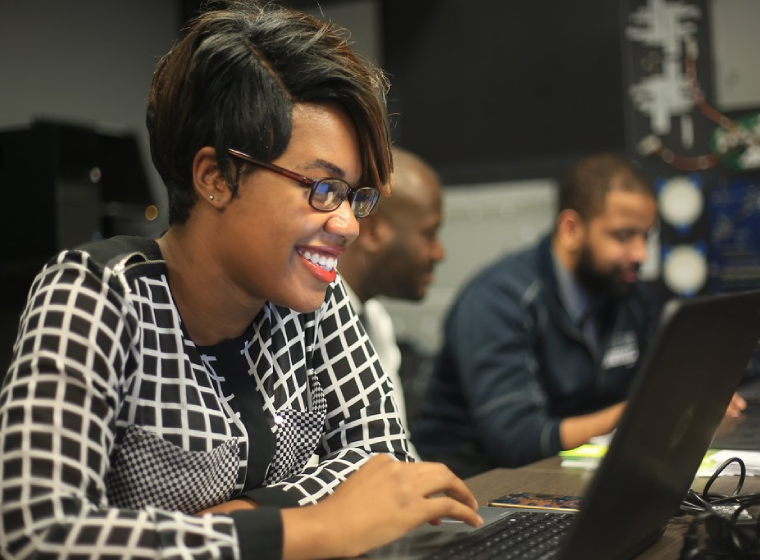 Donate Now
Your support makes a powerful difference in our ability to build a technology talent training solution that creates greater access and equity.