Per Scholas Commits to Training Thousands of Black Learners in Support of OneTen
An endorsed talent development partner for OneTen, Per Scholas's commitment will help the coalition reach its goal of training and creating jobs for one million Black Americans
New York, N.Y. (October 7, 2021) – For more than 25 years, Per Scholas has advanced economic equity through in-demand technology training, and this week, the nonprofit announced its plan to train tens of thousands of Black learners over the next ten years in support of OneTen – a coalition of leading corporate executives, talent developers, and community leaders who are committed to training, hiring, and advancing Black talent for family-sustaining career opportunities.
The training commitment is the latest move by Per Scholas to prepare BIPOC workers for high-growth careers in technology. In June, OneTen announced Per Scholas as an endorsed talent developer to advance its mission of expanding career pathways for one million Black Americans over the next decade.
"Per Scholas has always understood the value of training individuals for high-growth careers where they can thrive and build a better life for themselves, their families, and their communities – which is why we're doing everything possible to expand and scale our training programs to underrepresented talent across the U.S.," said Plinio Ayala, President, and CEO of Per Scholas. "As part of our work, we could not be more proud to stand alongside OneTen as we commit to training one in every 10 Black Americans that OneTen will reach for life-changing careers in technology – playing a significant role in what is hopefully the end of the lingering opportunity gap in America."
In addition to this latest training commitment, Per Scholas also presented the Diverse by Design North Star Awards – which celebrates and honors leaders who are transforming diversity in the technology sector and beyond. The inaugural award recipients include:
Jay Alvather, President of TEKsystems: Building on 20 years of service to TEKsystems, Alvather was appointed President of the global provider of technology, business, and talent solutions in 2015. Inclusion and diversity have always been core to his work, and he has been integral in making a more streamlined, direct connection between in-demand employment opportunities and diverse talent. TEKsystems is pleased to continue their support of Per Scholas's national expansion plans in 2022 and beyond.
Dalila Wilson-Scott, EVP and Chief Diversity Officer for Comcast Corporation, and President of the Comcast NBCUniversal Foundation: Wilson-Scott leads all Diversity, Equity, and Inclusion initiatives and philanthropic strategy for the global corporation, including the company's $100 million dollar commitment to advancing social justice and equality in today's workforce. Comcast NBCUniversal has also made a tremendous investment in Per Scholas, enabling the nonprofit to grow its training and reach more aspiring technologists amid the coronavirus pandemic.
Maurice Jones, CEO of OneTen: Jones is on a mission to help OneTen close the opportunity gap for Black talent in America, partnering with corporate leaders from all sectors and industries to upskill, hire, and promote one million Black Americans into family-sustaining jobs. This decade-long commitment will be transformational to our nation and directly beneficial to the communities where we live, work, and play.
"It was a tremendous honor to present our inaugural Diverse by Design North Star Awards to Jay, Dalila, and Maurice earlier this week," said Damien Howard, Executive Vice President of Social Ventures at Per Scholas and Co-Founder of Diverse by Design. "Much like the North Star – a collection of the brightest and most brilliant stars in the night sky – these leaders and their organizations serve as a beacon. Their commitment to diversity, equity, inclusion, and belonging are bright, awe-inspiring, and inspirational."
Per Scholas will train more than 3,000 learners this year – 90% of whom are Black and brown talent – remotely and across 17 campuses. On average, 85% of learners accepted into Per Scholas will go on to graduate, 80% of graduates will secure employment at an average wage of at least $20 an hour, and 75% will retain employment beyond one year in their field. Historically, alumni will also make roughly four times more in their first job after graduation than their pre-training wage.
For more information, please visit PerScholas.org and OneTen.org.
Editor's Note: High-resolution photos of the Diverse by Design North Star Award presentation are available upon request. Please contact Sara Luciano at (332) 895-0051 or by email at [email protected].
About Per Scholas
Per Scholas is a national organization that has been advancing economic mobility for 25 years. Through rigorous training, professional development, and robust employer connections, we prepare individuals traditionally underrepresented in technology for high-growth careers in the industry. We partner with leading employers to build more diverse talent pools, directly connecting our graduates to new career opportunities at businesses ranging from Fortune 500 companies to innovative startups. With campuses in 17 cities, Per Scholas has trained more than 14,000 individuals in tech skills, building bridges to careers in technology. To learn more, visit PerScholas.org.
About Diverse by Design
Diverse by Design, powered by Per Scholas and ITSMF, promotes solutions-driven conversations about diversity, equity, and inclusion within tech, produces meaningful content that empowers c-suite leaders to make both valuable and socially impactful business decisions and provides access to sophisticated customized training and talent sourcing solutions to meet companies' talent demands while transforming the diversity landscape of their organizations. To learn more, visit diversebydesign.org.
About OneTen
OneTen is a coalition of leading chief executives and their companies who are coming together to upskill, hire and promote one million Black Americans over the next 10 years who do not yet have a four-year degree into family-sustaining jobs with opportunities for advancement. We connect employers with talent partners, leading nonprofits, and other skill-credentialing organizations that support the development of diverse talent. By creating more equitable and inclusive workforces, we believe we can reach our full potential as a nation of united citizens. Join us at OneTen.org.
Sign up for our Monthly Impact Report
More News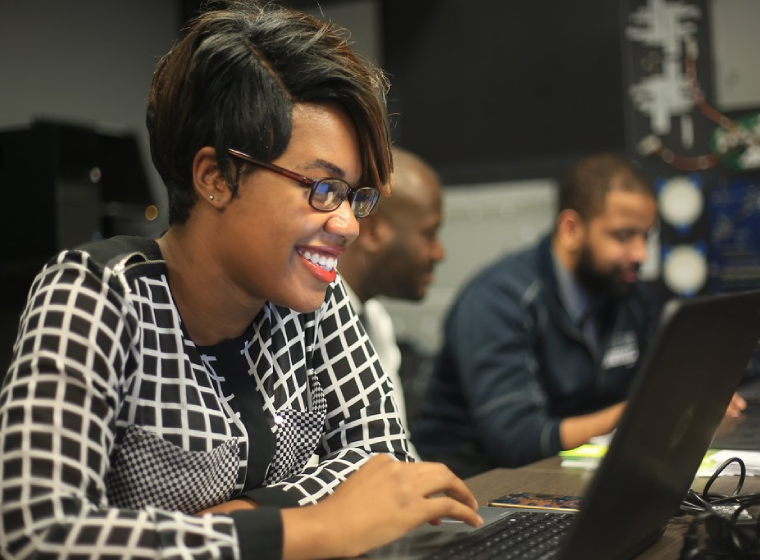 Donate Now
Your support makes a powerful difference in our ability to build a technology talent training solution that creates greater access and equity.