Per Scholas Names New Cincinnati Advisory Board Members
For Immediate Release: January 5, 2018
Contact: Jacob McIntosh, Manager, Marketing and Events
[email protected], (978) 578-6821
Cincinnati, OH — Per Scholas is pleased to announce the recent addition of new members to its Cincinnati, OH Advisory Board. Per Scholas is a national workforce nonprofit that provides rigorous and tuition-free technology training and professional development in careers such as IT in Atlanta, GA; Cincinnati and Columbus, OH; Dallas, TX; the National Capital Region; and New York. Per Scholas' Advisory Boards provide local leadership and guidance for carrying out the organization's mission of opening doors to technology careers for individuals from often overlooked communities.
Gar Gunter is a seasoned IT executive with over 30 years of IT and executive level experience. Since retiring as Senior VP and CIO for Luxottica Group SPA, Gar has been consulting with small and medium sized businesses, helping guide and advise with their strategic IT and Business Process plans. While CIO for Luxottica Retail North America, Gar supported the brands of LensCrafters, Sunglass Hut, Pearle Vision, Sears Optical, Target Optical and EyeMed Visioncare. Prior to joining Luxottica, Gar had 15 years IT experience in the healthcare and retail industries.
Wally Lovejoy is an independent health care consultant, with a focus on eye care and optical retailing. Wally was previously the Senior Vice President, Eye Care Development at Luxottica Retail North America. He was also chair of the Board of Directors of EYEXAM of California, a licensed vision health care service plan, and responsible for the operation of over 300 optometric offices owned and operated by Luxottica Retail companies. Wally is currently a member of the Board of Directors of Smart Vision Labs and a member of the Salus University Pennsylvania College of Optometry Advisory Board. He is also a volunteer attorney with the Pro Bono Partnership of Ohio, providing free business legal services to Cincinnati and Dayton area nonprofits.
Marylin Seastrom is a veteran executive with 30 years of professional experience, including more than 20 years in the field of insurance. She brings a wide range of corporate and leadership expertise, including sales & account management, IT, business operations, finance, and accounting. She has grown with EyeMed Vision Care since 1996, and currently serves as Vice President of Strategic Relations. The longevity of her service to EyeMed Vision Care is a testament to her institutional loyalty and commitment. A graduate of the University of Cincinnati, she is a Licensed Insurance Agent, and holds PMP and CPA accreditations.
"I am delighted to announce these additions to our Advisory Board," says Paul Cashen, Managing Director of Per Scholas Cincinnati. "I have had the pleasure of knowing and working with Gar Gunter, Wally Lovejoy, and Marylin Seastrom for many years. They have already made a significant impact on Per Scholas with their donations of time, talent and treasure, and will continue to be a valuable resource to our organization."
For more on Per Scholas Cincinnati, visit: http://www.perscholas.org/cinc…
About Per Scholas
Per Scholas is a national nonprofit that drives positive and proven social change in communities across the country. Through rigorous and tuition-free technology training and professional development, we prepare motivated and curious adults who are unemployed or underemployed for successful careers as IT professionals, and we create onramps to businesses in need of their talents. Today we provide our solutions in six cities across the country: Atlanta, GA; Greater Cincinnati, OH; Columbus, OH; Dallas, TX; the National Capital Region; and New York. To date, Per Scholas has trained 7,000 individuals, helping them build lasting, life changing skills and careers in technology.
Sign up for our Monthly Impact Report
More News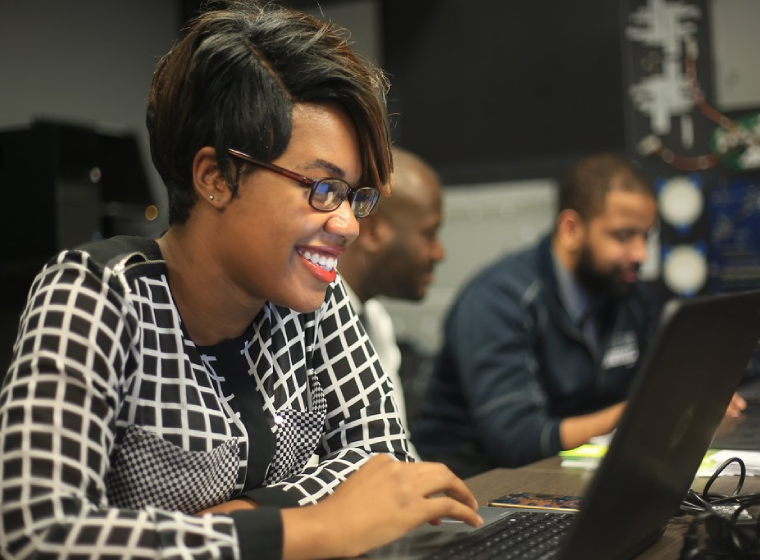 Donate Now
Your support makes a powerful difference in our ability to build a technology talent training solution that creates greater access and equity.