Per Scholas Newark Celebrates Recent Graduates
On September 8th, Per Scholas Newark celebrated the recent graduation of four cohorts – two in IT Support and two in Cybersecurity. The event also included a commencement ceremony for the latest graduating Cybersecurity cohort. 
This event was hosted by Per Scholas Newark's Managing Director, Jessica Zorola, who congratulated the new alumni on their hard work and success. Jessica also expressed her gratitude to the Per Scholas Newark staff and national team, who work hard each day to create a supportive, educational environment that prepares learners for success in the tech field on multiple levels. "[Our staff] have been the heart and soul of Per Scholas Newark since our founding in 2019," Jessica told attendees. "They provide the skills and training one needs to succeed from day one on the job. My fellow colleagues have created a space of curiosity and excellence – to ensure that our learners not only build their own successful pathways within tech but lift their fellow peers to greatness as a community."
Sandip Amin, Per Scholas' Northeast Regional Senior Vice President, delivered celebratory remarks, highlighting Per Scholas' long-standing commitment to unlocking potential through technology and career development training. Jose Rodriguez, Per Scholas Newark's Campus Director, then spoke to the strengths of our Newark campus' multiple training programs and its commitment to excellence in IT Support, Cybersecurity, Professional Development, and job-ready skills before introducing representative speakers from each of the four graduating cohorts to celebrate their respective cohorts' accomplishments.
Next, Per Scholas President and CEO Plinio Ayala shared reflections on the power of tech training in Newark, emphasizing Per Scholas' origin story and its role in addressing the need for skilled technology talent. He extended his well wishes to the graduates, highlighting their promising futures. Dave Francisco, a 2022 graduate of Per Scholas Newark's Cybersecurity course and current member of the Per Scholas Newark Advisory Board, then took the stage to share his journey, emphasizing the transformative power of a career in tech. Dave, who now works as an Engineer at Kinesys Automation, offered valuable insights and wisdom to the newest Per Scholas Newark alumni, underscoring the importance of continued growth and development.
The ceremony continued with an address by Cybersecurity cohort valedictorian Asma Daif Allah, who delivered inspirational remarks and congratulated her classmates on their success. Core Value Recipients were also recognized, acknowledging graduates for their continued commitment to the values of Ambition, Integrity, Professionalism, Resourcefulness, Perseverance, and Commitment to Service.
Michele Alcazar, Head of Human Resources at Per Scholas partner Prudential, then extended her congratulatory remarks to the graduates, emphasizing the significance of their accomplishments and the opportunities that lay ahead. The program reached its culmination with recognition of each graduating learner; graduates walked across the stage to receive their graduation certificates and official Per Scholas padfolios. 
Learn more about upcoming training opportunities at Per Scholas Newark and apply by visiting PerScholas.org/Newark.
Sign up for our Monthly Impact Report
More News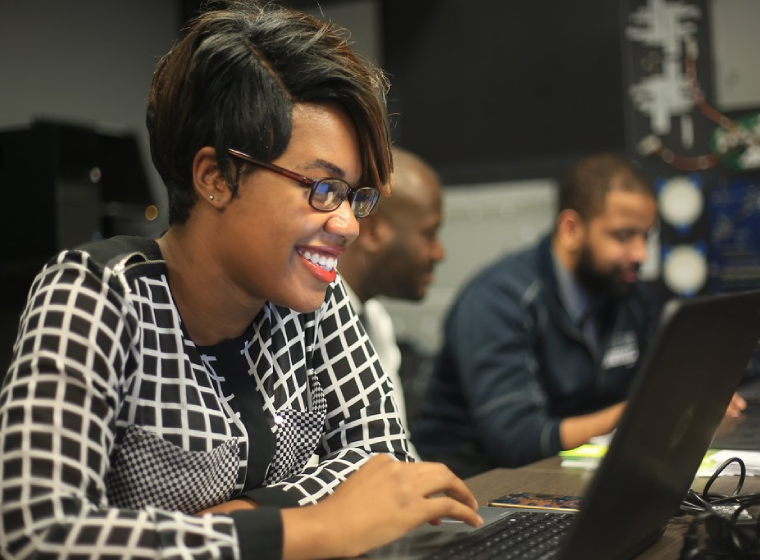 Donate Now
Your support makes a powerful difference in our ability to build a technology talent training solution that creates greater access and equity.