​ Per Scholas Opens Doors to State of the Art Newark Technology Training Location That Will Support 200 Individuals Into Technology Careers Over The Next Three Years.
This Newark location, in partnership with Champion Founding Partner Barclays, Signature Founding Partner Prudential Financial, Major Founding Partner PSEG Foundation, Founding Partner AT&T and Founding Partner Guardian, will provide skills training for local workers while expanding talent opportunities for regional businesses.
NEWARK, NJ – April 09, 2019 – National tech training nonprofit Per Scholas today announced the grand opening of Per Scholas's Newark campus. Supported by business and community partners, the new location will provide tech training and professional development support to place 200 individuals into technology careers over the next three years. The first class began in March with nineteen individuals, two-thirds of whom are Newark residents, engaging in hands on skills training in hardware, software, and networking technology. Per Scholas's Newark expansion, first announced by Newark Mayor Baraka in October, offers employers in the city and region access to a previously untapped talent pool.
Per Scholas's Newark location supports individuals in obtaining the skills necessary to find work with local employers where they would otherwise face significant barriers to entry. In addition to helping individuals from the local community gain high-demand professional and technical skills, Per Scholas aims to offer regional businesses access to an extensive source of local talent that reaches far beyond traditional recruitment channels.
Champion Founding Partner Barclays has been a supporter of Per Scholas since 2012, and in 2016 worked alongside the nonprofit to develop a cybersecurity curriculum designed in response to increasing demand for technical security experts in the financial industry. Since then, Barclays has hired over 50 Per Scholas graduates as apprentices, interns or full-time hires, with an expected increase thanks to this new connection to Per Scholas's Newark campus. Being less than 20 miles from the new Barclays campus at Whippany, the Per Scholas facility will also provide Barclays with access to a diverse pipeline of technology talent.
"We are honored to join the Newark community with the support of so many local employers and organizations," said Kelly Richardson, Managing Director, Newark and New York, Per Scholas. "Newark's commitment to economic inclusion is inspiring, and we will support this commitment as as we work in partnership to connect talented Newarkers with the city and region's growing tech ecosystem."
"For too long, New Jersey's best and brightest have not been able to reach their full potential because of systematic roadblocks," said Governor Murphy, New Jersey. "My Administration is fully committed to making sure that every New Jersey student has the opportunities they need to get ahead by partnering with organizations like Per Scholas to help close the achievement gap. I join Mayor Baraka in welcoming Per Scholas to the great city of Newark."
"Newark is undergoing an unprecedented economic expansion" said Mayor Ras Baraka, Newark, New Jersey. "Businesses large and small require capable employees, particularly in technology jobs in one of the most 'wired' cities in America. Per Scholas is enabling Newark residents, some of them economically disadvantaged, to learn skills that will lead to well-paying jobs, careers in the new economy, and economic independence. Per Scholas is a valued partner in our collective work to move Newark forward."
"Barclays is proud of its longstanding partnership with Per Scholas, which promotes economic growth and social progress within the communities it serves, and we're excited to start welcoming the next generation of leaders to the fantastic new training facility in Newark" said Jes Staley, Group Chief Executive Officer, Barclays.
Additional support for Per Scholas Newark comes from Signature Founding Partner Prudential Financial, Major Founding Partner PSEG Foundation, Founding Partner AT&T and Founding Partner Guardian.
"This campus will give Newark's local talent and youth a ladder of opportunity to gain the critical workforce skills needed for the future" said Robert Falzon, Vice Chairman, Prudential Financial. "This is the kind of investment in people that Prudential will always be proud to support; and speaks to our deep-rooted commitment to help Newark see the promise of prosperity."
Major Founding Partner The PSEG Foundation has called Newark home for over 100 years, and it enthusiastically supports and invests in education and workforce development and the communities it serves. "The PSEG Foundation is proud to support Per Scholas in Newark and their aim to address the systemic inequities and barriers that too often hold back residents and employers," said Barb Short, President and Chief Diversity Officer, PSEG Foundation. "Along with education and workforce development, helping to build and sustain thriving communities are key pillars of the PSEG Foundation and we are eager to help ensure that new skills development, training, jobs and opportunities are created."
Per Scholas's new campus is located at 540 Broad Street in the former New Jersey Bell Building, re-opened with support from L+M Development Partners, Prudential and the Goldman Sachs Urban Investment Group, features three state-of-the-art technical classrooms, and will enroll about 100 students per year, tuition-free. The Per Scholas model includes a comprehensive admissions process, technical instruction, career coaching and two years of alumni follow-up and placement support. Per Scholas provides opportunities for motivated individuals from diverse and low income communities the opportunity to succeed in growing tech careers, with the average Per Scholas graduate increasing their income by 400%.
Newark residents interested in applying for the free technical training offered by Per Scholas can visit www.perscholas.org/newark to submit an application. The first class kicked-off in March and applications are open for classes that will start on a rolling basis through the year.
About Per Scholas
Per Scholas is a national nonprofit that drives positive and proven social change in communities across the country. Through rigorous and tuition-free technology training and professional development, we prepare motivated and curious adults who are unemployed or underemployed for successful careers as technology professionals, and we create onramps to businesses in need of their talents. Today we provide our solutions in eight cities across the country: Atlanta, GA; Greater Boston, MA; Greater Cincinnati, OH; Columbus, OH; Dallas, TX; the National Capital Region; Newark, NJ and New York, NY. To date, Per Scholas has trained 9,000 individuals, helping them build lasting, life-changing skills and careers in technology.
Sign up for our Monthly Impact Report
More News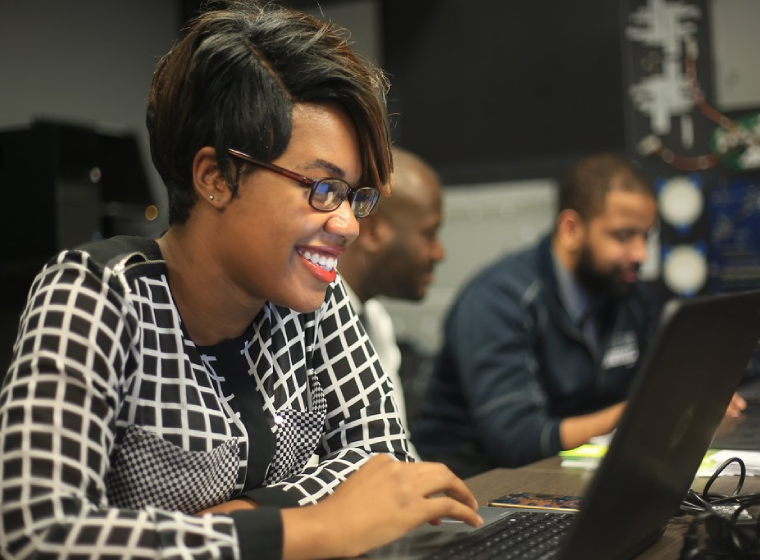 Donate Now
Your support makes a powerful difference in our ability to build a technology talent training solution that creates greater access and equity.