Following Your North Star
Following Your North Star
by Damien Howard 
Chief Enterprise Solutions Officer
In my role as Chief Enterprise Solutions Officer, I often talk to C-Suite leaders, and one of the top challenges that always arises is hiring and retaining diverse tech talent. According to McKinsey & Company, inclusive teams make better decisions up to 87 percent of the time, and diverse teams produce a minimum of 19 percent more revenue. The business case and ROI for diversity has never been stronger or more urgent. 
In my conversations with C-Suite Leaders, I also often get asked about what to do when an organization struggles with diverse hiring. They ask me how to catch up. My response is always to start with listening, learning, and then you must move to action! I also just heard a great quote from a phenomenal leader at E&Y in response to this question and he said, "You need to take luck out of the process when hiring diverse candidates."
North Star Luminaries 
Recently, I had the distinct privilege of honoring four leaders with our Diverse by Design North Star Award. Much like the North Star, this collection of leaders serves as a beacon for others to follow in their Diversity, Equity, Inclusion, and Belonging (DEIB) journey. Their commitment to DEIB and diversity hiring is bright and inspirational. 
Among this year's recipients was @Michael Buckham-White, Global Managing Director at @Deloitte Technology and Chairperson of the @ ITSMF Board. Michael takes on the role of Global Managing Director for Deloitte Technology and leads Global Consulting, Advisory, and Brand technology efforts. He ensures customers get the best of IT across a broad suite of capabilities, and serves as the single point of contact on technology needs. I've been lucky enough to see Michael in action at ITSMF for the last couple of years and have been able to see his impact in DEIB firsthand. Michael is known across multiple industries and has even been acknowledged by Savoy magazine as one of the 300 Most Influential Black Executives in Corporate America.
I presented the next Diverse by Design North Star Award to @Stephen DeStefani, SVP of Technology Diverse Segments, Representation & Inclusion at @Wells Fargo. In his role, he established and leads Wells Fargo's first Neurodiversity Program and currently leads the Enterprise Technology efforts to hire more than 300 neurodiverse candidates by the end of 2022. He also led the effort to re-establish the Diversity Equity & Inclusion program for the Technology organization and built the operational framework for all diverse workstreams for the program. Stephen is also the executive sponsor that pushed Per Scholas' customized talent development solution forward at Wells Fargo. We are now on our fourth training cohort and we are slated to launch three more in 2023. Stephen is a champion for DEIB.  
Our third Diverse by Design North Star honoree was @Janet Pope, Vice President of Corporate Social Responsibility at @Capgemini Global Consulting Group. In her role, Janet is responsible for continuing to cultivate a culture of inclusion at Capgemini by developing, leading, and implementing workforce engagement strategies and programs that align directly with the business strategy, support people, protect the planet, grow partnerships, and embody overarching corporate values. To date, Capgemini has hired more than 80 Per Scholas graduates. 
And finally, we honored @Pittsburgh Steelers Head Coach Mike Tomlin with the North Star Award. His commitments to the @NFL kept him in Pittsburgh, but my Diverse by Design Co-Founder Ken Walker and I had the chance to meet Coach on his home turf to present him with his award. Take a look here. As one of five minority head coaches in the NFL, Coach Tomlin is a passionate advocate for DEIB. He actively promotes racial equity and intentional progress around challenges attached to diversity, equity, inclusion, and belonging. Coach Tomlin is a tenacious leader, showing this generation just what's possible.
Let Per Scholas Be Your Solution For Superior & Diverse IT Talent
For more than 27 years, Per Scholas has been an industry leader that partners with companies to recruit, train, and build sustainable diverse tech talent pipelines to solve business pain points.
Per Scholas Enterprise Talent Solutions provides our employer partners solutions for both attracting and retaining talent. Our emerging talent solutions provides companies with a steady stream of high-quality candidates with job-specific skills tailored to meet real time hiring demands. We build local training operations across the country and offer remote training courses for distance-learning. 
For incumbent talent, our upskilling solutions offer short term, intensive skills training to help businesses give employees new or enhanced skills, and our reskilling solution offers immersive technical skills training for employees to enter new technical roles. 
We close the equity gap and increase opportunity through rigorous technical skills training. We partner with nearly 1,000 companies from Fortune 100 to innovate start ups to provide the tech talent they need in today's hot job market.  
This year, we're on track to train nearly 4,000 diverse technologists in in-demand skills your company needs from cloud computing to java developer, cybersecurity to AWS re/Start and beyond. Aligned with our commitment to diversity, equity, inclusion, and belonging, 85 percent of our learners are people of color and more than a third identify as women.
Per Scholas is committed to solving your IT talent sourcing challenges and we look forward to partnering with you in meaningful ways to do just that. 
Sign up for our Monthly Impact Report
More News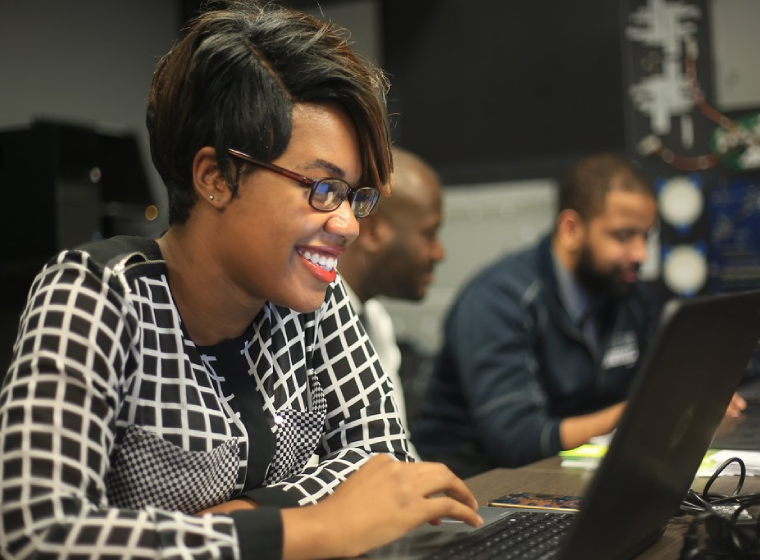 Donate Now
Your support makes a powerful difference in our ability to build a technology talent training solution that creates greater access and equity.