Per Scholas Profile: Alumnus Sione Joseph Rediscovers Her Creativity
Sione Joseph is an artist. As a painter and sculptor, she once imagined a career in graphic design, and studied for two years at Dillard University in her home city of New Orleans. After the death of her dad, she left school and went to work. Working just to get by left her without the time or energy to pursue her creative passions, and without the means to afford art supplies.
"I've always been somebody who wants to create, to make things, to make things happen, to leave some version of myself behind on Earth after I'm not here anymore," Sione says. "Having to put my art on hold to pay the bills was frustrating."
At 25 years old, Sione has had a lot of jobs. She has taught pre-k. She has been a cook in a restaurant in New Orleans. She even worked for a time as a financial advisor. She has taken any job she could get to stay afloat. "Not everyone has the luxury to chase a career. I grew up really poor," she says. "I would have worked any job to avoid going back to that." Still, despite her diligence, she has experienced eviction and homelessness due to low wages. "I had a job, and I was doing everything that I was taught was right."
She moved in with her sister in Arlington, Texas, and went to work for the State's Housing and Human Services Department. She saw the job as a dead-end with no opportunity to advance, no potential to build a career, and once again, no time for her artwork.
Artwork by Sione Joseph
She had learned to love computers during her time at Dillard University, and had grown comfortable with technology through her graphic design classes. "I found Per Scholas while I was looking for jobs in technology. I didn't think I would get in, because I didn't have the experience, and most of what I knew about computers, I had taught myself." She was surprised and excited to be accepted. The IT Support class at Per Scholas requires no prior experience, only resilience and a determination to learn. Sione embodied those attributes, and threw everything she had into her Per Scholas experience.
Sione worked nights as a concierge while going to Per Scholas during the day. Money was tight, but the staff at Per Scholas was supportive. "They helped me to get free city bus passes, and they were always asking if I needed anything," she says. "They were encouraging too. They would say 'I know things are hard, but just push through. We believe in you.'"
Sione reflects on the strength of the bonds she forged with her classmates at Per Scholas: "We were all in such high stakes situations of our own, and while that would drive some people apart, it pulled us together." Tragically, during the week of her final exam, a close friend of Sione's died unexpectedly. Her Per Scholas family helped her through the loss. "It pushed me to do better, to have something to live for and to strive for. Everyone wanted to comfort me and pray with me. They're honestly more like brothers and sisters to me now."
With graduation approaching, wages from Sione's job as a concierge were falling short of her expenses, and she felt that she was racing against the clock to find a job that would sustain her. Impressively, she got an interview at the second company that she applied to, and it wasn't long until she had a job offer. Less than a week after she graduated from Per Scholas, Sione started a new job making more than $21 per hour.
"Working in Desktop Support is amazing. Being around people who love their job is amazing. Being at a company that cares if you like where you work is a major cultural shift. Everyone is in a creative get-up-and-go mode. It's not a creaky old dinosaur."
What makes Sione happiest is that she now has the time, energy, and means to pursue her artwork in her free time. She is painting and sculpting again for the first time in two years. She also enjoys refurbishing old furniture with her mom. "Now that that I have the time, and I'm in a position that I have excess money, it's weird actually," says Sione, reflecting on her newfound means. "A lot of people think that a job is a job, and a career is a career. But it isn't separate from your personal life. Working a job that you hate drains you. Now when I go home, I still have energy left to create. That's the greatest blessing that has come out of this–being able to get my creativity back."
Sione can once again afford art supplies, thanks to her new career
Sign up for our Monthly Impact Report
More News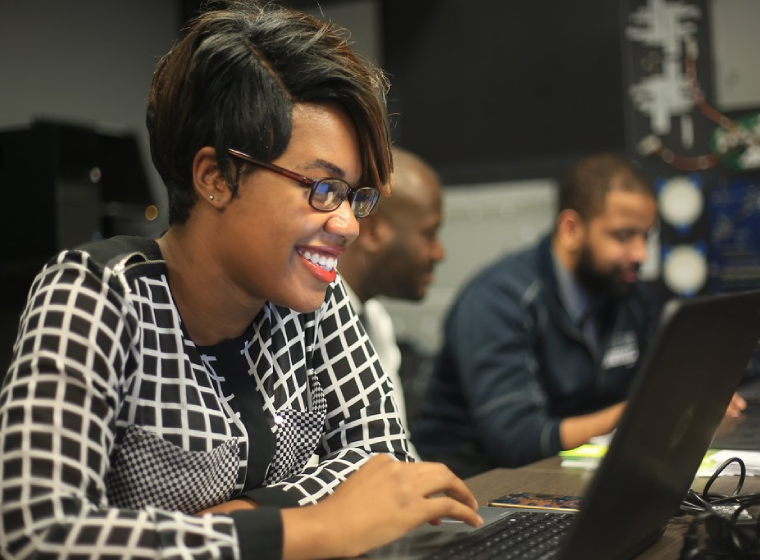 Donate Now
Your support makes a powerful difference in our ability to build a technology talent training solution that creates greater access and equity.