Per Scholas Recognized Through Nicholas Kristof's 2021 Holiday Impact Prize
Per Scholas Recognized Through
Nicholas Kristof's 2021 Holiday Impact Prize
BRONX, N.Y. (November 24, 2021) — Per Scholas has been selected as a winner of the 2021 Holiday Impact Prize, presented by two-time Pulitzer Prize winner and former New York Times columnist Nicholas Kristof, and supported by Focusing Philanthropy. Per Scholas is honored to be recognized alongside two other incredible organizations, Grand Prize Winner Seva Foundation, and the Panzi Foundation. 
"Per Scholas is an opportunity machine here in the United States. It breaks down barriers in the tech industry, one graduate at a time. It's a tuition-free program that trains participants—mostly people of color— for the tech jobs of the future," said Nicholas Kristof, two-time Pulitzer Prize winner and former New York Times columnist. "Four out of five graduates land a job within a year of completing the programing, earning far higher incomes and transforming their futures while also supporting the economy. This is one of the best escalators toward social mobility in America."
For 26 years, Per Scholas has worked to advance economic equity through rigorous training, professional development, and employer connections in IT careers for individuals who don't otherwise have access to such opportunities. Donations received through the Holiday Impact Prize will support Per Scholas's Career Access Fund, which provides learners with everything they need to participate in the tuition-free tech training including laptops, Wi-Fi, textbooks, learning kits, lab supplies, certification exam costs, learner support services, and more. Donations will be matched dollar for dollar, up to $2.0M, thanks to generous individuals from Jane Street. 
"For Per Scholas to be among this year's Holiday Impact Prize honorees is transformational. With donors' generosity, we'll grow our Career Access Fund, which removes barriers and closes the equity gap for thousands of diverse, future technologists across America. Our learners will be provided with everything they need to participate in our tuition-free tech training, which in turn increases opportunity and further diversifies our nation's technology workforce," said Plinio Ayala, President and CEO of Per Scholas.
Since 2009, two-time Pulitzer Prize winner and former New York Times columnist Nicholas Kristof has written an annual "holiday gift guide" column to highlight little-known organizations working to make the world a better place. He began writing the gift guide to bridge a philanthropic gap: readers who wanted to help but didn't know how, and heroic individuals and organizations who desperately needed resources but were off donors' radar. 
The column has helped raise the profiles of organizations that work on the very issues he covers in his journalism—health, education, human rights and women's rights, both domestically and abroad. This year's $100,000 Grand Prize winner was Seva Foundation, a global non-profit eye care organization that has helped restore sight to more than 46 million people. Runners-up Per Scholas and Panzi Foundation were each awarded $25,000. The column also recognized two additional organizations—Reading Partners and Big Brothers Big Sisters of America—for those looking to make an impact through volunteering.
Focusing Philanthropy is a 501(c)3 nonprofit that finds and funds high-impact, scalable programs here and around the world—is providing the platform for this initiative by processing readers' contributions, monitoring and reporting on results, and replenishing credit card transaction costs of donations made on KristofImpact.org so that 100 cents on the dollar will support the winning organizations.
More information about Nicholas Kristof's Holiday Impact Prize, this year's winners, and Focusing Philanthropy can be found at https://kristofimpact.gift/To-PerScholas.
About Per Scholas: Per Scholas is a national organization that has been advancing economic mobility for 25 years. Through rigorous training, professional development, and robust employer connections, we prepare individuals traditionally underrepresented in technology for high-growth careers in the industry. We partner with leading employers to build more diverse talent pools, directly connecting our graduates to new career opportunities at businesses ranging from Fortune 500 companies to innovative startups. With campuses in 17 cities, Per Scholas has trained more than 15,000 individuals in tech skills, building bridges to careers in technology. To learn more, visit PerScholas.org.
Sign up for our Monthly Impact Report
More News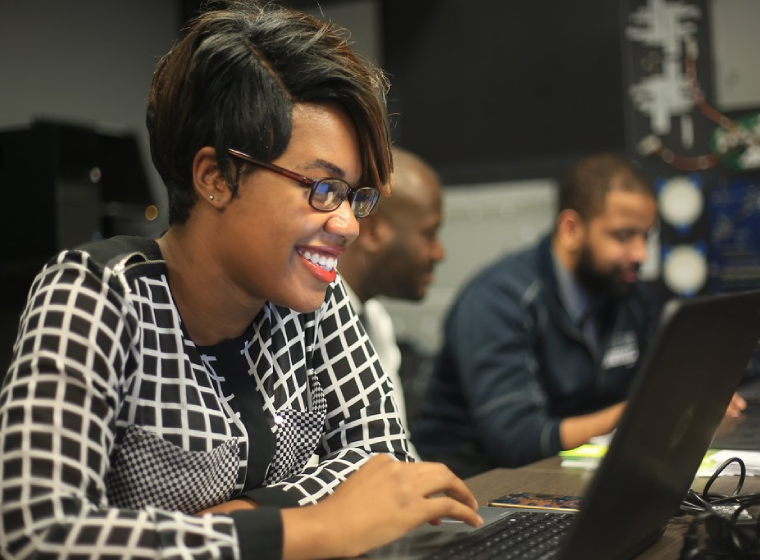 Donate Now
Your support makes a powerful difference in our ability to build a technology talent training solution that creates greater access and equity.