Per Scholas NCR Student Ambassador and Veteran Renique King Starts a New Career in Technology with Capital One
23 year old Renique King is a soldier, a mother, a Per Scholas graduate, and now officially an IT professional, landing her very first job in IT as a Business Transformation and Integration Associate at our signature partner Capital One's global headquarters in McLean, VA.
Before graduating from Per Scholas National Capital Region's inaugural IT Security course in March of 2016, Renique wasn't sure what she wanted to do with her life. Like many young adults, Renique had dreams of going to college, but didn't have the means to pay expensive tuition fees out of pocket. Resourcefully, Renique joined the Army National Guard in 2013, where her work as a Radio & Communications Repairer helped her pay for college at James Madison University and then Northern Virginia Community College (NOVA).
After a few years of working for the Army one weekend a month, studying Public Relations in college full time, and waitressing on the side to make ends meet, Renique was burnt out. She describes that time as a stressful one. "I was overwhelmed. I wasn't performing at a level I wanted to because I had too many commitments," she says.
Also at this time, Renique got pregnant and had her son, Naolin. "With a son, I knew that a career in PR would take some time for me to make enough money to take care of a dependent." She needed to find a new career path for herself. "My son is my first priority. I want to set him up for success in life."
So Renique went back to the drawing board. "I considered technology because it's a field that you can generate the most income," she said. Serendipitously, soon after this realization, Renique received an email promoting a free technology school in the NCR region named Per Scholas. To top it all off, the organization was launching a brand new course in IT Security just for veterans like herself. The course was launched in March of 2016 in partnership with our signature partner Symantec and provides CompTIA Network+ and Security+ to help military veterans launch IT careers in cyber security. "I knew I could learn quickly and it was a golden opportunity," she said. Renique decided to go for it.
With a 6-month old son at home, attending the full time, 10-week course was challenging. Renique says that support from the entire team at Per Scholas was integral to her success. "Seeing the dedication of the staff to the mission of Per Scholas was life-changing," she shared.
Renique recalls when she failed the Network+ the first time, something not uncommon of the difficult test, the Per Scholas team was there to help her pass the second time. "During my studies, I embraced the culture, the staff, my instructor, my classmates, and each day of lessons. Every day I learned something new about IT and myself," she says.
As graduation from the course neared, Renique began looking for her very first IT job with the help of Director of Business Solutions, Peyton Brooks. She received a job request for a position at Capital One and filled out the application, although she thought getting the job was a long shot. The next day, she was called in for an interview. And, before she knew it, nearly two weeks later, she received an offer letter. She had landed the job.
"I knew that Per Scholas would help me get a job. But, sitting here now I didn't know that I would be working at Capital One 10 weeks later," she says. "My situation has changed from being a waitress to being an Associate at Capital One."
Renique feels like her life has fallen into place. Looking back, she says that everything happens for a reason. Looking forward, she sees a bright future for her and her son. She shared, "Every student that graduates from Per Scholas will start the beginning of their own success story. I want them to know that this opportunity is worth every minute. It will be the best decision that they could make for their lives."
Sign up for our Monthly Impact Report
More News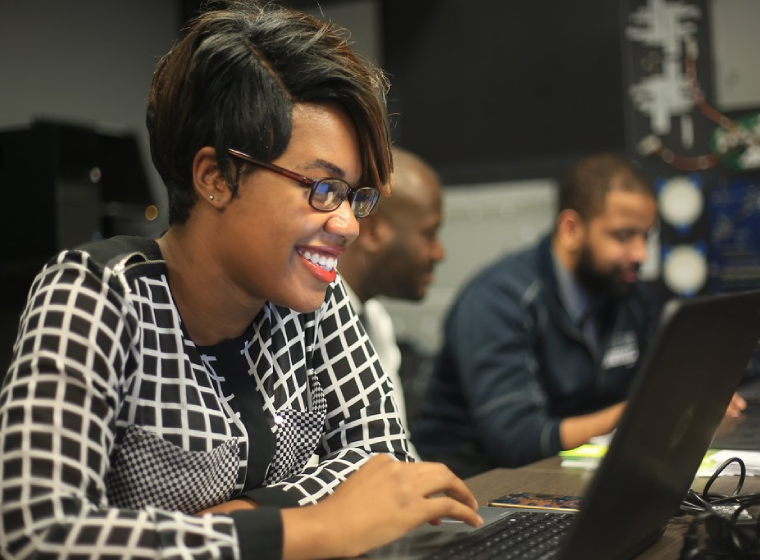 Donate Now
Your support makes a powerful difference in our ability to build a technology talent training solution that creates greater access and equity.